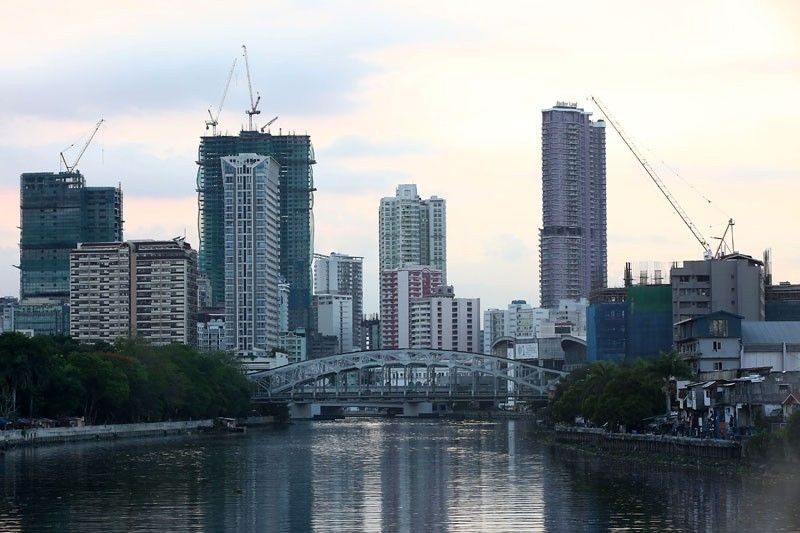 Trade Secretary Ramon Lopez said at the Senate budget hearing yesterday that while he is proposing the shift to modified GCQ (MGCQ), he would be fine with staying under GCQ as long as the economy is allowed to open some more.
STAR/Miguel De Guzman, file
DTI wants more sectors, businesses opened
MANILA, Philippines — The Department of Trade and Industry (DTI) is pushing for the further reopening of the economy through increased operating capacity for businesses in the service sector under general community quarantine (GCQ).
Trade Secretary Ramon Lopez said at the Senate budget hearing yesterday that while he is proposing the shift to modified GCQ (MGCQ), he would be fine with staying under GCQ as long as the economy is allowed to open some more.
"We will be happy with the GCQ provided we open up more of the sectors," he added.
Lopez noted that the DTI would want those currently providing services and those operating at 50 percent capacity to be allowed up to 100 percent even under GCQ. These include firms engaged in legal and accounting services, consultancy, architecture and engineering, research and development, advertising, publishing, printing, film, music, TV production, as well recruitment and placement for overseas employment.
In a Viber message to reporters, the other sectors the DTI would want to be allowed to operate up to 100 percent capacity are photography services; wholesale and retail trade services; repair of motor vehicles, motorcycles and bicycles; malls and commercial centers; hardware stores; those selling clothing and accessories; and bookstores.
Also included in these sectors are establishments providing baby infant care supplies, pet care supplies and information technology communications and electronic equipment; jewelry stores, music stores, toy stores, art galleries; firearms and ammunition trading, subject to Philippine National Police regulation; as well as the public and private construction projects.
"It is good they are open, but if you allow more of these sectors to reach even up to 100 percent, which would be under GCQ, it would be a big help to employment," Lopez pointed out.
He said it would also help the economy in terms of providing income to workers and stimulating consumer demand. But even while the further reopening of sectors is being pushed, he stressed that the minimum health standards should continue to be implemented.
"I understand that it (reopening) is not popular, especially with the health workers. But really, what I am trying to guarantee is if we keep the enforcement still strict and the minimum health standard of citizenry, I believe we can safely reopen," he said.
Malacañang also yesterday stood by the requirement it imposed last month for the wearing of face masks and face shields in work places, saying this would prevent the further spread of COVID-19.
Some business groups have urged the government to exempt factory and office workers from wearing masks and shields, saying this could affect workers' vision, physical safety and productivity. ?
In a letter to the Inter-Agency Task Force for the Management of Emerging Infectious Diseases (IATF), the groups noted that workers in construction and manufacturing industries, like electronics and automotive, work with minute parts and sensitive production lines.
They argued that office movements are controlled and guided by safety protocols like washing of hands, checking of temperature and sanitizing of footwear.?But presidential spokesman Harry Roque Jr. insisted that the requirement is "not unreasonable."
"You know, it has been proven by science that the wearing of face shields can help prevent the spread of COVID-19. If I'm not mistaken, the wearing of face (masks) is 94 percent effective in preventing COVID while face shields provide an additional three percent so 97 percent protection is provided to the people," Roque said at a press briefing.
"Considering that the price of face shields has fallen, the requirement of IATF is not unreasonable," he added. The business groups that expressed concern over the requirement include the Philippine Chamber of Commerce and Industry, Philippine Silk Road International Chamber of Commerce, Employers Confederation of the Philippines and the Philippine Exporters Confederation.
Last week, Lopez declared that he favors moving Metro Manila and other areas under GCQ to MGCQ while stressing that the granular lockdown, strategy of tracing, testing, isolation and treatment and minimum health standards would still need to be in place.
Based on the latest survey conducted by the DTI on micro, small and medium enterprises (MSMEs), Lopez said six percent remain closed due to the pandemic.
The latest survey, covering the period August to September, covered 3,000 respondents. Of the 1.5 million registered businesses in the country, around 1.4 million are MSMEs.
However, Lopez noted that the percentage of MSMEs that closed due to the pandemic has declined compared to DTI's previous surveys. The survey covering April to May showed that 38 percent halted operations. In the June to July period, those that closed were pegged at 11 percent.
Metro Manila, Bulacan, Batangas and Tacloban City are under GCQ until the end of the month. Those under the stricter modified enhanced community quarantine are Lanao del Sur, Bacolod City and Iligan. – Alexis Romero, Neil Jayson Servallos, Paolo Romero