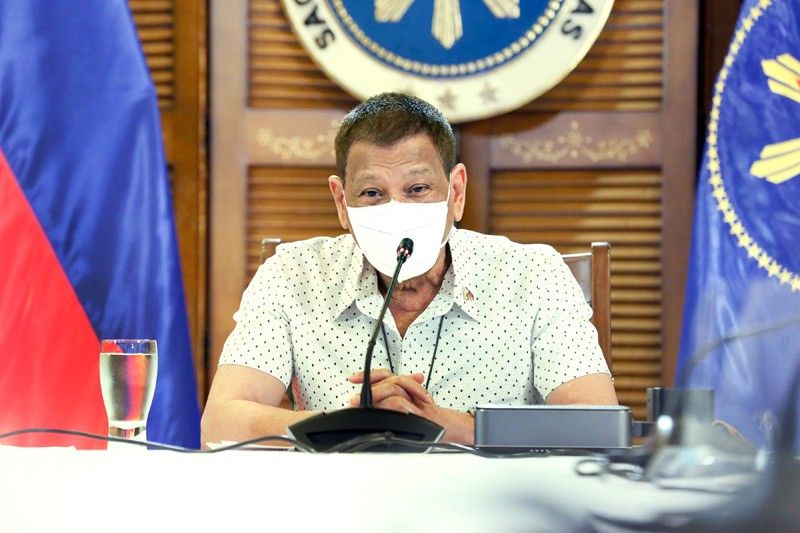 President Duterte talks to the people during his weekly address at the Arcadia Active Lifestyle Center in Davao City the other night.
STAR/File
Duterte hopes speakership rivals honor agreement
MANILA, Philippines — If President Duterte could have his way, he would like Speaker Alan Peter Cayetano and Marinduque Rep. Lord Allan Velasco to respect their term-sharing agreement forged last year, to ensure a smooth transition of leadership in the House of Representatives.
Presidential spokesman Harry Roque Jr. said the renewed in-fighting in the House leadership was among the topics discussed during the President's meeting with the Cabinet and the Inter-Agency Task Force for the Management of Emerging Infectious Diseases (IATF) the other night in Davao City.
"The President is hoping that the Speaker and Rep. Velasco will abide by their agreement. But if Velasco has no numbers, he cannot do anything," Roque said at a virtual press briefing yesterday from Malacañang.
Duterte has said he won't be able to do anything if Velasco fails to muster enough numbers to remove Cayetano from his post.
Based on a supposed gentleman's agreement, Cayetano will lead the House of Representatives for 15 months from the start of the 18th Congress in July last year. Velasco was supposed to take over the rest of the sessions of Congress in the so-called 15-21 formula coined by Cayetano himself.
Deputy Speaker LRay Villafuerte said a "supermajority" in the House wants Cayetano to remain as speaker until the next elections.
"Not just a majority but a supermajority wants Speaker Cayetano to continue with the term. Even if you ask any congressman, they agree with his leadership because he is very qualified, efficient and hardworking. You've seen how Congress worked even during recess to address the pandemic and how we got the highest public approval rating ever," he said in a phone interview.
"Speaker Alan is leading Congress towards the right direction. He said there should be no pork barrel and parked funds and that's happening now with the majority of congressmen supporting," Villafuerte claimed. The Camarines Sur congressman added Velasco "is not as active" as Cayetano.
Villafuerte, who figured in a word war with Velasco's allies over budget issues last week, said the House majority respects the agreement set by President Duterte as head of the coalition "even if there's separation of power between executive and legislative."
"Today, next month (October) or even in November, if there will be a voting, an overwhelming majority will pick Speaker Alan. It's obvious that people are happy with his leadership. If there are those not satisfied, there's just two of them and they are not the majority," he pointed out.
Let President decide
Still, Villafuerte said they would await the decision of Duterte on the matter.
"That is what we will wait for – if the President will say proceed with the term-sharing or if he will let us congressmen decide and settle this issue among ourselves," he said.
Another Cayetano ally also lashed out at Velasco for lack of leadership qualities. "Instead of being the leader he said he was, Congressman Velasco showed his true self. He did not work, he did not contribute, he did not defend this House. He did not lead, so why would he expect us to follow him?" Rep. Fred Castro said.
Castro, who is from Capiz, said it was the Marinduque lawmaker's "mistake to think that he could just do nothing within 15 months and just one day appear to Congress to claim the Speakership as if it was his birthright."
"Never has Congress received such a high trust and approval rating from the people than when Speaker Cayetano was at the helm," Castro said.
"The Speaker also took pains to accommodate your political allies in the leadership. But miserably, you (Velasco) reciprocated this goodness and offer of unity with discord among our ranks," Castro complained.
The speakership issue cropped up after allies of Cayetano and Velasco clashed during budget hearing last week and figured in a heated exchange of allegations over the weekend.
Deputy Speaker Paolo Duterte, the President's son, hinted at a possible coup against Cayetano, but the plan to declare the speakership post vacant did not push through during session last Monday.
House appropriations committee chairman Eric Yap, a close ally of Rep. Duterte, clarified that the Davao congressman did not intend to initiate such move and only made a suggestion to members of the Mindanao bloc who are unhappy with Cayetano's leadership.
Responding to the issue, Cayetano accused Velasco and his camp of being behind the alleged ouster plot against him.
"The group of Cong. Velasco and his few allies – they're the ones going around to get numbers. That's what I don't understand from their camp – they want gentleman's agreement but I think this is their third or fourth coup attempt already," the Speaker alleged in an interview with dzRH last Monday.
"He's been involved not only here, but from the start... He's involved in the intrigue sa Congress," he said of Velasco and the alleged coup plot.
The Taguig-Pateros congressman said there is no need to oust him if either Duterte or the majority coalition wants him out of the speakership post.
He stressed that he honors the term-sharing agreement and it was Velasco who does not.
"Our agreement is that he will support me during my time and I will support him during his time. But I never really got that support from him," Cayetano maintained.
Cayetano also cited the recent pronouncement of Velasco that he would take over the speakership post next month and he was already forming his team even if it was already agreed upon that the other leadership posts and committee chairmanships would not be changed when the turnover of speakership occurs.
"From the start they never followed the agreement... I never said the agreement will not be honored, but I also don't see on the part of Congressman Velasco any change to become a gentleman also and follow our agreement," he said.
Cayetano said he wants the proposed P4.5-trillion budget passed by the House first before he deals with the speakership issue.
"I told the President that I will go to him when it comes to November. I will seek his guidance as head of the coalition, then we will see what will happen," he hinted.
Under the term-sharing deal brokered by the President himself, Cayetano will serve as speaker for the first 15 months or until October 2020, with Velasco taking over the post for the final 21 months of the 18th Congress or until June 2022.