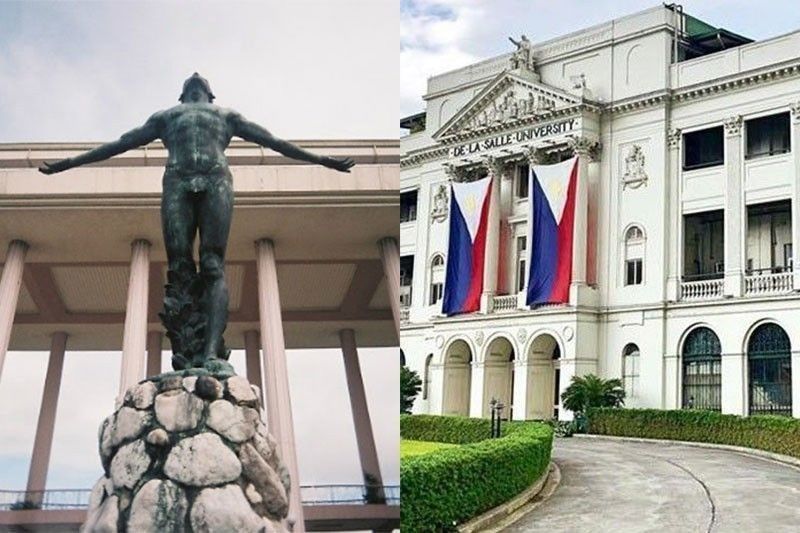 Composite photo shows the University of the Philippines and the De La Salle University.
Philstar.com/File | Facebook/De La Salle University
UP, DLSU retain spots in world rankings
Janvic Mateo
(The Philippine Star) - September 4, 2020 - 12:00am
MANILA, Philippines — The University of the Philippines and De La Salle University (DLSU) have retained their respective spots in the latest world university rankings released by London-based Times Higher Education (THE).
UP is still among the top 500 higher education institutions in the world, retaining its place in the 401st-500th bracket that it first achieved last year, according to rankings released on Wednesday.
The country's only national university first entered the list in 2016 at 800+ rank, later climbing to 601st-800th in 2017 and 501st-600th in 2018.
Meanwhile, DLSU, the only other Philippine university in the list, retained its 1,000+ spot like last year. It first entered the list in 2018 at 801st-1000th spots.
The rankings covered more than 1,500 universities from 93 countries worldwide.
It is based on 13 performance indicators grouped into five areas: teaching (the learning environment), research (volume, income and reputation), citations (research influence), industry income (knowledge transfer) and international outlook (staff, students and research).
Despite retaining their respective ranks, results showed that the scores of both UP and DLSU went down in four of five areas.
UP slightly improved in industry income (from 39.4 to 39.5), but its scored went down in teaching (from 24.7 to 23.5), research (from 17.2 to 16), citations (from 86.9 to 86.7) and international outlook (from 37.9 to 33.4).
The DLSU improved in teaching (from 17.1 to 18.2), but slipped in research (from 12.9 to 12.7), citations (from 26.4 to 22.4) industry income (from 34.4 to 33.4) and international outlook (from 30.7 to 26.9).
For the fifth consecutive year, the University of Oxford in the United Kingdom leads the latest list.
Stanford University in the United States, previously ranked fourth, snatched the second spot from the California Institute of Technology, which dropped to fourth place.
Ranking third and fifth are US-based institutions Harvard University and Massachusetts Institute of Technology, respectively.
In sixth spot is UK-based University of Cambridge, followed by American institutions University of California Berkeley, Yale University, Princeton University and University of Chicago.
China's Tsinghua University became the first Asian university to enter the top 20, ranking 20th along with Duke University in the US.
Other best-performing Asian universities are China's Peking University at No. 23 and the National University of Singapore (NUS) at No. 25.
"(China) has also doubled its number of top 100 representatives, from three to six, in the past year, while all but one of its top 20 institutions in last year's ranking have improved or maintained their performance," THE said.
"In contrast, while a few US universities that were in the 201-300 band in 2016 have since moved up, none has made it to the top 100, and several have drifted downwards," it added.
The US remains the best represented countries in the top 200 with 59 schools, followed by the UK with 29, Germany with 21, Australia with 12, Netherlands with 11, Canada with eight and China, South Korea and Switzerland with seven each.
Among tertiary institutions in Southeast Asia, only the NUS, the Nanyang Technological University in Singapore (No. 47), University of Malaya in Malaysia (301st to 350th) and Universiti Brunei Darussalam (351st to 400th) ranked higher than UP.
Thailand has the most number of Southeast Asian institutions in the list with 17, followed by Malaysia with 15 and Indonesia with nine.