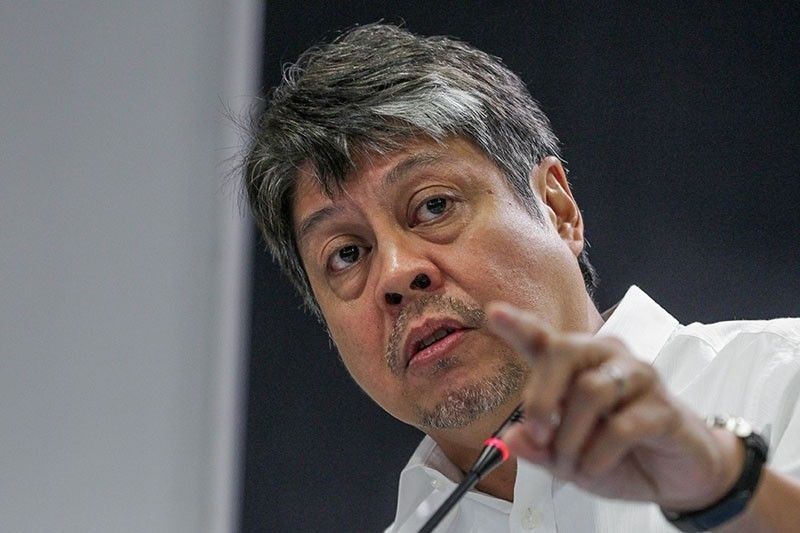 This undated photo shows opposition Senator Francis Pangilinan.
The STAR/Geremy Pintolo, file
Pangilinan: Public health experience is needed to run PhilHealth
MANILA, Philippines — Amid the raging pandemic and the alleged corruption plaguing the Phiippine Health Insurance Corp., Sen. Kiko Pangilinan on Tuesday said the state-run insurer needs a leader with public health and financial expertise, not experience in law enforcement.
This comes after new PhilHealth president and CEO Dante Gierran, a recent retiree from the National Bureau of Investigation, admitted that he has no prior knowledge or experience when it comes to public health.
"I'm very scared. I'm scared because I don't know the operations of PhilHealth. Unlike NBI, I knew the operations of NBI. But PhilHealth, wala. I do not know about public health," Gierran told ANC's "Headstart."
"What I know about is financial management, having been a certified public accountant, and insurance," he added.
"I have serious misgivings about [Gierran's] appointment given that we clearly need a more holistic rather than a simplistic law enforcement approach to the cancer confronting PhilHealth in particular and the COVID health crisis in general," Pangilinan said in response.
"His predecessor too had no public health experience and that ended terribly for PhilHealth," the senator said, referring to the agency's former chief Ricardo Morales who resigned for health reasons amid three separate investigations into allegations of corruption and mismanagement against the state-run insurer's executives.
Pangilinan further cited Section 14 of the Universal Health Care Act which stipulates "that the Board cannot recommend a President and CEO of PhilHealth unless the member is a Filipino citizen and must have at least seven (7) years of experience in the field of public health, management, finance, and health economics or a combination of any of these expertise."
The PhilHealth Workers for Hope, Integrity, Transparency, and Empowerment expressed disappointment over Gierran's appointment, saying Duterte should have tapped a finance expert for the job. Despite this, the worker's group said it was ready to support the new PhilHealth chief.
Lacson: Gierran a good man
Meanwhile, Sen. Ping Lacson on the same day expressed his support for Gierran, calling him a "good man," but flagged the difficulties awaiting the embattled agency's new chief.
"I hope and I mean it — that PhilHealth will not be Dante's Inferno as he faces the challenges of his new mission," Lacson said.
"As a former chief of the National Bureau of Investigation, he should have no trouble coordinating with the powerhouse task force led by Justice Secretary Menardo Guevarra, his former boss, to implement much-needed reforms in PhilHealth," he added.
However, Lacson cautioned him against "[falling] victim to manipulation by parties inside and outside of the agency who have caused the state insurer to lose billions of pesos to corruption — not just for his sake, but for all Filipinos covered by PhilHealth."
Palace: Gierran 'best choice' to lead PhilHealth
Malacañang on Tuesday stood firm on Gierran's appointment, calling him the "best choice" to lead the state-run insurer.
"Director Gierran already has seven years [of] management experience. It does not need to be health economics experience," Prsidential spokesman Harry Roque said.
According to Roque, President Duterte thought it best to appoint a new PhilHealth chief capable of conducting investigations in order to address corruption within the agency.
"Since the crimes being committed in PhilHealth are white collar crimes, we need someone who can understand financial reports, financial records, and balance statements I think Director Gierran is the best choice because he is a CPA and has an experience in criminal investigation," he added.
As It Happens
LATEST UPDATE: October 19, 2020 - 9:17pm
The Philippine Health Insurance Corp. is facing scrutiny anew over more allegations of corruption.
It was in the headlines last year because of an alleged scam involving payments to WellMed Dialysis Center for treatments charged for a patient who had already died.
Follow this thread for updates.
October 19, 2020 - 9:17pm
President Rodrigo Duterte says the government will compensate the Philippine Red Cross for COVID-19 tests.
The Red Cross recently halted conducting tests due to the P930 million debt of the Philippine Health Insurance Corporation for the conduct of COVID-19 tests for the government.
"I don't think Sen. (Richard) Gordon would have in his mind to stop. What I'm trying to say is we will pay," Duterte says in a recorded address aired Monday night.
October 15, 2020 - 3:07pm
The Philippine Red Cross will stop conducting COVID-19 tests chargeable to PhilHealth due to the state insurer's outstanding balance.
PRC says it will no longer receive specimens for testing of OFWs, those arriving in airports and seaports, individuals through mega swabbing facilities, frontline health and government workers, and others included in the expanded testing guidelines of the DOH.
"The PRC does not have unlimited resources to replenish the testing kits for its laboratories unless PhilHealth, its major creditor, settles its lawful obligations to the PRC," PRC says in a statement dated October 14.
September 28, 2020 - 12:25pm
Forty names tagged in the Philhealth controversy are under investigation, says Greco Belgica, chief of the Presidential Anti-Corruption Commission.
Belgica says at a Malacanang press briefing that the 40 names include those of regional officials, executives and directors of the board.
"We will be filing cases (before) the Ombudsman," Belgica says. (Report by The STAR/Alexis Romero)
September 14, 2020 - 11:10pm
Task Force PhilHealth has recommended complaints against former PhilHealth CEO Ricardo Morales, Senior Vice President Jovita Aragona, officer-in-charge Calixto Gabuya Jr. over alleged corruption at the state insurer related to overpriced ICT systems and other issues.
President Rodrigo Duterte announced the recommendations at a meeting of the IATF, part of which was televised.
September 1, 2020 - 4:01pm
Senate President Tito Sotto reports the findings of the Senate Committee of the Whole following its investigation into alleged anomalies at PhilHealth.
Sotto admits that he is taking the task of reporting the Senate panel's findings with some reluctance in the middle of the COVID-19 pandemic, noting that "we should not change horses mid-stream."
"It is suggested that we must let the pandemic first subside, before advocating for changes, in the areas of leadership, organization, systems and operations of PhilHealth," Sotto says.