Public transport, local flights return
August 19, 2020 | 12:00am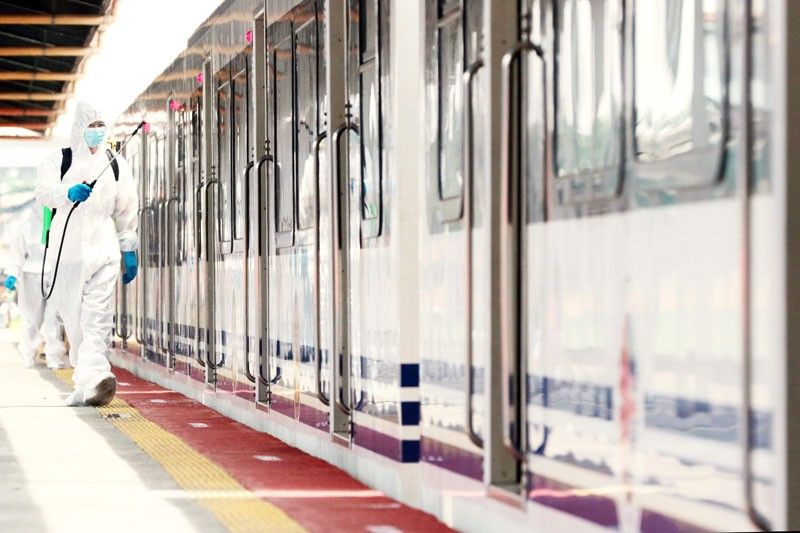 MANILA, Philippines — Public transportation and domestic flights resume today in Metro Manila and other areas that will shift to general community quarantine or GCQ status.
The Department of Transportation (DOTr) said the railways sector and operators of various public utility vehicles such as UV express units, taxis, buses, and modern and traditional public utility jeepneys (PUJs) are ready to serve commuters.
Over 63,000 public utility vehicles are expected along Metro Manila roads, according to the Land Transportation Franchising and Regulatory Board (LTFRB).
The MRT-3 line will dispatch 18 train sets, including two China-built Dalian coaches daily.
The LRT-1 line is ready to dispatch on weekdays 24 train sets for the morning and afternoon peak hours, and 18 train sets for offpeak hours.
Five train sets will be deployed by the LRT-2 daily, while the Philippine National Railways will dispatch 10 train sets daily.
With the train services to remain on limited capacity due to physical distancing measures, the LTFRB authorized the operation of additional traditional PUJs and UV Express units to complement rail operations.
The LTFRB allowed the operation of additional 4,498 units of traditional PUJs in 60 routes on top of the 7,945 authorized units in 66 routes as of July 29.
The DOTr said the figure brought the total number of authorized traditional PUJs to 12,443 in 126 routes.
An additional four routes with 641 units have also been authorized for UV Express, which brings the total number of authorized units to 1,621 in 51 routes in Metro Manila.
There will be 3,662 public utility buses (PUBs) that would ferry commuters in 31 routes across Metro Manila, the DOTr said.
It said 716 modern PUJs will also be operating in 45 routes and 364 units of point-to-point buses in 33 routes.
In addition, 20,493 taxis and 23,776 transport network vehicle service units will be available to transport passengers in the metropolis.
Flights resume
Local airlines will also resume today their domestic services to and from Manila, after cancelling them on Aug. 4 in line with the government's classification of Metro Manila under the MECQ status.
Flag carrier Philippine Airlines (PAL) will resume its domestic flights scheduled today to Aug. 31 on top of its limited international flights.
Schedules posted on the PAL website are subject to change for reasons beyond the firm's control, PAL spokesperson Cielo Villaluna said.
Cebu Pacific and Cebgo will also resume flights to and from Manila starting today.
Motorcycle barriers not required
Motorcycle back-riding is now allowed even without barriers in areas under GCQ provided the driver and pas- senger are staying in the same house, PNP deputy chief for operations Lt. Gen. Guillermo Eleazar said.
He said the new policy, approved by National Task Force against COVID-19 and Defense Secretary Delfin Lo- renzana, will also apply even to non-couples as long as they are living under one roof and the back rider is included in the list of authorized persons outside of residence or APOR.
"This is part of our transi- tion phase for motorcycle back riding," he said in a phone interview.
Motorcycle users need to present to law enforcers iden- tification cards, a certification from the barangay or other documents proving they stay in the same house.
He added the motorcycle must be privately owned and not for hire. Both driver and passenger must wear facemasks and full-face helmets.
Strict health, safety protocols
With the reopening of public transportation services in areas under GCQ, the DOTr said strict health and safety protocols would be enforced to help curb the spread of COVID-19.
The agency imposed a "no face mask, no face shield, no ride" policy since Aug. 15 in all public vehicles covering road, railways, maritime and aviation.
In the trains, passengers are refrained from talking and using cellphones and other communications devices.
"Strict physical distancing will also be implemented onboard public utility vehicles, terminals, in rail line facilities and aboard trains to prevent the transmission of COVID-19," the DOTr said.
"Commuters are encouraged to practice regular sanitation and disinfection procedures, using footbaths, available wash stations and hand sanitation supplies.
Passengers will also have to accomplish contact tracing and health declaration forms before entering the rail stations and terminals," it said.
Salons, barber shops, dine-in
Businesses including salons, barber shops and dine-in restaurants are allowed to reopen as Metro Manila and nearby provinces shift to GCQ status.
As for the gyms, the Department of Trade and Industry (DTI) said it would have to be clarified with the Inter-Agency Task Force (IATF) on Emerging Infectious Diseases.
The DTI initially said gyms would be allowed to operate under GCQ.
"Under GCQ, whatever was approved last time is okay, including gyms," Lopez said in a message to journalists.
Presidential spokesperson Harry Roque however said gyms would remain closed in GCQ areas.
Asked about Roque's statement, Lopez said: "we have to clarify with IATF again."
Businesses such as gyms, fitness centers, sports facilities, internet cafes, establishments offering personal grooming and aesthetic services, pet grooming, and drive-in cinemas were allowed to operate at 30 percent capacity in GCQ areas on Aug. 1, with additional health protocols.
As for dine-in restaurants, these were allowed to restart in GCQ areas at 30 percent capacity on June 15.
Barbershops and salons, meanwhile, were allowed to resume operations at 30 percent capacity on June 7.
Church services too
Churches under the Archdiocese of Manila will open their doors to the faithful starting today, but will only accommodate 10 percent of the venue's capacity, according to Bishop Broderick Pabillo.
The Archdiocese of Manila covers churches in the cities of Manila, Makati, Mandaluyong, Pasay and San Juan.
The Church will strictly comply with the guidelines imposed by the IATF, including the mandatory wearing of face masks, body temperature checking and social distancing, Pabillo said.
Catholics are free to decide either to physically attend religious gatherings or through online.
Under GCQ, people who are allowed to go out can avail themselves of essential goods and services and can work in offices.
Those below 21 years old, senior citizens or those who are 60 years old and above, those with immunodeficiency, comorbidity, or other health risks and pregnant women are not permitted to leave their homes.
Religious activities are allowed but only ten persons can attend or up to 10 percent of the venue's seating capacity, whichever is higher.
Critical government services, authorized humanitarian activities, and visits to open-air memorial parks and cemeteries by not more than 10 per group are also allowed.
TNVS
Transport Network Vehicle Services Grab is also resuming its GrabCar services today.
GrabCar services will operate from 5 a.m. to 10 p.m., while the GrabBayanihan Car service for medical frontliners will operate 24/7 across Metro Manila.
In line with the recent policy issued by DOTr, Grab said its driver-partners and passengers are required to wear face shields and face masks throughout the trip. – Neil Jayson Servallos, Rudy Santos, Ralph Edwin Villanueva, Louella Desiderio, Alexis Romero, Robertzon Ramirez