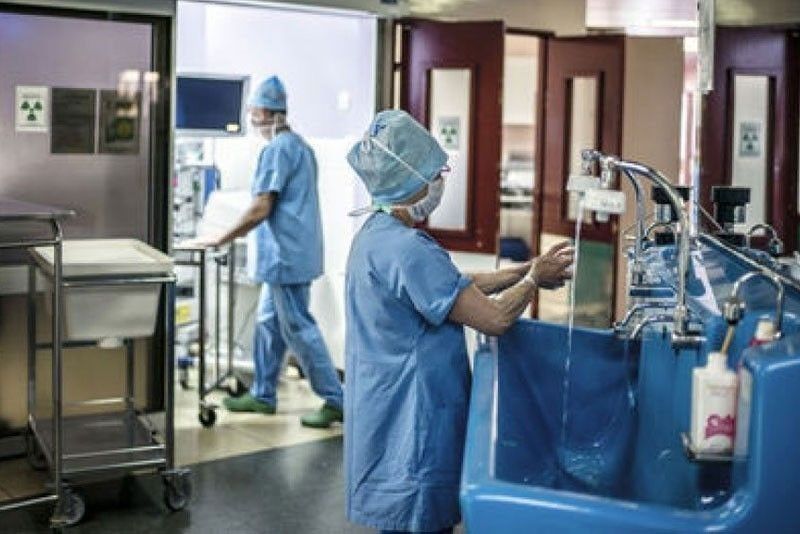 "I will be calling these hospitals that have existing violations from 2013 to 2019," said Rep. Mike Defensor of party-list Anakalusugan. Defensor chairs the House public accounts committee, which is investigating the PhilHealth anomaly.
AFP/File
House body to summon over 40 hospitals
MANILA, Philippines — Owners or representatives of over 40 hospitals suspected of involvement in the P153-billion Philippine Health Insurance Corp. (PhilHealth) fund anomaly are expected to appear tomorrow before a House panel to air their side and shed light on the controversy.
"I will be calling these hospitals that have existing violations from 2013 to 2019," said Rep. Mike Defensor of party-list Anakalusugan. Defensor chairs the House public accounts committee, which is investigating the PhilHealth anomaly.
Defensor said the irregularities were documented in several Commission on Audit reports which became the basis for senators and congressmen, as well as the Presidential Commission Against Corruption, for conducting an inquiry.
"We want to know the nature of the cases and understand how fraud is committed in PhilHealth," Defensor pointed out.
Dasmariñas City Rep. Elpidio Barzaga said the House leadership has to dig deeper to determine if these hospitals were among those given preference in the P27-billion interim reimbursement mechanism (IRM) for COVID-19 patients.
Defensor clarified though that these hospitals were distinct and separate from the 51 health facilities given preferential treatment by PhilHealth through advance payments.
The hospitals whose officials are being summoned to the House probe are Abra Provincial Hospital, Baguio General Hospital, Benguet General Hospital, Bishop Regan, Cagayan de Oro Maternity Children's Hospital, Bontoc General Hospital, Butuan Doctors Hospital & College Inc., Cooner District Hospital;
Cuison Zabala Birthing Home, Divine World Hospital, Domino Casano Hospital, Dr. Pablo Torre Sr. Memorial Hospital, Eastern Sun Medical and Diagnostic Center, Fabiola Gabriel Center, Holy Trinity Medical Clinic, Kalinga District Hospital, Leona Lim Memorial Hospital;
Lepanto Consolidated Mining Co. Hospital, Luis Hora Memorial Hospital, Lutheran Medical Mission and Rehabilitation Foundation, Mercy Community Hospital, Michael Abutazil Hospital, Misamis University Medical Center, Moorehose Mission Hospital;
Ozamiz City St. Joseph General Hospital, Pacific Eye Institute, Panopdopan District Hospital, Pathfinder Estate Hospital, Paul Jesus Midwife Clinic, Pines City Doctors Hospital, Potia District Hospital, Quezon City Eye Center, SAA Healthcare;
St. Louis University of the Sacred Heart, San Pedro Hospital of Davao Inc., St. Theresa Wellness Center, St. Therese Hospital, St. Theodore's Hospital, St. Mary's Hospital Maternity and Children's Hospital (lligan City), Tamparan Medical Foundation, United Doctors Hospital of Kidapawan Inc., University of Perpetual Help Delta Medical Center Inc. and Dr. Petronilo V. Seares Memorial Hospital.
Hold departure order
Defensor, meanwhile, approved a proposal of Aklan Rep. Teoderico Haresco Jr. that the justice department be asked to issue hold-departure order on top PhilHealth officials to prevent them from leaving the country while under investigation.
"Mr. Chairman because of the ongoing discussion, I move that the committee write the Department of Justice (DOJ) for the inclusion of PhilHealth members of the alleged mafia in the hold-departure order," Haresco told the committee.
Defensor promptly approved Haresco's proposal following endorsement from Deputy Speakers Dan Fernandez, Rodante Marcoleta and Reps. Jesus Crispin Remulla and Bulacan Rep. Jonathan Sy-Alvarado.
"The motion is to direct the DOJ to study the imposition of hold-departure order on all regional and executive committee officers of the PhilHealth," Defensor said.
Aside from Defensor's proposal to hold the PhilHealth officials responsible for the non-bailable crime of plunder, Remulla and Surigao del Norte Rep. Robert Ace Barbers also broached the idea of having them indicted for technical malversation.
According to Remulla, interim reimbursement mechanism (IRM) funds – supposedly only for COVID-19 patients – should not have been advanced to hospitals of PhilHealth's choice or to dialysis centers.
"This really means it is technical malversation. It was meant to be for COVID-19 patients, but was given to non-COVID patients. So public fund was used for a public purpose, but not for intended purpose," the Cavite congressman pointed out.
PhilHealth vice president for fund management sector Reynato Limsiaco Jr. admitted to Marikina Rep. Estella Alabastro-Quimbo that IRM funds had been utilized as payment for salaries, as well as for test kits and hospital supplies.
"Mr. Chairman, it has been very clear that IRM funds seemed to have been considered a blank check that were given to hospitals, to spend where they choose to – either for buying floor wax, or cars – and then liquidate these only later on," she said.
Justice Secretary Menardo Guevarra, meanwhile, yesterday hinted at recommending to President Duterte the reorganization of PhilHealth.
Guevarra said the outcome of the Task Force PhilHealth's investigation would partially depend on the reports and findings they would receive from other agencies and legislative committees looking into anomalies in the state insurer.
"Valuable inputs will be used by the Task Force as leads or building blocks for the filing of legal action or as basis for making recommendations to the President, including on a possible reorganization of PhilHealth," he said.
"Task Force PhilHealth has received the reports of the PACC (Presidential Anti-Corruption Commission) and the GCG (Government Commission for GOCC). The Senate was also gracious enough to share its initial findings with the Task Force," he said.
Senate President Vicente Sotto III said they had already sent to Guevarra the initial findings of the Senate committee of the whole. The task force has 30 days to finish its investigation. — Evelyn Macairan, Edu Punay