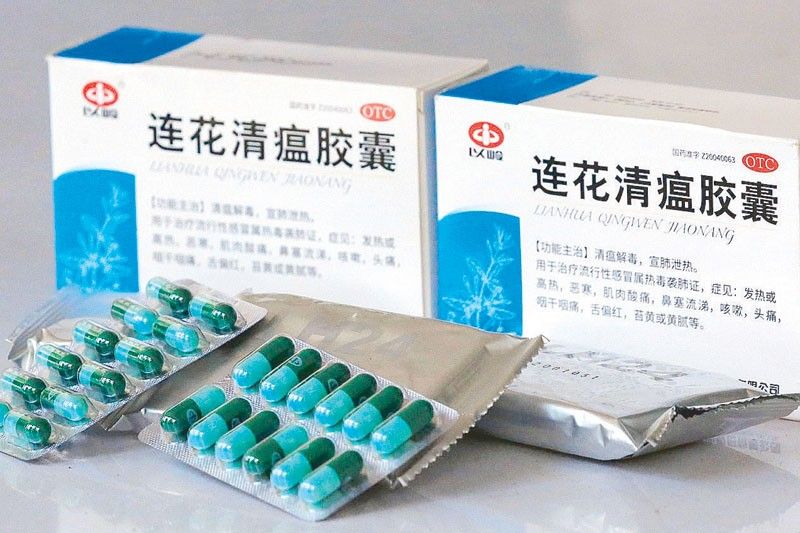 The Chinese drug Lianhua Qingwen has been approved by the FDA as a traditional medicine and not as a therapeutic drug.
Edd Gumban
FDA: Chinese medicine not treatment for COVID-19
MANILA, Philippines — The Food and Drug Administration (FDA) yesterday clarified that the Chinese traditional medicine Lian Hua Qing Wen was approved not as a drug for treatment of coronavirus disease.
FDA director general Eric Domingo said Lian Hua Qing Wen was approved only as a traditional medicine.
"In the Philippines, we approved it as a traditional medicine and as a prescription drug," Domingo said.
"We approved it specifically for the indications stated in the CPR (certificate of product registration)," Domingo added.
FDA said it is indicated in its CPR that the Chinese drug can help remove heat toxin invasion of the lungs, including symptoms such as fever, aversion to cold, muscle soreness, stuffy and runny nose.
The Chinese embassy in Manila, however, expressed their government's hope that the Lian Hua Qing Wen will "contribute to the fight against the spread of COVID-19" in the Philippines.
This, he stressed, means that local manufacturers cannot place in the product's label claims such as being a cure for COVID-19.
But Domingo discounted the possibility that the Philippines in the immediate future will include Lian Hua Qing Wen in the protocol for treatment of mild COVID-19 patients.
"To have it included in the DOH protocol will take a lot of health processes. It has to undergo health assessment, it has to be double-checked as a medicine," Domingo explained.
Domingo further noted that the drug manufacturer is restricted from putting in the packaging that it is an anti-COVID product.
"They cannot put in the packaging that this is an anti-COVID product because there's no medicine yet for us labeled as an anti-COVID product," Domingo said.
Public warned on 'illegal Remdesivir'
The public was warned yesterday against buying illegally marketed Remdesivir, a drug approved in Japan to treat COVID-19.
Camber Pharmaceuticals country product manager Imee Igpuara stressed the need to ensure safety of patients in the purchase and use of any medication.
"It is important to note that not all Remdesivirs are the same and not all Remdesivirs are legal to be marketed in the Philippines under patent protection," Igpuara said.
Igpuara said Remdsivir, which is being used in Japan to reduce treatment time of COVID patients, is now available in the Philippines.
Remdesivir, an investigational drug against SARS-Cov-2 which causes COVID-19, is being brought into the country by Camber Pharmaceuticals, licensed by Gilead Sciences.