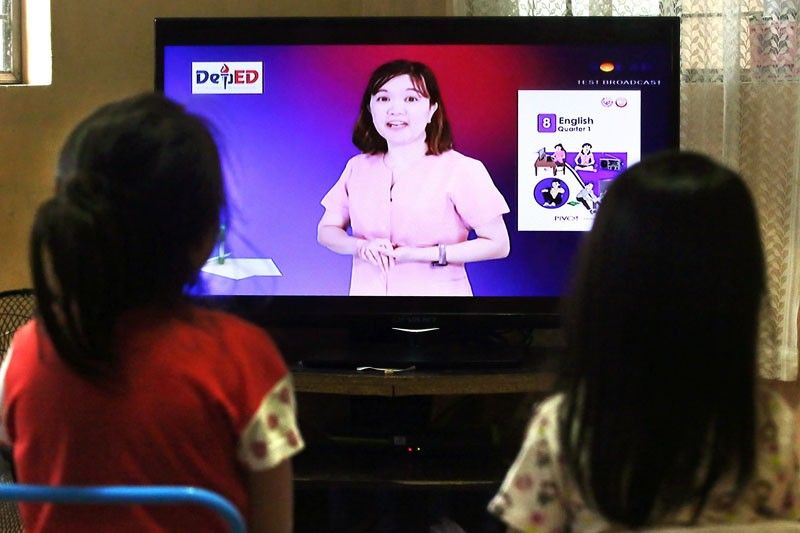 Children watch a test broadcast of educational shows on the Solar Learning channel at their home in Quezon City yesterday. The educational shows are part of the Department of Education's distance learning program.
Miguel De Guzman
Senators: Postpone August 24 opening
MANILA, Philippines — Senators yesterday urged the Department of Education (DepEd) to postpone the opening of classes on Aug. 24, as Metro Manila and nearby provinces are still under modified enhanced community quarantine (MECQ).
With the recommendation of the Inter-Agency Task Force for the Management of Emerging Infectious Disease (IATF), President Duterte reimposed MECQ in Metro Manila, Bulacan, Cavite, Laguna and Rizal for another two weeks – from Aug. 4 to 18 – following the surge of positive cases of COVID-19.
Sen. Sherwin Gatchalian said no one can predict what will happen after Aug. 18, supposedly the end of MECQ as data of the DepEd showed that some 23 million students have enrolled in both public and private schools.
"The reason why we moved to MECQ is that the situation is worsening. The basic component of the learning continuity plan was self-learning modules to be delivered to houses. How can our teachers do that if the situation is worsening? And we don't have any way of predicting after Aug. 19 if the situation will improve. There's a big chance that the MECQ might be extended," Gatchalian said during a public hearing of the Senate committee on basic education.
Gatchalian pointed out the need to ensure the safety of teachers and non-teaching staff, aside from the learners, with the opening of classes amid the pandemic.
"To be honest about it, I'm very compelled to recommend postponing the class opening. If we don't address the welfare of our teachers and non-teaching staff, because they're as important as all of these things that we are talking about now, if you don't secure their health condition, if you don't secure their condition, might as well postpone the class opening because they might be put at risk," he said.
Sen. Francis Tolentino said the DepEd could move the scheduled opening of classes from August to October or even later, citing that the new law, Republic Act 11480, enables the agency to do so.
Tolentino reminded DepEd officials that they have only 168 hours to craft the implementing rules and regulations of the law in order to fully carry it out.
The senator made the call during the Senate hearing on basic education in light of public sentiments on the challenges of distance education and online learning, which the DepEd has yet to adequately address.
Tolentino is proposing instead to regionalize the opening of classes, with high-risk areas to start school upon determination of more favorable public health situation.
"Our common and ultimate goal is the protection of our learners. There is no disagreement on that. However, different localities have varying health circumstances and hence will need varying approaches in the delivery of education. It will be wise, perhaps, for the DepEd to consider opening classes on a per regional health and connectivity situation basis," he said.
"Not only will students' health and safety be safeguarded, but as well the welfare of teachers who will be forced to deliver the modules to students' homes or, at the very least, report to school for the distribution of modules to parents. I am asking DepEd to prudently adhere to the provisions of RA 11480," he added.
The senator pointed out that RA 11480, which was signed into law on July 17, allows the president, upon the recommendation of the education secretary, to set a different date for the start of the school year in the country in the event of emergency or calamity.
Tolentino said the DepEd's readiness for school opening remains in question as the issue on connectivity and access to such other tools for learning have not been settled with barely two weeks to the target date of opening.
He added that modules have yet to be completed, not to mention the challenges of local government units passed on with the burden of reproducing these modules for learners within their jurisdiction.
"Forcing schools to open this August will only defeat the purpose of education. Let us accept the fact that we are not fully ready, and it will not be wise to simultaneously open school year 2020-2021. Let those areas with low health risk, those that are ready with learning modules and areas not hampered by quarantine restrictions begin classes using whatever modality is best to ensure public health and safety," Tolentino said.
He added that areas with higher health risks should be allowed to start the school year at a later date, as even the parents' livelihood are also affected.
"Not only will postponement of school opening favor teachers and learners. The prevailing health, livelihood and internet connectivity situations should all be considered by the DepEd," the senator said.
Even Quirino Gov. Dakila Carlo Cua, president of the Union of League of Provinces (ULAP), said many local government officials are supporting the recommendation to postpone the opening of classes.
Cua said the intention of the DepEd for the opening of classes, especially in areas that can manage schools, is good, but they should consider the situation of each locality.
"In highly urbanized areas, most families have gadgets, in the case of Valenzuela, the mayor has a strong program subsidizing gadgets for students, then they can possibly start classes, but the situation is different in far-flung areas, contextualization will be, in my opinion, very important," Cua told the Senate committee.
He said the League of Provinces has expressed a recommendation to again postpone the opening of classes.
"It is hard to impose one goal in a country with different situations," he added.
Education Undersecretary Tonisito Umali said Education Secretary Leonor Briones' instruction was there would be no distribution of self-learning modules or retrieval in areas under MECQ.
Umali added that 33 percent of schools nationwide have so far completed 50 percent of printing of their modules.
Education Undersecretary Nepomuceno Malaluan said the printed modules would cover the first two weeks of classes and the rest of the modules would be available before Aug. 24.
No fail
Senators yesterday also urged the DepEd and private schools not to fail students this school year due to many challenges in attending classes amid the pandemic.
In separate statements, Senate Majority Leader Juan Miguel Zubiri and Sen. Bong Go cited the many difficulties of holding online classes for students and their families, as well as teachers in both public and private schools.
"My only request to our (education) officials is to study thoroughly the implementation of online and offline learning, and of course we don't want to delay classes but our priority will remain the safety of our children," Go told the Senate committee on education hearing.
"While things are not yet normal, I hope no student will be given failing grades, so that our students will not be pressured," he said.
Go also stressed that all students must be given equal opportunity for online learning "wherever part of the country they may be and whatever their status is."
Zubiri agreed with Go, saying, "We are in an emergency situation."
"We need to give leeway to our students at least in the next six months. No fail, maybe, all should be allowed to pass until there is a vaccine or we have face-to-face classes already," Zubiri told reporters through a video conference.
No need for laptops, internet
Even with the shift to distance learning, not all teachers would need laptops and online connectivity when classes resume on Aug. 24, according to a DepEd official.
Given that most parents have chosen printed modules as their preferred mode of instruction for their children, Education Undersecretary for curriculum and instruction Diosdado San Antonio said laptops and internet are not absolute requirements for teaching in the coming school year.
"Not all teaching during this time of COVID-19 will be making use of laptops," San Antonio said in an interview with "The Chiefs" aired on Cignal TV's One News/TV5 on Tuesday night.
"If (students are using) printed module, what the teachers would do is coordinate. It is not true that they have to be online," he added in Filipino.
Coordination with the parents, according to San Antonio, may be done through phone calls and text messages. – Paolo Romero, Janvic Mateo, Delon Porcalla, Richmond Mercurio