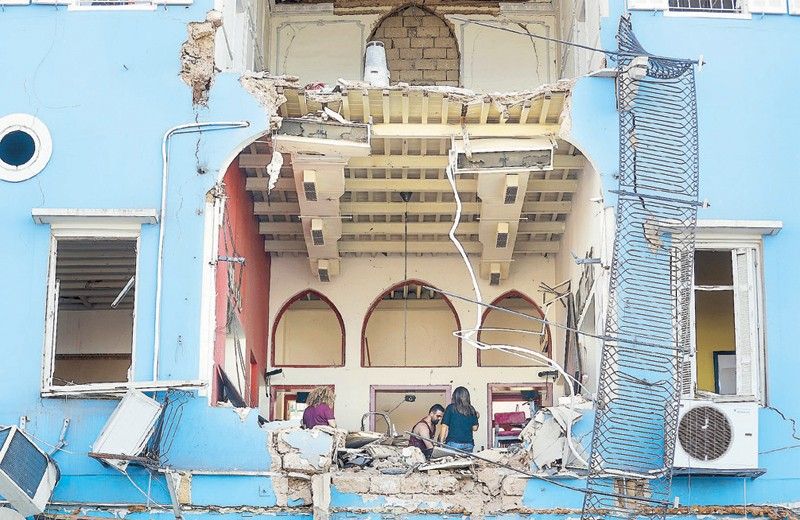 A Lebanese couple inspects the damage to their house yesterday in the aftermath of a cataclysmic explosion in Beirut.
AFP
Beirut blast: Pinay still missing, 13 seafarers safe
MANILA, Philippines — A Filipina household service worker remained missing after a massive explosion in Beirut last Tuesday, while 13 Filipino seafarers have been found and are now safe, the Philippine embassy reported.
Embassy charge d'affaires Ajeet Victor Panemanglor yesterday said a team was sent to hospitals to check whether the Filipina was admitted for treatment following the blast that destroyed the Port of Beirut and damaged nearby buildings, killing more than 100 people and wounding thousands.
Two Filipino workers were killed while at least eight others were injured.
Panemanglor told CNN Philippines embassy personnel are continuing the search for the missing Filipina.
The embassy said 13 Filipino seafarers who were aboard a ship docked at the Beirut port when the explosion occurred have been all accounted for.
Eleven of the 13 seafarers were earlier reported missing.
Panemanglor visited eight of the seafarers staying at a hotel that was arranged by their manning agency.
Five of the seafarers were at the hospital for another medical checkup. Another visit was scheduled yesterday to meet the remaining mariners.
The Filipino seafarers are crewmembers of the damaged cruise ship Orient Queen, which was reportedly docked at port.
Panemanglor said the embassy is arranging the repatriation of the remains of the two Filipino household service workers who were killed in the explosion.
The two Filipino fatalities were in their employers' homes during the explosion.
Lebanon's Prime Minister Hassan Diab said the cause of explosion was the 2,700 tons of ammonium nitrate, a common industrial chemical used in fertilizer and as a component in explosives.
Since December 2019, the DFA has repatriated 1,508 Filipinos from Lebanon.
There are still currently around 31,916 Filipinos in Lebanon, mostly domestic workers in Beirut.
The Department of Labor and Employment (DOLE) sees possible displacement of overseas Filipino workers (OFWs) in Lebanon following the powerful explosion.
Labor Secretary Silvestre Bello III, however, said only few Filipino workers are likely to lose their jobs.
"Displacement of OFWs is possible, but it will only be minimal," Bello said yesterday.
Bello further noted that DOLE has so far not received any request from Filipino workers in Lebanon for immediate repatriation.
The local recruitment industry has warned that the deadly blast could lead to loss of employment for hundreds of Filipinos in Lebanon.
Recruitment consultant Manny Geslani said between 500 to 700 OFWs, mostly domestic helpers, could lose their jobs in the Middle Eastern country.
"Filipino household service workers whose employers live in condominiums and apartments that were totally destroyed in the explosion may end up jobless," Geslani said.
According to Geslani, the number of displaced OFWs could even go as high as 2,000, depending on the number of buildings destroyed.
Geslani claimed that there are at least 60,000 Filipinos, mostly illegally deployed domestic helpers, in Lebanon.
Although a deployment ban was imposed in Lebanon since 2007, many Filipinos have sneaked into the country to work.— Mayen Jaymalin