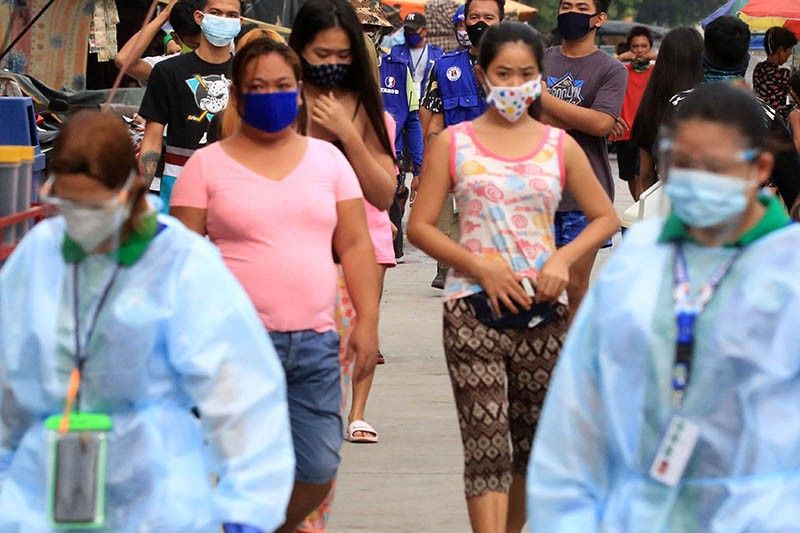 This July 28, 2020 photo shows people wearing face masks and health workers clad in personal protective equipment.
The STAR/Edd Gumban
Philippines sees biggest rise in COVID-19 cases, recoveries as tally reaches 89,374
MANILA, Philippines (Update 2, 10:34 p.m.) — The Philippines registered record-high additional coronavirus disease (COVID-19) cases and recoveries on Thursday, sending the country's total number of infections to 89,374.
The Department of Health reported 3,954 additional COVID-19 infections—the highest number of cases in a single day since the outbreak began in the country.
Of the newly-announced cases, 1,703 cases were from Metro Manila. NCR was followed by Cebu with 958 cases, Laguna with 177, Rizal with 90 and Cavite with 87.
The DOH also logged a staggering 38,075 new recoveries. This raised the total number of COVID-19 survivors to 65,064.
The agency said the massive jumps in the number of new cases and recoveries were attributed to the department's data reconciliation efforts with local government units.
But the death toll reached 1,983 with 23 more people succumbing to the illness.
The number of active cases stood at 22,327, 88% of which are mild cases.
Data reconciliation efforts and single day 'mass recovery'
The department said it began data reconciliation efforts with LGUs early in July, which resulted in "faster and more accurate tagging of health status."
The DOH said such massive data reconciliation efforts resulted in over 3,000 identified recoveries from July 12 to 14. Data on recovery reconciliations will be reported every 15 days.
It also said it implemented a "mass recovery" adjustment on July 15 where all mild and asymptomatic cases had been re-tagged as recovered with endorsement from the regional offices. This resulted in 5,000 additional recoveries.
Previously, a patient could only be classified as recovered if test results come out as negative twice. But now, discharge and recovery criteria for suspect, probable and confirmed COVID-19 cases no longer entail repeat testing.
"Following Department Memorandum No. 2020-0258, as endorsed by clinical practice guidelines and our technical advisory groups, patients with mild or no symptoms are tagged as recovered 14 days from the date of onset of symptoms or by date specimen collection," DOH said.
"Current recovery policies now show that at the 10th day of illness, the risk of transmitting the virus to other people is significantly reduced," it also said, adding this clinical recovery protocol is followed by the US Centers for Disease Control and Prevention, the European CDC, and India.
The DOH told reporters that 37,166 of the newly-announced recoveries had been re-tagged as recovered based on the department memo.
Under the guidelines, asymptomatic confirmed cases must follow the 14-day isolation management protocols in clinical practice guidelines, reckoned from the day of swab testing, with Day 1 as the date after specimen collection.
Upon assessment of a licensed physician, the patient can be tagged as recovered after completion of a 14-day isolation period.
To date, some 1.36 million individuals have been tested for coronavirus in the country.
President Rodrigo Duterte is expected to announce new lockdown measures Thursday night.
The coronavirus pandemic has killed more than 667,000 people worldwide since it emerged in China late last year, with nearly 17.02 million infected.