Locsin's 'irresponsible' tweet provokes Malaysia to summon Philippine ambassador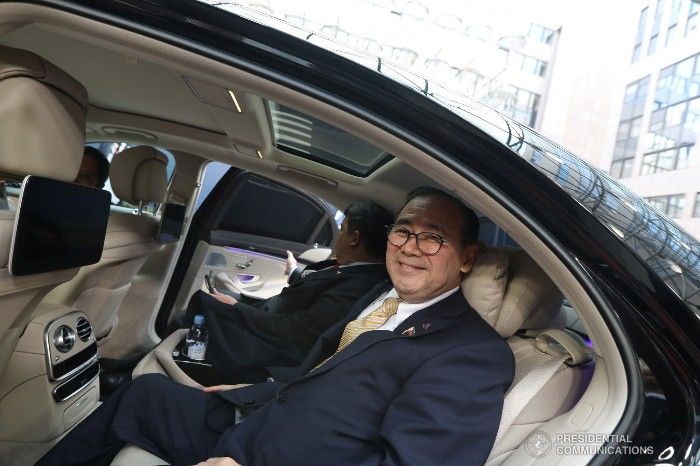 MANILA, Philippines (Updated 10: 54 p.m.) — Foreign Affairs Secretary Teodoro "Teddy Boy" Locsin Jr. committed another diplomatic faux pas on Twitter, inciting a foreign ministry to summon the Philippines' representative.
In a tweet on Monday, July 27, Locsin threatened the United States Embassy over its tweet mentioning Sabah as part of Malaysia.
"Sabah is not in Malaysia if you want to have anything to do with the Philippines," Locsin wrote, quoting the US Embassy's Twitter account that reported on a donation to Filipino repatriates who arrived in Zamboanga and Tawi Tawi from Sabah.
In doing so, Locsin not only publicly corrected the country's defense ally on an unofficial channel but also revived a dormant territorial and historical claim of the Philippines over the Malaysian state in the northern part of Borneo.
Malaysian Foreign Affairs Minister Hishammuddin Hussein responded to Locsin's tweet, calling it an "irresponsible statement that affects bilateral ties."
"[The Malaysia Ministry of Foreign Affairs will summon the Philippines Ambassador on Monday to explain. Sabah is, and will always be, part of Malaysia," Hussein's tweet reads.
This is an irresponsible statement that affects bilateral ties. @MalaysiaMFA will summon the Philippines Ambassador on Monday to explain. Sabah is, and will always be, part of Malaysia. https://t.co/KcUnDxOySl

— Hishammuddin Hussein ???????? (@HishammuddinH2O) July 29, 2020
While the Philippines, whose political center is Manila, occasionally refers to the dispute over Sabah, it was under the rule of a defunct Sultanate of Sulu, whose descendants long left Mindanao, the southern island of the Philippines. It was then handed over to the British colony in 1878.
Sabah is no longer considered under the Philippines' jurisdiction after it became among the founding states of the Federation of Malaysia in 1963. Malaysia sees it as Sabah's act of self-determination.
In 2016, Malaysian Prime Minister Najib Razak and President Rodrigo Duterte resolved to set aside the decades-long disagreement to give way to a cooperation agreement to work on stamping out Islamic militants in the maritime border between the Philippines' southern tip and Sabah.
Locsin's Twitter entanglements
Despite having been named the country's top diplomat under the Duterte administration, Locsin continued to post unguarded remarks on policies and biting responses to government critics on Twitter. Some of his tweets worked against diplomatic efforts, having placed the country's ties with friendly nations in near-jeopardy.
It was not the first time Locsin expressed willingness to stir up the old row with Malaysia. In September last year, Malaysia similarly warned that "unfriendly and harmful comments" were out of place in a warm mutually beneficial relationship between two countries.
In February 2019, Germany's Federal Foreign Office summoned the Philippines' ambassador to Berlin after Locsin's "extremely offensive comments" on the microblogging platform and in interviews defending Duterte's statements likening himself to Hitler in the conduct of the deadly drug war.
The DFA came to its chief's defense, insisting that German reporters provoked Locsin into uttering a controversial response.
In January this year, Locsin, with his sleeves rolled up, stepped out of the DFA building to challenge activists to beat him up.
He was also locked out of his Twitter account after he called a progressive group "fucking communists" who deserve to be shot and not listened to.