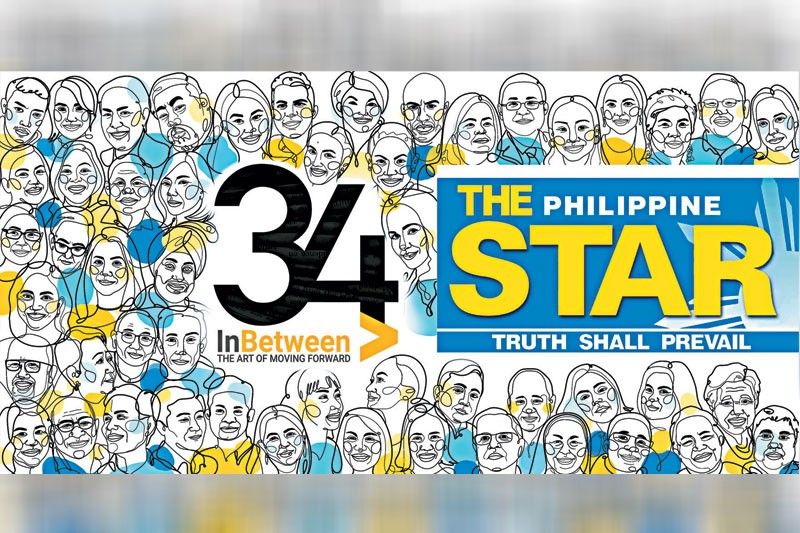 The Philippine STAR 34th anniversary
STAR/File
The art of moving forward
MANILA, Philippines — Struggle is a component of every war. The inconveniences that go with the fight are necessary to move forward. In between struggling and moving forward are stories of interrupted opportunities, amplified commotion, unbidden tears, deadly defeats, unfounded fears, little victories. Unflinching faith.
On its 34th anniversary, The Philippine STAR takes a look at how the invisible war caused by the pandemic is reshaping the world, the psyche of people and their survival instinct.
"In Between: The Art of Moving Forward" presents stories of endurance and perseverance, viability and inequity in a multi-channel presentation – in print, online and on video (through mini-documentaries featuring our subjects). The stories are also interpreted through illustration, including the artwork of IdeasXMachina for the front page.
There are 128 stories, mostly written by people directly affected by the virus, by businessmen, technocrats and restaurateurs who have experienced recalibration of their businesses to keep afloat, by media men and women who keep the fight in this unseen health war, by teachers and students who will undergo changes in instruction and learning when schools open in August, by public servants who don't blink in delivering services even to far-flung places.
In their self-written stories are tales of hope and optimism. Each word is like a bullet ready to slay the enemy. Each action is a trigger to win the war.
Vice President Leni Robredo, in her article titled "Building hope in the time of COVID," set the mood of resilience.
"Since the COVID-19 crisis broke out in the Philippines, we needed to shift our focus. It was a tall order, but turning away from this challenge was not an option for us. This transition was not too difficult for us because bayanihan is the key ingredient of our program — working with the private sector to get things done," she wrote.
In her insightful article, Tourism Secretary Berna Puyat admitted that there's "a glimmer of hope" for the tourism sector "after huge losses in Philippine tourism." But first, during the lockdown, she recounted how the department helped other agencies in mounting sweeper flights and land and sea transfers for around 38,000 foreign and local tourists stranded across the country.
"We should travel soon!" said Aileen Clemente, president of Rajah Travel Corp., noting that tourism activities cannot be replaced and the interest to travel will never wane. "The only question really is when."
The virus is fierce. So is the resilience of the Filipino. AirAsia Philippines owner Sheila Romero succinctly wrote, "There will always be another shot for a brand-new day." She said it with optimism even if she humbly admitted in her article that her company had to retrench 12 percent of its manpower and its top executives and pilots took voluntary pay cuts.
The rapid spread of COVID-19 brought a dramatic impact on stock markets all over the world. Ramon Monzon, top executive of the Philippine Stock Exchange, in his article "Hurdling the challenges," said the virus created an unprecedented level of risks, causing investors to suffer losses in a very short period of time. "But despite the challenges, I firmly believe in the resiliency of the market and am confident that the market will recover to its previous level and may do so earlier than the actual recovery of the economy," he said.
Honesty in tone and intent is achieved in many stories. For example, Richard Yee, president of Goldilocks, wrote: "When the ECQ was declared in March, we were forced to shut down all our plants and stores in the entire Luzon area. In a matter of one day, we literally went from hundreds of operational stores in the NCR to zero." But still he believes, "food businesses will stabilize and grow again."
Dioceldo Sy, president of Ever Bilena, adapted to the times knowing that his cosmetic products were non-essential during the time of the pandemic. He wrote, "Online resellers are the new backbone of our economy."
Dr. Vicki Belo in her article even said: "Self-love and beauty can help you survive a pandemic." And how!
Moving forward with adaptability, agility and grit is the stance employed by Ayala Malls amid the pandemic, as mentioned by its president Jennylle Tupaz in her piece.
"Safe malling is all about restarting and moving forward," wrote Steven Tan, president of SM Supermalls.
PLDT public affairs head Ramon Isberto said COVID-19 brought huge challenges and opportunities to the telecommunications companies. But he cautioned: "Never waste a good crisis."
"With family and friends physically separated due to the current crisis, connectivity becomes more essential to ensure that people stay together despite being miles apart," wrote Rizza Maniego-Eala, CFO of Globe.
Even social media platforms like Facebook, Twitter, Viber – also TikTok, Waze, and the game developer of Mobile Legends – have their big bosses in the Philippines and in the region lend their voices to discuss how they connected people during the pandemic.
All those mentioned above and more talk about hope and resilience in the time of the pandemic. But others, like Dr. Eugene Ramos of Medical City also unmasked life, death and fear – which are also entwined with the war people wage against the virus.
"We need rules, but we also need common sense," wrote Marikina City Mayor Marcelino Teodoro in his essay that assailed efforts to stop him from putting up an alternative COVID-19 testing facility in his city.
Teodoro's exchange of barbs with government officials was reported by the media, an entity also under attack during the pandemic.
"Our spirit can never be broken," wrote ABS-CBN news chief Ging Reyes when the government rejected her TV station's franchise renewal.
"There is less laughter in the newsroom," observed STAR editor in chief Amy Pamintuan. "The pandemic is teaching people the value of face-to-face human interaction. It's like air – taken for granted, but its absence is not only missed but also poses an existential threat."
Even with fresh air in the provinces, the threat of the pandemic is felt. Jean Mae Diaquino, a Grade 7 student from Zamboanga del Norte wrote of her fear not solely of the virus but also of online education. "I don't have a laptop or a mobile phone. We don't even own a TV. My mother has no job and my father passed away. How can I afford online learning?" she asked.
But Education Secretary Leonor Briones, in her essay referring to the Philippine education system, said: "COVID-19 is not a death sentence."
But it was a death sentence for former senator Heherson Alvarez, whose wife Cecilia Guidote-Alvarez wrote a heartfelt piece on how she and her husband battled COVID-19 at the same time. "I wanted to give my husband a goodbye kiss and whisper to him my love forever," she wrote. But the virus denied her of her wishes.
Taj Curata, a 13-year-old boy, spoke to PeopleAsia editor in chief and STAR Newsmakers editor Joanne Rae Ramirez about losing both his parents to COVID-19. There were also no goodbyes said. But every night he prays to God. He is still hopeful.
"The only way we are going to get through this is by helping each other," said Philippine STAR president and CEO Miguel Belmonte.
"We need to put the welfare and safety of our neighbors alongside our own. We need to cooperate with government agencies with regard to health rules and protocols. And we need to pray for God's help and guidance as we strive to move forward. The Filipino has always been known as a resilient people, we know how to look at the bright side even when times are tough. We will make it through this crisis, together," he added.
Resilience is a trait of the Filipino. The world may be at war with the unseen, deadly enemy. But the Filipino people will rise again.
National Artist Ryan Cayabyab said it best in his article: "The music never stops – not even in a pandemic."
For now, we continue the fight.