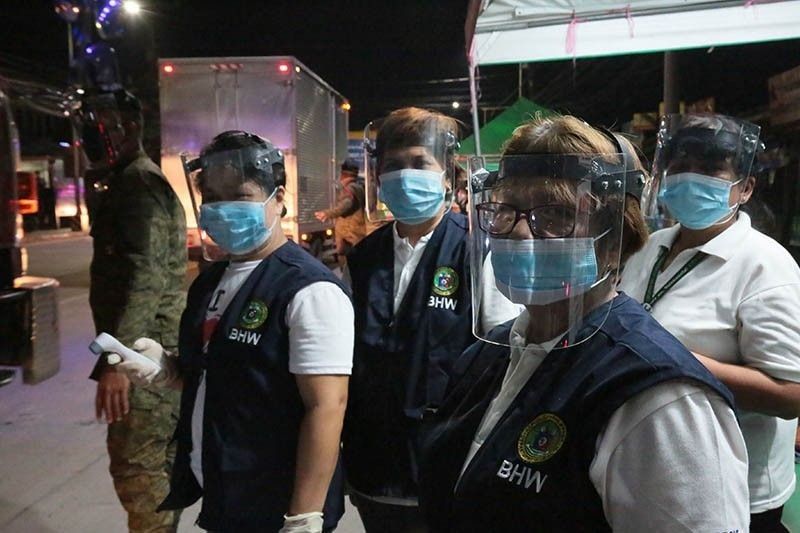 Under the new program, police will assist health workers and local officials to transfer COVID patients, even those with mild symptoms and asymptomatic ones, from home quarantine to government isolation facilities.
The STAR/Michael Varcas
No tokhang, arrests in COVID house search – Año
MANILA, Philippines — Interior Secretary Eduardo Año has assured the public that house-to-house search for coronavirus disease 2019 (COVID-19) patients would not be similar to the controversial Oplan Tokhang or the Duterte administration's war against illegal drugs.
Año slammed critics of the new government program Oplan Kalinga to locate COVID patients and transfer them to government quarantine facilities to protect the relatives and neighbors of the patients.
"First of all before they comment they should find out what really is the pronouncement, what are the plans of NTF (National Task Force on COVID-19)," Año told radio station dzBB yesterday.
Under the new program, police will assist health workers and local officials to transfer COVID patients, even those with mild symptoms and asymptomatic ones, from home quarantine to government isolation facilities.
Several senators and various sectors raised concern over abuses the police might make and compared the new community campaign to Oplan Tokhang, part of the ongoing drug war of the administration.
Oplan Tokhang authorized policemen to knock on the doors of suspected drug pushers and users to persuade them to stop their illegal activities.
However, there were many incidents that resulted in alleged shootouts with the suspects ending up dead.
Año clarified that policemen will not lead the search for coronavirus patients and instead just escort and assist local health workers and officials.
He said that health workers would have a list of positive COVID-19 cases that would be transferred to quarantine facilities and that there will be appropriate contact tracing for this.
Año added that home quarantine has led to widespread community transmission, which authorites believe drove the recent surge in COVID-19 cases.
With Oplan Kalinga, Año said the government will monitor patients properly so that they could not spread the virus while on home quarantine.
Año said quarantine period at the government facilities could be compared to a 14-day all-expenses paid vacation.
The government will also focus its search for COVID-19 patients in poor communities, an official of the Philippine National Police (PNP) said on Wednesday.
PNP deputy chief for operations Lt. Gen. Guillermo Eleazar explained that unlike gated subdivisions where a person could properly isolate from the rest of the household, shantytowns are prone to community transmission as the houses in these areas are ill-equipped for home quarantine.
He told "The Chiefs" on Cignal TV's One News that inside gated subdivisions, the big houses even have rooms with their own toilets.
The government came under fire after Secretary Año's earlier statement that local government units (LGUs) and the police would conduct house-to-house search to find persons infected with COVID who are staying at their homes.
Año and other officials later clarified the police would only play a supporting role to local teams in the effort to locate patients.
Eleazar clarified that the initiative is not anti-poor, saying it will benefit the impoverished sectors of society.
He assured the patients that they would be treated properly at quarantine facilities.
"On the contrary, para talaga sa mahihirap ito," he said.
While they want to exercise maximum tolerance, Eleazar said the police and local health officilas would extract COVID-19 patients from their homes if they are already putting their families and communities at risk.
Police officers have no other option but to take the patients out of their homes to protect not only their families but their neighbors as well.
He said the police will take the cue from representatives of local epidemiological surveillance units that would decide whether a COVID-19 patient poses a danger to the community.
Contact tracers
House Deputy Minority Leader and Iloilo Rep. Janette Garin, who is a doctor and former health secretary, said it may just be a waste of time and resources if the government hires contact-tracers when quarantine restrictions have already been eased.
"Contact-tracing using hired personnel would have been better during the lockdown. But at this point when we have partially – and the others have fully opened – contact-tracing without technology is almost impossible," Garin said.
In a hearing of the House Defeat COVID-19 Committee-Health cluster, Garin said the hiring of contact-tracers will not be that cost-effective anymore "because we already opened up."
Garin said it is impractical since the entire country, except Cebu City, has now been under the more relaxed general community quarantine (GCQ), unlike the stricter enhanced community quarantine (ECQ).
She said the "value for money isn't there" and that human contact-tracers are bound to "miss a lot of things" post-ECQ, where people have become more mobile and businesses have reopened.
The Department of the Interior and Local Government (DILG) spokesman Jonathan Malaya said the government intends to ramp up the hiring of contact-tracers this month.
The DILG is reportedly eyeing graduates from medical schools, criminology and similar courses to augment roster of contact-tracers that include 50,000 volunteers nationwide.
Tarlac Rep. Victor Yap, chairman of the committee on information and communications technology (ICT), suggested the use of a bluetooth technology contact-tracing since this would be the best in terms of protecting the privacy of individuals.
"Bluetooth-based technology should be used. Many will complain about this, but it doesn't have any privacy issue. Other technologies have issues on privacy, and the questions about it will only prolong the application," Yap said.
The Department of Public Works and Highways is ramping up the construction of offsite dormitories for doctors and other healthcare workers, DPWH Secretary Mark Villar said yesterday.
Villar said that the DPWH Task Force to Facilitate Augmentation of Local and National Healthcare Facilities is well under way in the completion of temporary shelter for healthcare workers of the Lung Center of the Philippines in Quezon City to ensure that enough medical professionals can safely care for patients.
Villar, who was named isolation czar, said the DPWH continues to lead the government's efforts in putting up healthcare facilities across the country.
Two cluster dormitories located within the compound of Lung Center of the Philippines would be completed on July 17.
With the dormitories, the doctors, nurses and other medical staff constantly exposed to a variety of health hazards do not have to go home or stay in hotels after their hospital duty for the much needed quick rest.
Temporary dormitories for healthcare workers are also under construction at the Quezon Memorial Circle in Quezon City, another shelter near the Jose B. Lingad Memorial Hospital in San Fernando City in Pampanga and 10 health facility projects in Eastern Visayas. Emmanuel Tupas, Delon Porcalla, Jose Rodel Clapano
Related video: