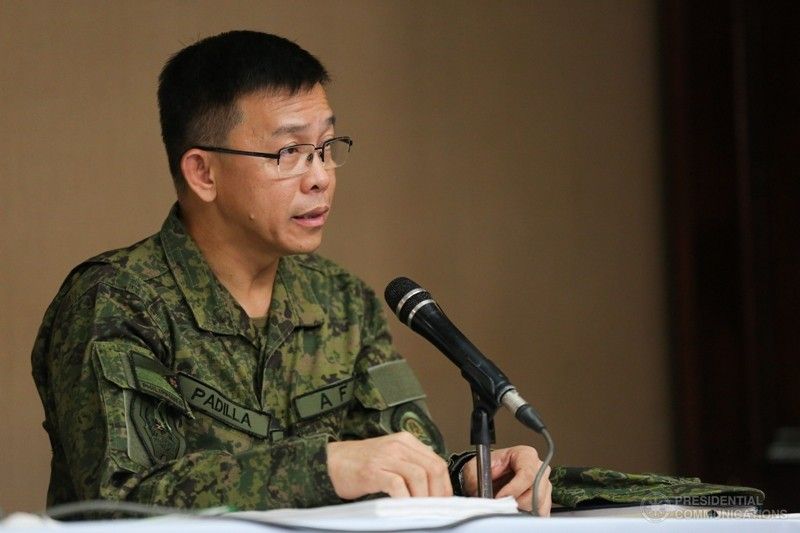 Restituto Padilla Jr. in a 2017 file photo
Presidential Photo, file
Metro Manila likely to stay under GCQ; ECQ for Cebu City
MANILA, Philippines — Metro Manila is likely to remain under general community quarantine (GCQ) and Cebu City under the strictest enhanced community quarantine (ECQ) for the rest of the month.
National Task Force (NTF) against COVID-19 spokesman Restituto Padilla Jr. raised the scenario in an interview with "The Chiefs" Monday night on One News / TV 5.
He said there are still many hotspots being monitored in the National Capital Region (NCR), especially Navotas which will undergo a city-wide two-week lockdown beginning tomorrow because of rising cases.
"We see some of this in many areas of Metro Manila and instead of placing the entire Luzon on lockdown, the entire NCR on lockdown, let's localize," he explained.
"That's why we brought down the fight to the level of our tactical troops and that tactical troops are actually our mayors, our barangays, our municipalities," he said.
As for Cebu City, Padilla said the locality might stay under ECQ despite the improving situation.
"Cebu will stay as is for now. I don't know the final decision, and I don't want to pre-empt, but it's good the situation is improving," he said in Filipino.
Padilla said the fatality rate in Cebu City is not as high as the national average and bed capacities in hospitals are no longer at maximum limits. The number of recoveries has also risen, he said.
"So from the time we started, where everything was almost critical, there is now steady improvement. The people just need to follow rules," he added.
Imposing quarantine restrictions requires a delicate balancing between public health and the economy.
On the issue of hospitals reaching critical care capacity, Padilla said it should actually be attributed to the government's improved testing capacity.
One solution, he explained, is to bring the mild and asymptomatic cases to isolation facilities instead of letting them stay in hospitals, which should prioritize severe cases.