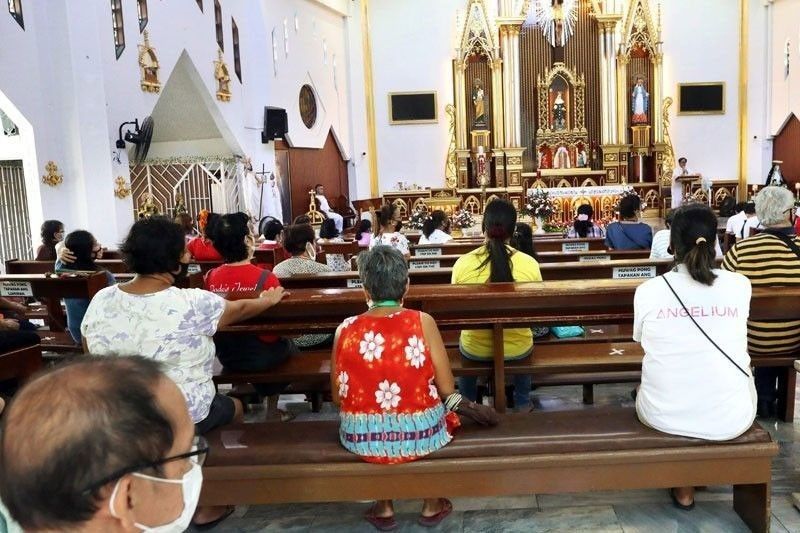 "The city government recognizes the importance of faith and religion among Filipinos, especially now during a pandemic," Quezon City Mayor Joy Belmonet said in Filipino.
Edd Gumban, file
Quezon City allows religious gatherings under strict conditions
Janvic Mateo
(The Philippine Star) - July 12, 2020 - 12:00am
MANILA, Philippines — The Quezon City government has allowed religious activities under strict conditions to prevent the transmission of the coronavirus disease 2019 (COVID-19).
Mayor Joy Belmonte has approved the guidelines for religious gatherings in line with the recent resolution of the Inter-Agency Task Force for the Management of Emerging Infectious Diseases (IATF).
Resolution 51 states that limited religious gatherings may be allowed in areas under general community quarantine, provided that there is no objection from the local government unit.
Belmonte said the guidelines are consistent with the IATF policy, such as the 10-percent seating capacity limit on the number of participants.
"The city government recognizes the importance of faith and religion among Filipinos, especially now during a pandemic," she said in Filipino.
"I ask for everyone's understanding because we need to put in place strict rules to prevent any problems in the future," she added.
Under the guidelines, only persons between 21 to 59 years old will be allowed to attend any religious gathering.
Also advised to stay home are those with immunodeficiency, comorbidity or other health risks as well as pregnant women.
"Proper social distancing must also be strictly exercised in all religious venues," Belmonte said, adding that all forms of physical touch are prohibited and all attendees are required to wear face masks.
"If any religious practice necessitates the removal of the face mask or face covering, this shall be done quickly and put back in place immediately," she added.
If possible, only one entrance and exit point will be assigned where thermal scanning will be conducted upon entry and hand sanitizing done.
Individuals with temperature exceeding 37.5 degrees Celsius will not be allowed to enter the venue and must be isolated at an appropriate location, pending initial investigation by the barangay or health center.
Belmonte encouraged attendees to engage in frequent handwashing and regular disinfection of high-touch objects such as door handles, microphones, tables and chairs.
Concerned city government offices have started inspecting venues of religious gatherings in Quezon City to ensure compliance with the guidelines.
Lockdown lifted
The city government has also lifted the special concern lockdown in Kaingin Bukid in Barangay Apolonio Samson, following the recommendation of the city health department.
The lockdown was lifted after 60 out of 93 confirmed COVID-positive individuals in the area recovered while the rest are currently recovering in the city's isolation facility.
Despite the lifting of the lockdown, assistant city administrator for operations Alberto Kimpo said police would still remain in the area for a week to ensure that health protocols are implemented.
He ordered barangay officials to implement general community guidelines, protocols for minimum health standards and enforcement of "hot zones" on suspected or confirmed cases.
The city conducted 1,353 rapid and 621 polymerase chain reaction tests in the area, which has a population of 4,756.
Meanwhile, Kimpo said a special concern lockdown on a portion of Mendez Street in Barangay Baesa was extended for seven days.
The street, a highly populated urban poor area, is situated along a waterway with a single and narrow passageway, making it high risk for community transmission.
The lockdown was extended pending the results of the tests conducted on 167 residents.
Caloocan requires registration
In Caloocan, church goers will have to register for a slot first and wear a face mask before being able to attend mass.
Caloocan diocese spokesman Fr. Jerome Cruz yesterday said church goers would also have to step on a foot bath mat, sanitize their hands and have their temperatures checked before being allowed to enter the San Roque Cathedral.
They will have to send a text message, call or visit the parish office to register for a slot before being allowed to celebrate mass, Cruz said.
Each church goer will be given a piece of paper which contains the reservation code, which they will present before entering the church half an hour before mass.
Only those aged 21 to 59 years are allowed to attend mass. Those belonging to vulnerable sectors and ages may participate through a livestream in the diocese's Facebook page.
Churchgoers will only be allowed to enter through one door. Collection of donations will no longer be done, but instead church goers may offer their donations through boxes placed beside the doors, the diocese said.
The IATF has only allowed churches to open on a 10-percent seating capacity. Marc Jayson Cayabyab