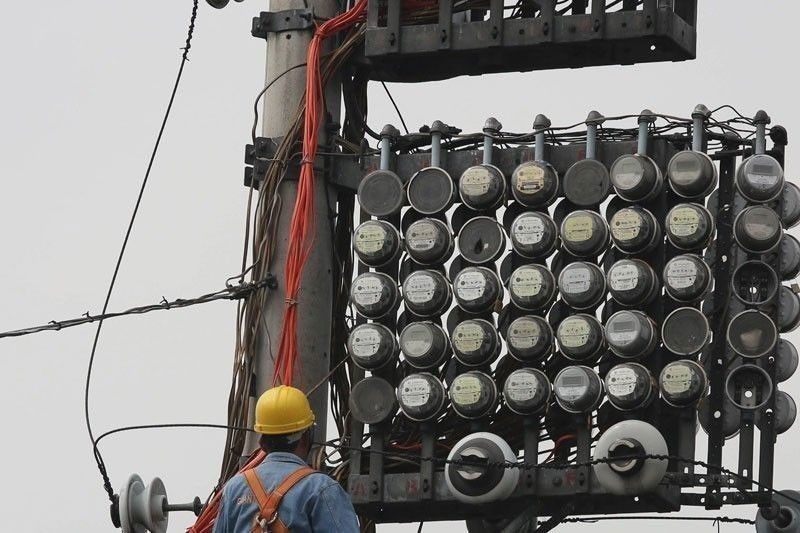 At a virtual briefing yesterday, Meralco officials announced a decrease of P0.0286 per kilowatt-hour (kwh) in overall rates from last month's P8.7252 per kwh to P8.6966 per kwh this month.
Boy Santos/ File
MANILA, Philippines — The Manila Electric Co. (Meralco) has announced lower rates for the third straight month in July, as it continued to invoke the force majeure (FM) provision in its power supply agreements or PSA.
At a virtual briefing yesterday, Meralco officials announced a decrease of P0.0286 per kilowatt-hour (kwh) in overall rates from last month's P8.7252 per kwh to P8.6966 per kwh this month.
This month's rate reduction is equivalent to around P6 in the total bill of residential customers consuming 200 kwh. Moreover, this month's overall rate is significantly lower than that of July 2019, which was P9.9850 per kwh and is also the lowest since September 2017.
Meralco attributed the reduction to the decrease in generation charge ­– the largest component in the electricity bill – and in transmission charge.
"Primarily, the FM claim in our contracts helped lower the generation charge," Meralco spokesman Joe Zaldarriaga said, pointing out that this decreased by P0.0069 per kwh in July from last month's P4.3413 per kwh.
Because of the reduction in power demand in its service area during the modified enhanced community quarantine and general community quarantine, Meralco continued to invoke the FM provision in some of its PSAs, reducing the generation cost that would have been charged by suppliers.
This July, the FM claim totaled about P265 million, equivalent to customer savings of P0.0877 per kwh in the generation charge. This represents avoided charges from the temporary suspension of mid-merit supply contracts recently approved by the Energy Regulatory Commission (ERC).
Without the FM claims, the total rate would have increased by P0.0717 per kwh from last month's rate.
For the past four months, the savings from FM claims totaled around P1.85 billion.
"The basis for invoking the FM provision is the drop in demand, that's why we were able to invoke FM provision in the PSA contracts. While demand rose when we transitioned to general community quarantine, it is still actually lower than we registered in March," Meralco head of utility economics Lawrence Fernandez said.
The peak demand in Meralco reached 7,584 megawatts in March. Demand fell to 5,453 MW in April with the full-month implementation of the enhanced community quarantine. Demand reached 6,428 MW in May and 7,051 MW in June.
"We will continue to monitor the demand if it will warrant the continued invoking of FM," Fernandez said.
Charges from the wholesale electricity spot market (WESM) decreased by P1.7803 per kwh due to reduction in line rental cost related to Meralco's supply contracts. The share of WESM to Meralco's supply needs went up to 15.9 percent.
Meanwhile, the cost of power from independent power producers (IPPs) increased by P0.4354 per kwh mainly due to lower average plant dispatch with the five-day scheduled maintenance outage of San Lorenzo Modules 50 and 60.
Purchases from PSAs also inched up by P0.0455 per kwh as a result of lower FM claims this month as compared to the previous month. The peso's appreciation mitigated further increases in IPP and PSA charges. The IPPs and PSAs accounted for 33.2 percent and 50.9 percent of Meralco's total supply, respectively.
In terms of other bill charges, the transmission charge for residential customers registered a reduction of P0.0426 per kwh due to lower ancillary service charges.
This more than offset the P0.0209 per kwh net increase of taxes and other charges, following the completion last month of the ERC-approved adjustment on Meralco's system loss over/under-recoveries.
Collection of the universal charge-environmental charge, which amounts to P0.0025 per kwh, also remains suspended as directed by the ERC.
Meralco's distribution, supply and metering charges, meanwhile, have remained unchanged for 60 months, after these registered reductions in July 2015.