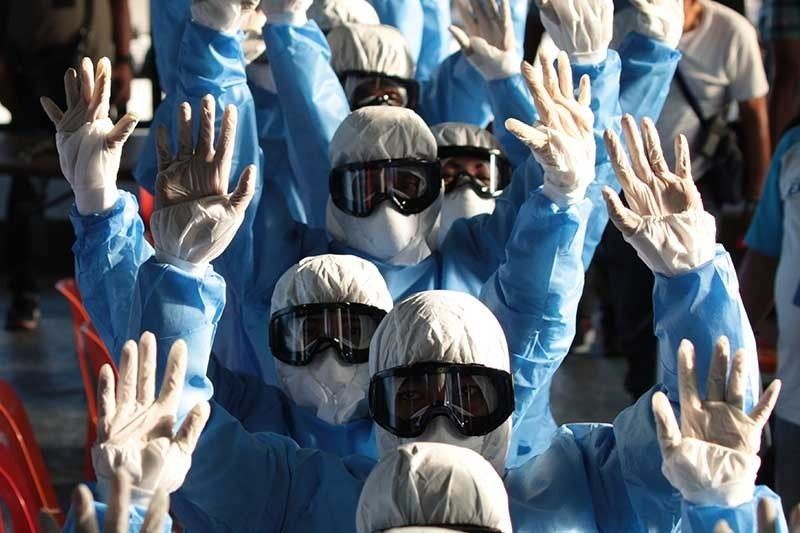 The President noted how "thousands of Filipino health workers, who compose a major component of the nation's labor force, selflessly and tirelessly provide essential quality and critical care to individuals, families and groups, even in the face of great peril, fear, uncertainty and vulnerability."
The STAR/Michael Varcas
Duterte declares 2020 Year of Filipino Health Workers
MANILA, Philippines — With the world hit by the coronavirus disease 2019 pandemic, President Duterte has declared 2020 as the "Year of Filipino Health Workers" to recognize the "invaluable contribution" of Filipino doctors, nurses and medical workers here and abroad in dealing with COVID-19.
The President noted how "thousands of Filipino health workers, who compose a major component of the nation's labor force, selflessly and tirelessly provide essential quality and critical care to individuals, families and groups, even in the face of great peril, fear, uncertainty and vulnerability."
"The COVID-19 pandemic has greatly affected the country and most nations worldwide, and has posed a daunting challenge to the country's health sector," the proclamation read.
Malacañang's proclamation is also in response to the World Health Organization, which declared 2020 as the "International Year of the Nurse and Midwife" in recognition of the vital role of such health workers in achieving sustainable development goals and universal health coverage.
Duterte signed Proclamation No. 976 on July 6.
"The Philippines, as one of the member-states of the WHO, supports the declaration and adopts the call to honor and celebrate all nurses, midwives and other health workers, whose hard work and dedication have led to the saving of countless lives, the improvement of the overall health of many and ultimately, the betterment of our world," the proclamation read.