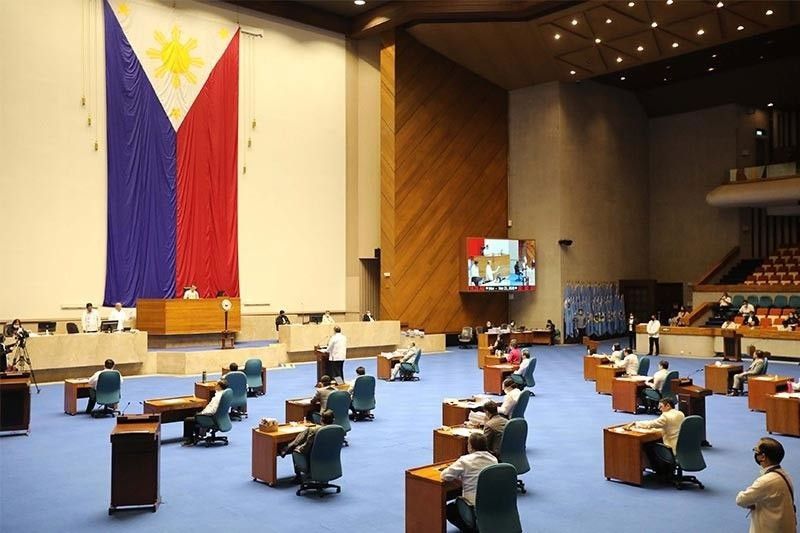 Some 91 members and ex-officio members of both panels are expected to take a vote today on whether to grant a new franchise or reject it altogether due to the network's alleged violations.
The STAR/Felicer Santos
House votes today on ABS-CBN franchise
MANILA, Philippines — A thunderstorm resulted in a power outage at the House of Representatives plenary hall yesterday, derailing the summation proceedings of lawmakers discussing the franchise of beleaguered broadcast giant ABS-CBN.
It was the turn of Deputy Speaker Rodante Marcoleta – known to be against the grant of a new 25-year legislative franchise to the Lopez-owned broadcast company – to make his conclusion when the joint House committee hearing was forced to a halt.
Palawan Rep. Franz Alvarez, chairman of the House committee on legislative franchises, along with Bulacan Rep. Jonathan Sy-Alvarado of the good government committee, announced there was an electrical problem.
Some 91 members and ex-officio members of both panels are expected to take a vote today on whether to grant a new franchise or reject it altogether due to the network's alleged violations.
Alvarez designated Deputy Majority Leader Rep. Xavier Jesus Romualdez, Deputy Speaker Pablo John Garcia and House Assistant Minority Leader Stella Quimbo as members of the technical working group tasked to prepare and present the findings on ABS-CBN's franchise.
"As I ponder on the matters that are laid before the House of the People, I do not speak merely about the franchise application of one network, but rather of the bigger picture that it represents," Speaker Alan Peter Cayetano said.
"There's no doubt this franchise issue has a bigger picture and is more than just simply giving a franchise to a private corporation. For there is a bigger picture – one that spreads far beyond the business interests of one family and the concerns of one company," he said.
The Taguig congressman reiterated that each vote must and will be based on the appreciation of the facts as they have been presented by both sides during the exhaustive proceedings, as well as the application of relevant laws and public policy.
"Rumors of threats and intimidation coming from certain groups, even linking it with specific religious organizations and congressional leaders are completely false and is an unproductive exercise in trying to manipulate the vote to favor a particular decision," he said.
After the summation of 12 hearings for almost two months, the committee on legislative franchise will vote on bills seeking to grant the network a fresh franchise valid for 25 years.
Proponents of the franchise bills appealed to their colleagues to vote based on substantial issues tackled during the hearings.
During a virtual forum of the Kapihan ng Samahang Plaridel, they said those opposed to the franchise renewal application led by Marcoleta failed to prove any of the allegations raised against the network.
The issues included the dual citizenship of ABS-CBN chairman emeritus Eugenio Lopez III, issuance of Philippine Depositary Receipts of ABS-CBN Holdings to foreign nationals, reacquisition of the Lopez family after the EDSA Revolution in 1986, 50-year constitutional limit on franchise, digital migration, alleged labor malpractices, tax issues and biased reporting.
Agusan del Norte Rep. Lawrence Fortun, Cagayan de Oro Rep. Rufus Rodriguez, Parañaque City Rep. Joy Tambunting and Bayan Muna Rep. Carlos Zarate said ABS-CBN won in the hearings and debunked all allegations hurled against it.
They said the hearings showed the network did not violate any laws or regulations.
"All government agencies invited to the hearings said ABS-CBN had no violations. We can judge from the marathon hearings that there was no substantial allegation proven against the network," Fortun said.
"Of the eight issues heard, we see clearly that ABS-CBN did not violate any statute, law or regulation," Rodriguez said.
Tambunting and Zarate appealed to their colleagues to heed the call of Speaker Cayetano to vote according to their conscience.
"I hope we will consider the families of thousands of ABS-CBN employees who stand to lose their jobs. They admitted committing mistakes and vowed to correct them. There is no perfect company," Tambunting said.
Zarate expressed belief that while Congress is a political institution, lawmakers should vote based on the interest of the people and not of the few.
"History will judge how we will vote on this," he commented.
Meanwhile, ACT-CIS party-list Rep. Eric Yap alleged that he received a call from a person who claimed to be an emissary of ABS-CBN who offered him P200 million for his vote in favor of the franchise renewal.
"My answer was simple, my principle and vote are not for sale," Yap said in a statement.
ABS-CBN denied Yap's allegation
"ABS-CBN did not send an emissary to bribe any lawmaker to vote in favor of our franchise application. We believe in the process and we have participated in the process. We answered all issues raised in the past 12 hearings," the network said in an official statement.
Fortun also denied the allegation, which suggested that those who would vote in favor of the network had likewise been bribed.
"These are very serious allegations but have no basis," he said.
Yap's allegation came after Cayetano appealed to parties not to spread rumors or engage in black propaganda to influence the votes of lawmakers.
Tiresome
Meanwhile, labor group Kilusang Mayo Uno (KMU) scored Congress for what it described as tiresome and delaying tactics regarding the future of ABS-CBN.
KMU expressed concern over the use of alleged labor rights violations to clamp down and enforce closure on the network.
"The number of hearings for the granting of franchise to broadcast media network ABS-CBN has totalled to twelve. The long road to the renewal of the ABS-CBN franchise was doubly made difficult by self-serving political interests," Jerome Adonis, KMU secretary general, said.
Adonis said the life of the network's workers is in danger every single day that it is not allowed to broadcast.
He said the closure of the network would leave more than 11,000 employees jobless and the alleged labor rights violations would not be resolved if the company is shut down.
He urged lawmakers to vote in favor of ABS-CBN.
Just find other job
This was the advice of Sen. Ronald dela Rosa to over 11,000 ABS-CBN employees, who may lose their jobs with the non-renewal of the network's franchise.
"Just find other jobs to live. Strive, there might be other means to live. Find other jobs," Dela Rosa said in an online interview with journalists.
Some netizens frowned at the advice, saying it was insensitive as some employees of the network are too old to start another job.
Dela Rosa, however, said he is concerned with the plight of the network's employees, especially those who are from Davao and are his friends, and were with him when he was just starting his career in the police force.
Rally
Church leaders and teachers have been urged to rally behind ABS-CBN's reopening.
At a press conference, La Salle Greenhills chief educator Bro. Armin Luistro said he decided to speak out in support of ABS-CBN after watching the last congressional hearing, wherein he said a majority of the statements made by lawmakers were "personal."
"I've heard the statements of congressmen against ABS-CBN. Any institution has lapses. I know that ABS-CBN is like other media outfits that need change. But given the present situation, wherein we are facing a pandemic, there are many other important matters that need the attention of our leaders," Luistro said, noting the number of COVID-19 infection in the country has breached the 50,000 mark.
"COVID-19 resulted in loss of jobs of many workers in our country, including the jeepney drivers who are dependent on daily earnings to survive. Why are we making ABS-CBN a big issue when there are other important issues that need to be addressed," Luistro said.
He said the global impact of the pandemic is so immense that it needs to be prioritized.
"There is a time to scrutinize the lapses of ABS-CBN. But this is not the time, not the right timing," Luistro said, adding the TV network played a significant role in the dissemination of vital information, specially in a times of pandemic.
"The statements of the congressmen in the last hearing were personal. Knowledge Channel helped a lot in the dissemination of information when I was still in DepEd. When there are disasters, the people need information. The nation needs another (television) station," Luistro said.
He said the congressional hearings on ABS-CBN franchise were "moro-moro."
Rafael Calinisan, La Salle East Asia District law lecturer, urged congressmen to grant ABS-CBN a new franchise.
Calinisan is hoping the members of Congress would be more sensitive to the needs of the Filipinos during the pandemic. Edu Punay, Pia Lee-Brago, Cecille Suerte Felipe, Jose Rodel Clapano