At ABS-CBN franchise hearing, Cayetano warns of 'big business' influence on media, public opinion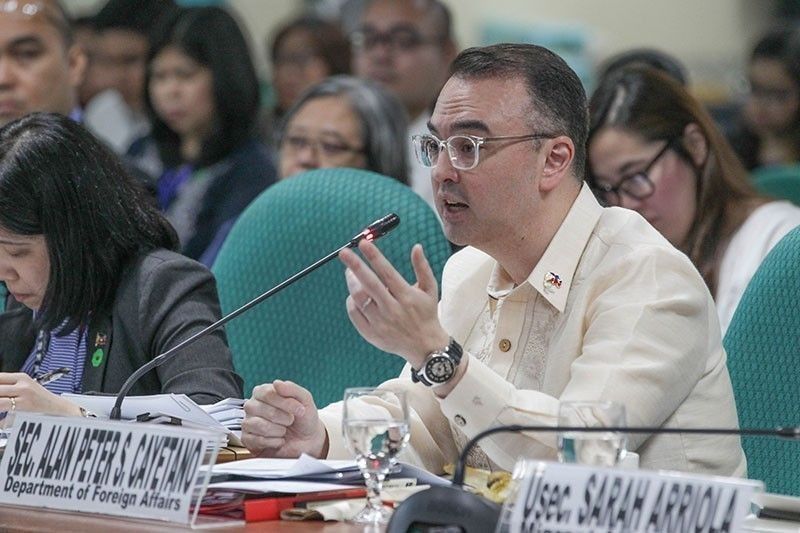 MANILA, Philippines — As the House of Representatives committees wind up its hearings on ABS-CBN franchise renewal bills, Speaker Alan Peter Cayetano (Taguig) claimed that the issue is not about press freedom but of "big business" influence on media.
Cayetano in his closing statement on Thursday said that a private corporation or entity that has become so powerful and seemingly became an owner of the government, is a bigger threat to democracy.
"How shall we decide on the claims that it will be a blow to press freedom if the owners of a private media corporation [are] being denied the privilege of using public airwaves for private business that protects their interest and supports their handpicked candidates while targeting those who oppose them?" he told his colleague.
In May, the Center for Media Freedom and Responsibility said that "[a] democratic government should even be more careful in shutting down a media enterprise because this would violate fundamental rights of free expression and media freedom enshrined in our Constitution."
It also warned that "the sorry state of ABS-CBN delivers a message to every media company. Should it be the pleasure of Duterte, this could happen to other news organizations; which would then spell the end of press freedom under this administration."
Although journalists' groups and individual media workers have protested the government actions against ABS-CBN — and against news site Rappler — mainstream media has largely not taken a position on these issues.
FOLLOW: LIVE updates: House concludes ABS-CBN franchise hearing
'Biased reporting'
One of the issues raised against the network is its supposed "biased reporting" during the 2016 national elections—an issue President Rodrigo Duterte cited when he repeatedly vowed to block the network's franchise renewal in 2019.
Cayetano was Duterte's running mate then.
The House leader argued that this is not an issue involving press freedom but "the theft of government from the people while hiding under the pretense of press freedom."
"Even as we guard against the abuse of public officials and the peculiar and special place that free press holds in our consciousness blinds us to the fact that big business is just as likely to use media to mold public opinion and perception as the meanest tyrant," he also said.
Media ownership and control
According to a joint VERA Files and Reporters Sans Frontiers report on media ownership, the level of political ownership of Philippine media is at a low risk to media pluralism in the Philippines.
"There are connections between the elite ruling politics and business elite that are behind media companies, which also include the popular media outlets and companies such as ABS-CBN and GMA Network," it said.
"However, those networks are not owned (controlled) by a specific political party, politician or political grouping, or by an owner with specific political affiliation," it also said. "Some family members of the big media companies might be involved in politics – in that case, however, they mostly left their management positions and focused on the political career."
The same study found a high risk in political control over news agencies, noting that "even if international news agencies are a relevant source for media outlets, the only news agency with a primarily national focus and with direct access to political information is a government service."
It noted that the Philippine News Agency has "about a hundred journalists and stringers across the country, that are deployed practically in every government office and agency, including the main offices and camps of police and security forces, to provide news 24/7 for local, regional and global subscribers and readers."
The study also said that with President Rodrigo Duterte's announcement in 2016 that he would issue all announcements through state-run media, "the preparation, editing, and distribution of information concerning the executive branch are thus moving into the sole hands of the government."
'Oligarchic state'
Prior to Cayetano's statement, Rep. Mike Defensor (Anakalusgan party-list) manifested that a vote to deny ABS-CBN fresh franchise "is a vote to stop the perpetuation of an oligarchic state that continues to suppress our people."
ABS-CBN is owned by the Lopez family, which VERA Files and RSF noted is among the "five families in the Forbes List of 2016 Philippines' Richest" that are in media and that have "made their money predominantly from media."
"Even though the political and economic elite are interweaved, those links have not led to targeted discriminatory actions in the recent past, with in general little political control being openly exerted," the study said then.
"It poses, however, a potential risk to media as soon as the political elite start to exploit the vulnerability of media owners."
ABS-CBN and its 2016 elections reportage
The House panels on Monday spent more than 10 hours as it sought to deliberate on the network's "biased reporting" and picked apart reportage and content over the years. Discussions however skewed to some lawmakers airing their gripes on the network's news and public affairs department.
Rep. Carlos Zarate (Bayan Muna party-list) however stressed that the Congress' duty is to ensure that the members of the press can "do their jobs reporting....without suppressing their freedom" and not dictate news content.
The House speaker recognized that the deliberations on the grant of a fresh 25-year legislative franchise to ABS-CBN is taking against a backdrop of a pandemic, that claimed thousands of lives and livelihoods, that need lawmakers' attention.
"Given more time, I would have wanted the proceedings to go deeper into the roots of these principles and pierce the corporate veil to see into the historical and factual context of these issues being discussed," he said.
The joint hearings conducted by House's Committees on Legislative Franchises and Good Government and Public Accountability ran for 12 sessions. The lawmakers are expected to vote on ABS-CBN's franchise renewal this week. — Kristine Joy Patag