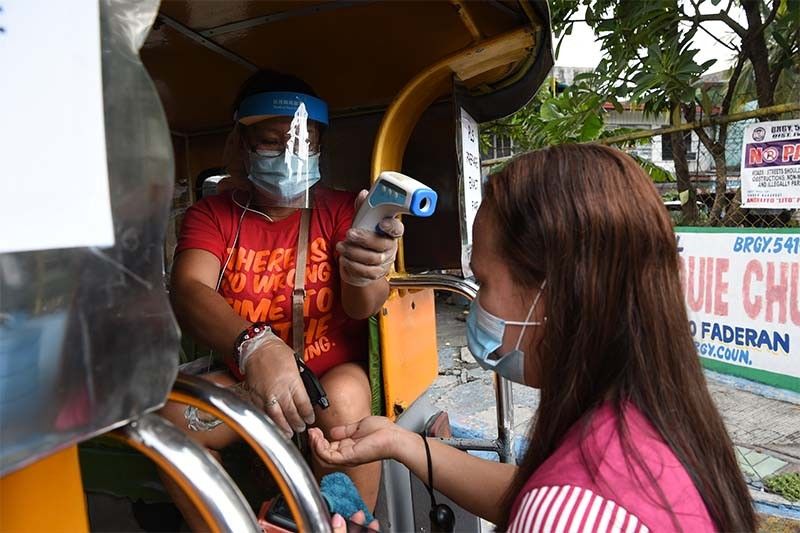 A worker (L) takes the temperature and sprays disinfectant for a passenger on a jeepney in Manila on July 6, 2020, after thousands of jeepneys hit the road again after over three months since they were forced to stop operation amid the COVID-19 coronavirus pandemic.
AFP/Ted Aljibe
No new deaths reported as COVID-19 tally in Philippines hits 51,754
MANILA, Philippines (Update 1, 5:39 p.m.) — Confirmed coronavirus disease (COVID-19) case in the Philippines increased to 51,754 Thursday after the Department of Health reported 1,395 infections.
Broken down, 1,184 were patients who tested positive for the virus within the last three days, while 211 were people who tested positive from at least four days earlier.
Metro Manila accounted for majority of the "fresh" cases with 390, followed by Central Visayas with 243. Sixty-seven of these cases were from repatriates, while the remaining 484 were from other regions.
Meanwhile, 53 of the "late" cases were from the capital region, while 47 were from Central Visayas. Other regions accounted for 108 of these cases, while repatriates accounted for only three cases.
The day before, the Philippines hit a troubling milestone of crossing 50,000 infections after the DOH logged 2,539 cases—the highest single-day increase reported in the country. This came after the national government eased restrictions on movement and allowed the resumption of more businesses.
The Philippines' caseload is the second highest in Southeast Asia, behind Indonesia with over 68,000 cases.
Zero deaths
No additional deaths related to COVID-19 were reported Thursday. The fatality count remained at 1,314.
The DOH also logged 225 additional COVID-19 survivors. This raised the total number of recoveries to 12,813.
To date, the number of active cases in the country stood at 37,627.
Health Undersecretary Maria Rosario Vergeire said the nation's health system is able to cope with the increased number of infections.
The country has so far tested 825,139 people in the Philippines. Currently, there are 83 laboratories processing coronavirus samples nationwide.
Around 12.04 million people across the globe have been afflicted by COVID-19 and more than 549,000 of this number resulted in death.
Related video: