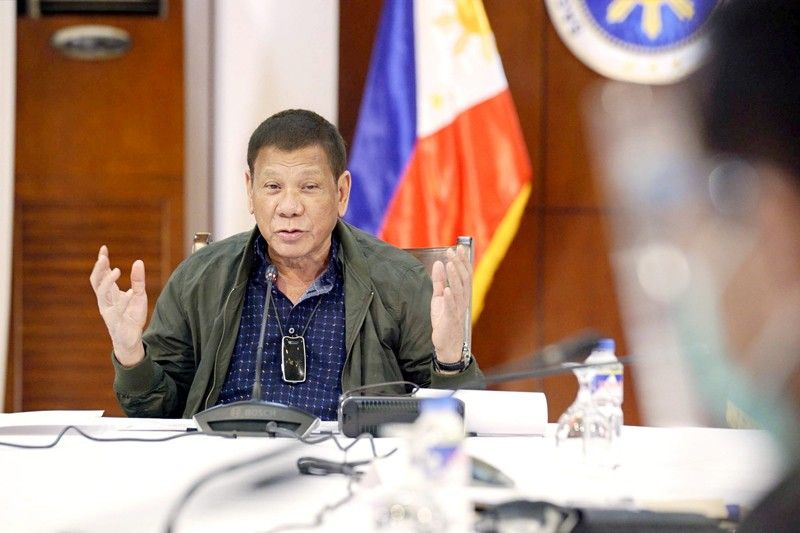 President Duterte meets with members of the Inter-Agency Task Force on Emerging Infectious Diseases in Davao City on Tuesday.
STAR/File
Duterte: I don't need to be corrupt
MANILA, Philippines — Amid allegations of corruption thrown his way, President Duterte said he and members of his Cabinet won't tarnish their reputation in their final years in public service.
At the same time, Duterte defended his Cabinet, especially the former military officers.
He made the statement in a pre-taped broadcast aired early yesterday while also downplaying critics.
Duterte said he cannot be lured by money at this point in his political career as he had been in his days as local chief executive. "No more… am already old. You'll give me a truckload of money? What will I do with the money? At my age, I hate to travel. You travel, you get COVID," he said in English and Filipino.
While he indulges himself with his gun collection, Duterte said he is unmoved by bribes."I have a gun collection – rare, antique – but no military hardware… hobby-hobby lang. Iyong travel, I cannot travel anymore. Totoo 'yan. Wala na 'yan sa amin," he added.
He pointed out that Defense Secretary Delfin Lorenzana, Interior Secretary Eduardo Año, presidential adviser for the peace process Carlito Galvez – all former military officials – won't allow any activity that would ruin their reputations after keeping their integrity intact while in the military.
"General Galvez, General Lorenzana, General Año… they have served their country and they're still serving the country. Why would they destroy their name?" he said.
Lorenzana, Galvez and Año are part of the National Task Force and Inter-Agency Task Force on Emerging Infectious Diseases, agencies which are involved in the emergency procurement of various ventilator machines, personal protective equipment and other medical supplies for the government's fight against COVID-19.
Duterte lashed out at critics who jump to conclusion once they hear about alleged overprice in medical equipment procured by the government. He said they have dirty minds.
"So because then if you judge us that way… then one of these days we will also judge you in the same way and with more ferocity. And it will come. It will come… just be careful," he said.
He warned critics that the tables might be turned on them. "You will have a dose of your own medicine one of these days," Duterte said.