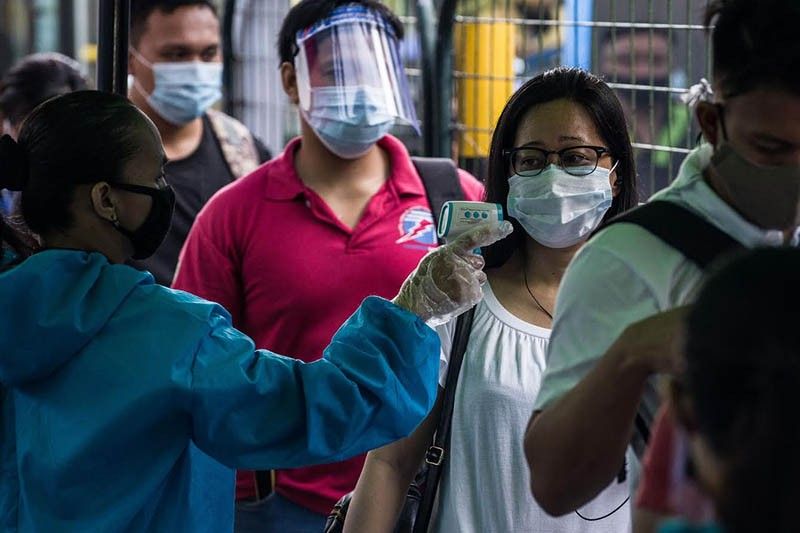 A train passenger has her body temperature taken before boarding a bus at a train station in Manila on July 7, 2020, after authorities suspended operation of one of the train lines after some of its staff tested positive of COVID -19 disease.
AFP/Miggy Hilario
COVID-19 case tally in Philippines hits 47,873 with 1,540 new infections
MANILA, Philippines (Updated 5:21 p.m.) — The Philippines posted another worrying number of new daily infections—at 1,540—Tuesday, raising the country's coronavirus disease (COVID-19) tally to over 47,000.
To date, COVID-19 has sickened 47,873 people in the Philippines since a case was first reported in late January.
Of the newly-confirmed cases, 993 were labelled "fresh" or were detected in the last three days. Metro Manila accounted for 428 of these cases, followed by Central Visayas with 109. Other regions accounted for 456 of these infections.
Meanwhile, the other 547 cases were part of the DOH's validation backlog. Some 191 of these "late" cases were from the capital region, while 65 were from Central Visayas. The remaining 291 of these cases were found elsewhere.
The DOH reported that the number of recovered patients reached 12,386 after 201 more people have survived the disease. Total recoveries accounted for around 26% of the country's confirmed cases.
But six new deaths were recorded, raising the fatality count to 1,309.
The number of active cases in the country stood at 34,178.
The Philippines has been seeing a renewed spike in COVID-19 infections after the country further relaxed community quarantine measures nationwide. Only Cebu City in Central Visayas remains under enhanced community quarantine at least until July 15.
"[We are experiencing] an increase in the number of positive cases due to the increase in testing and because there's community transmission because of the lack of implementation of minimum health standard. The increase has been gradual and our health system is able to cope with the increasing number of cases," DOH Undersecretary Maria Rosario Vergeire said in a briefing Tuesday.
She added clustering of cases was observed in barangays in Metro Manila and Cebu as well as in workplaces in the capital region.
An international group of scientists said health authorities should recognize the coronavirus can spread through the air far beyond the two meters urged in physical distancing guidelines.
The coronavirus pandemic has killed at least 537,000 people out of the over 11.59 million people worldwide since it surfaced in China late last year.
Related video: