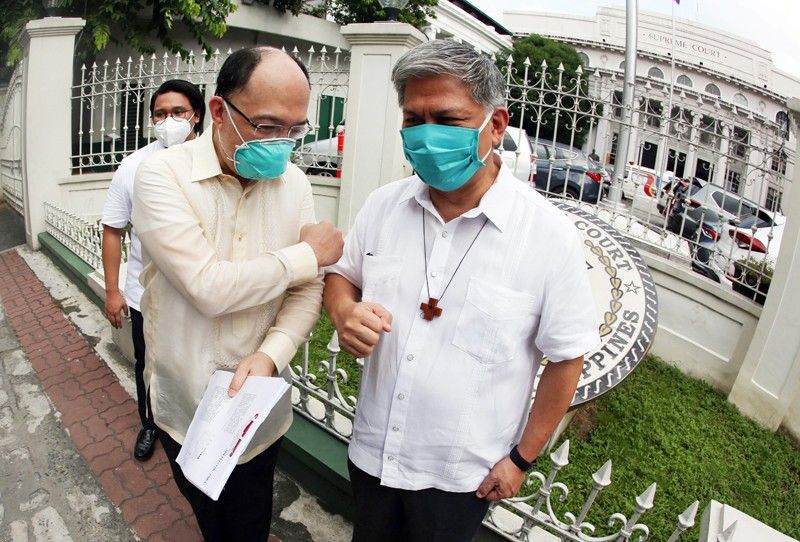 Lawyer Howard Calleja (left) and former Education secretary Armin Luistro file a petition against the Anti-Terror Act at the Supreme Court yesterday.
KJ Rosales
SC receives multiple petitions vs terror law
MANILA, Philippines — More groups and individuals have sought the help of the Supreme Court (SC) in stopping the implementation of the Anti-Terrorism Act, which President Duterte signed last Friday.
After their electronic filing of petition last Saturday contesting the Anti-Terror Act or Republic Act 11479, civic leaders and lawyers led by Howard Calleja and former education chief Bro. Armin Luistro went to the SC on Padre Faura in Manila yesterday morning to physically file their 83-page petition.
Co-petitioners include lawyers Joseph Peter Calleja and Christopher John Lao, as well as Reynaldo Echavez, Napoleon Siongco, and De La Salle University College of Law student government president Raeyan Reposar.
Albay Rep. Edcel Lagman showed up at the SC some 10 minutes later at 8:45 a.m. to file his own 55-page petition.
The third petitioner was the group of Far Eastern University College of Law dean Melencio Sta. Maria Jr. and FEU law professors Eirene Jhone Aguila, Gideon Peña, Michael Tiu Jr., Francis Euston Acero, Paul Cornelius Castillo and Eugene Kaw.
At past noon, the Makabayan bloc of the House of Representatives filed an 83-page petition against RA 11479.
The petitioners are Bayan Muna party-list Reps. Carlos Isagani Zarate, Ferdinand Gaite and Eufemia Cullamat; Gabriela Women's party-list Rep. Arlene Brosas, ACT Teachers party-list Rep. France Castro, Kabataan party-list Rep. Sarah Jane Elago, Bayan Muna party-list president Saturnino Ocampo, Makabayan (Makabayan Koalisyon ng Mamamayan) co-chair Liza Maza, Bayan Muna party-list chairman Neri Colmenares, ACT Teachers party-list president Antonio Tinio, Anakpawis party-list vice president Ariel Casilao, and Makabayan secretary general Nathanael Santiago.
In his petition, Lagman said the law is "replete with constitutional infirmities" and must "be jettisoned in its entirety."
Lagman, a member of the opposition Liberal Party headed by Vice President Leni Robredo, underscored in his petition that "the derogation of freedom is not the price of security and peace, but the precursor of people's unrest and righteous resistance."
"The so-called safeguards in the Ant-Terrorism Act of 2020 are mere motherhood declarations which are eroded by oppressive provisions and a killer proviso that negates any concession to advocacy and dissent," he argued.
"The purported acknowledgement of the people's advocacy and right to dissent is decimated by a killer caveat which categorically states that people's acts lose protection if they are 'intended to cause death or serious physical harm to a person, to endanger a person's life, or to create a serious risk to public safety," Lagman added.
He warned that "all that a devious and underhanded law enforcer or prosecutor has to do is to conveniently invoke the killer proviso to stifle political dissent and peaceable assembly for redress of grievances."
Malevolent torpedo
He called the "killer proviso" the "malevolent torpedo that destroys all of the so-called safeguards provided for in the new anti-terrorism law."
He also asked the SC to issue a temporary restraining order or writ of preliminary injunction to prevent the enforcement of the challenged law pending adjudication by the SC.
"What the government must pursue is the apprehension, prosecution and conviction, once warranted, of terrorists without ensnaring into contrived culpability persons who simply exercise free speech and peaceful assembly," he said.
He also said that contrary to the claims of some of the law' authors, implementing rules and regulations cannot rectify the deficiencies and excesses in the new law because IRR cannot modify, amend or repeal a statute.
The Makabayan bloc, for its part, has raised concern over "red-tagging" of critics of the administration.
"We are not terrorists, and neither are our party-list groups. But notwithstanding almost two decades of being part of the House of Representatives in this Republic, state security forces have been treating us with our officers and members as 'enemies of the state' merely because we dare call for the investigation of human rights violations, overpriced contracts in their budget, and corruption," Makabayan said.
"Worse, several of our leaders and members have been killed while others are being deprived of liberty on false charges," it added.
All four petitioners filed for certiorari and prohibition with a prayer for temporary restraining order and writ of preliminary injunction against the Anti-Terrorism Council (ATC) chaired by Executive Secretary Salvador Medialdea.
It was only the Makabayan bloc that included President Duterte in its list of respondents. Lagman included the Senate and the House as respondents.
Sta. Maria's group, on the other hand, expressed concern the new law would have a destructive effect on academic freedom.
The inclusion of the Commission on Higher Education (CHED) and the Department of Education (DepEd) in the ATC is a "clear threat to academic institutions."
"If this law will be allowed to take effect, it will legitimize wrongdoings, allow transgressions to constitutional liberties, and give license for wrongdoers to act with impunity. Unfounded filings of criminal charges and indiscriminate apprehensions by the government are quite real," it said.
"They occur to this very day. Threats of arrest and unfounded criminal prosecution are also not common," it pointed out.
Petitioners recalled that some protest activities launched by administration critics might be considered violation of RA 11479.
They said even Robredo and 33 others, including senators and some bishops, had to deal with a sedition case that was eventually dropped.
'Vagueness' frightening
Hours after President Duterte signed the law, policemen arrested 11 people who joined a peaceful protest against the Anti-Terror Act in Cabuyao, Laguna.
On May 11, agents of the National Bureau of Investigation (NBI) arrested schoolteacher Ronnel Mas without a warrant for inciting to sedition because of his post on social media offering P50 million to anyone who could kill Duterte.
The Makabayan bloc said under the Anti-Terrorism Act, the 1986 EDSA people power revolution that toppled the Marcos dictatorship could be considered a violation of the new law.
"With this vagueness, there will undeniably be instances where Filipinos will not know where social advocacy ends and 'terrorism' begins. They will not see the line between academic or political thought and discourse, on one hand, and 'terrorism', on the other. This is the chilling consequence presented by the vague Anti-Terrorism Act of 2020," it said.
"We respectfully reiterate that the Anti-Terrorism Act of 2020 has an excessively broad, vague and abstract definition of terrorism that it's ancillary or secondary offense will give ATC and the law enforcers too wide a latitude in determining which acts are punishable under its provisions," Sta. Maria said.
In a statement sent from detention, meanwhile, Sen. Leila de Lima said the recent killing of four soldiers by policemen in Sulu should illustrate the dangers ordinary people face when the Anti-Terror Law takes effect.
"God help us if these are the policemen and soldiers who will implement the Anti-Terror Law, people who cannot even recognize among themselves who the friendly forces and who the terrorists are," De Lima.
"If the police themselves are killing soldiers running after terrorists Abu Sayyaf, then good luck to us and let's just pray that the police in our community know who our friends are and who the terrorists are," she said in Filipino.
De Lima likened Duterte's flying to Zamboanga City and reminding military officers and enlisted personnel of the benefits they have received under his administration to "a Mafia godfather who comes knocking on the door asking for payback on a favor."
"So this is how Duterte's week went. On Monday, nine policemen massacred four Army soldiers —summarily executed, extrajudicially killed, neutralized, eliminated, etc. Friday, he signs the Anti-Terror Bill into law then flies off to Zamboanga to basically ask the AFP for their forgiveness on behalf of the PNP," she pointed out. Delon Porcalla, Cecille Suerte Felipe