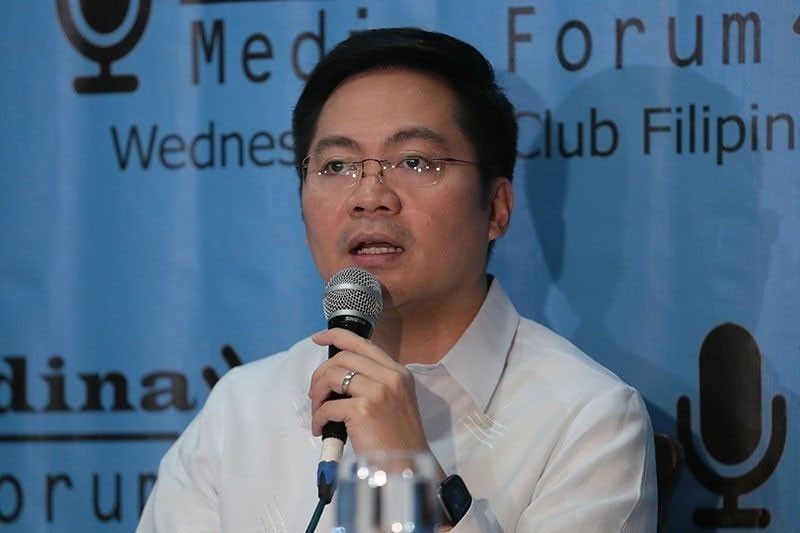 Inter-Agency Task Force on Emerging Infectious Diseases (IATF) co-chair and Cabinet Secretary Karlo Nograles said job prospects remain positive despite the pandemic because some businesses are resilient, remain "extremely relevant" and booming despite the global health crisis.
Michael Varcas/File
Students told: Seek careers in health
MANILA, Philippines — Students should be creative and look for career opportunities in sectors that may thrive even during the coronavirus disease 2019 (COVID-19) pandemic, an official said.
Inter-Agency Task Force on Emerging Infectious Diseases (IATF) co-chair and Cabinet Secretary Karlo Nograles said job prospects remain positive despite the pandemic because some businesses are resilient, remain "extremely relevant" and booming despite the global health crisis.
"We all need to be persistent and creative. Know what and where to look for employment-wise in these challenging times. No one is immune from the fallout brought by COVID-19," Nograles said during an online forum last Friday.
"There are uncertainties, especially among our youth, but there are many prospects also. It is expected that some would be worried. Let's remain optimistic and think there are many opportunities out there," he added.
Nograles said some of the promising fields belong to the health and medical sectors, online retail and deliveries and various online services. He said the service sector is facing challenges at a time when people are avoiding physical contact. Some sectors, however, remain stable and are even expecting growth like logistics, medicine and online retail.
Nograles said the government sees an increased demand for professionals skilled in information technology, health care, education, logistics and personal assistance services. But the demand in transportation and manual labor may dip because of social distancing measures and automation in manufacturing, he added.
He also called on job applicants to take advantage of new web-based technology in finding jobs. He encouraged them to do volunteer work while looking for regular employment, saying it would help them develop skills and expand their network.
'Prioritize workers'
Senators prodded yesterday Malacañang to immediately take steps to stem the massive job losses hitting an estimated 7.3 million Filipinos, which could spawn more serious problems amid the COVID-19 pandemic if not addressed quickly.
Sen. Joel Villanueva, chairman of the committee on labor and employment, lamented that President Duterte did not certify as urgent the bill that was proposed to replace the Bayanihan to Heal as One Act, to allow the continuation and expansion of financial subsidies to the poor, the unemployed, and other distressed sectors.
"We appeal to the government to prioritize our workers, who are now hungry and hard up with no government help in sight. Let's remember that the hard work of our workers is the one that will spark the recovery of our economy," Villanueva said.
The number of Filipinos out of work represents a 17.7 percent increase in unemployment, the highest rate ever recorded in the country, according to Philippine Statistics Authority (PSA) data as of April 2020.
Sen. Nancy Binay said the proposed Bayanihan to Recover as One Act would have provided some P140 billion in various wage subsidies and other financial aid to workers in many sectors hit by the pandemic, including the tourism, education and creative industries.
"The fight is not yet over but the government already let go? Are Filipinos in orbit to be left in the air?" Binay said in Filipino.
Time is essential
The recession clock is ticking and the national government needs to nip the swelling unemployment rate in the bud, if only to prevent deteriorating poverty – worsened by the global pandemic – from being transferred to succeeding generations.
"We will need to confront poverty now. We cannot let growth fall too far down because it leads to poverty, and poverty is intergenerational. If you don't confront it now, you are amplifying the problem in the future," Albay Rep. Joey Salceda warned.
The chairman of the ways and means committee of the House of Representatives issued the caution after learning of the PSA's unemployment report.
"Make no mistake, growth can fall by as much as -5.5 percent full year GDP this year, if we don't do enough, and right now, with the way we are missing crucial deadlines with both the stimulus and CREATE, we have to do much catch-up in July and August," he said.
"If you don't confront the problem now with a strong stimulus plan like ARISE, you will have to spend more to correct a greater damage in the future. When confidence is the commodity in scarcity, you have to be quick, bold, and decisive," Salceda added.
CREATE stands for Corporate Recovery and Tax Incentives for Enterprises, while ARISE stands for Accelerated Recovery and Intervention Stimulus for the Economy – the two vital bills needed for the P1.3-trillion economic stimulus program that will revive the economy.
Easing private school burden
The national government must give subsidies to help keep private schools afloat amid the pandemic as neglecting these institutions would lead to greater problems such as overly crowded public schools and unemployment among teachers and staff, Sen. Sherwin Gatchalian said yesterday.
To help ease the burden on private schools that continue to pay their teachers and personnel, Gatchalian is proposing their inclusion in the Department of Finance (DOF)'s Small Business Wage Subsidy (SBWS) measure, which grants P5,000 to P8,000 to qualified workers from small businesses affected by the enhanced community quarantine (ECQ).
According to a survey on micro, small, and medium enterprises (MSMEs) by the DOF and the National Economic and Development Authority (NEDA), the education sector has the second highest number of job losses at 130,514 since the ECQ was enforced.
The same survey revealed that the education sector is the fourth most battered in terms of revenue, with average losses of up to 76.8 percent.
Gatchalian, who chairs the Senate committee on basic education, warned if schools close because of revenue losses, teachers and personnel will lose their jobs and students could migrate to overstretched public schools.
He added that when teachers lose jobs or shift careers, the shortage of teachers nationwide will impede learning continuity.
The senator is also mulling the expansion of the Government Assistance to Students and Teachers in Private Education Program. This program, which was instituted through Republic Act 6728 or the GASTPE Act, provides financial assistance to learners and teachers to help decongest public schools.
Records from the Coordinating Council of Private Educational Associations show that private schools cater to 16 percent, or around four million of the country's more than 27 million learners in basic education. COCOPEA managing director Joseph Noel Estrada projects that up to 50 percent or two million of these students might drop out or move to public schools. – Paolo Romero, Delon Porcalla