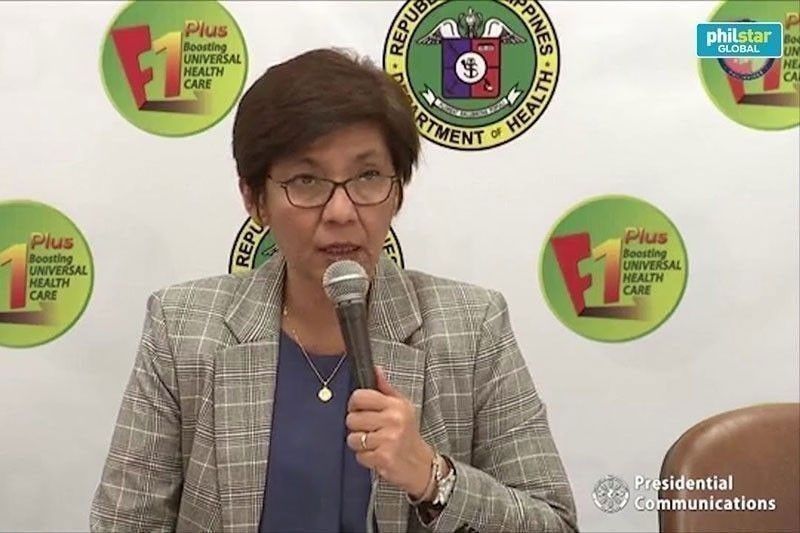 DOH Undersecretary Maria Rosario Vergeire said yesterday that the "R naught" or reproduction rate of COVID-19 was three to four individuals at the start of the pandemic. Now it is "just one person."
PCOO
Virus transmission rate slows – DOH
MANILA, Philippines — Owing to the implementation of enhanced community quarantine (ECQ) in the past months, the transmission rate of coronavirus disease 2019 or COVID-19 has decreased, according to the Department of Health.
DOH Undersecretary Maria Rosario Vergeire said yesterday that the "R naught" or reproduction rate of COVID-19 was three to four individuals at the start of the pandemic. Now it is "just one person."
"The 'R naught' or the transmission rate of COVID-19 went down. This pertains to the capability of an infected individual to transfer the virus to others. These data mean that the early implementation of community quarantine really worked," she said in a radio interview.
Vergeire noted they also observed a declining trend of mortality from COVID-19 – from 1.6 days to 6-7 days and then 10 to 15 days.
"If before the trend was a high 1.6 (days) weekly, now the doubling time is 10 to 15 days. This is a good sign," she added.
Last June 1, the DOH documented three deaths, the lowest ever.
Other indicators the DOH is looking at to determine the COVID-19 situation in the country are the case doubling time in terms of new cases and critical care utilization of intensive care units and mechanical ventilators.
Vergeire said the current case doubling time in Metro Manila is pegged at 6.41 days while the critical care utilization rate is only 33 percent for ICU beds and 19 percent for mechanical ventilators, indicating that "we are not overwhelming our health system."
But the official maintained that while the country is seeing good indicators, it is still too early to decide on the status of community quarantine.
She added that aside from the health aspect, there are other factors that need to be considered like social, security and the economy.
The DOH yesterday asked licensed laboratories for coronavirus disease to submit their test results "regularly and timely" to ensure real-time reporting of cases.
According to Vergeire, 38 of the 42 testing laboratories as of May 31 have submitted their test results. She underscored the DOH can only start the validation process once the laboratories have submitted their full line list to the agency.
She said that case validation is critical because it ensures that the "publicly available data are accurate."
Vergeire noted that fortunately, there are 49 licensed laboratories as of June 1 while 130 facilities have pending applications and can help scale up testing capacity.
Mobile rapid testing
Bagong Henerasyon party-list and Rotary International District 3780 are working together to put a mobile rapid screening facility that would cater to businesses wanting to have their workers tested for COVID-19.
House Deputy Majority Leader and Bagong Henerasyon Rep. Bernadette Herrera said they plan to roll out an initial five units of mobile COVID-19 testing trucks that can administer and process rapid antibody tests.
She said the rapid testing project, which was made possible through a partnership with B&B Training and Holdings Inc., will be offered to companies at a discounted price, making it "relatively cheaper" compared to the test done in hospitals and laboratories.
"We are doing this to help companies, particularly MSMEs (micro, small and medium enterprises), which could not afford to set up their own testing booths but eagerly want to have their employees tested for the deadly disease," she said.
She said the mobile COVID-19 testing project is in collaboration with Diagnostica de San Vicente and is still open to working with other diagnostic clinics.
Bagong Henerasyon and Rotary International District 3780, where Herrera serves as district governor, have inked an agreement with the Quezon City government for rapid testing of the city's frontline workers.
For the mobile rapid testing trucks, they will enter into a tie-up with the Research Institute for Tropical Medicine (RITM) of the DOH for the conduct of polymerase chain reaction (PRC) test if the result of the rapid screening turns out positive.
Meanwhile, a resident-economist of the House of Representatives has underscored the need for the national government to provide mass testing and contact tracing to contain the spread of COVID-19 and thus resuscitate the battered economy.
Albay Rep. Joey Salceda, chairman of the committee on ways and means, recommends "group testing as mass testing strategy" and prefers a "relevant information for contact tracing" in enrollment forms in order to fight the pandemic.
"Clarity in risk management and foresight will save lives and restart the economic engine," he said, urging the Inter-Agency Task Force to "foresee uncertainties" in COVID-19 management "to help the economy barrel through" and "boost as well business and consumer confidence."
"When the citizenry is convinced that public and private institutions are prepared for even the worst possible eventualities, they may become more confident to live as productively as possible under 'new normal' conditions," the former governor pointed out.
Salceda also wants the DOH to explore several innovations in testing and tracing, such as group testing to predict any forthcoming wave of infections.
Another administration legislator, Rep. Nina Taduran of party-list ACT-CIS, proposed that barangay health workers in the grassroots level be designated as contact tracers for purposes of eradicating the threat of COVID-19.
"It would be a lot easier, not to mention faster, if we start looking for COVID-19 victims in our own barangays," the neophyte lawmaker suggested, noting that the DOH only has 800 contact tracers nationwide, when 126,224 are needed.
For her part, former health secretary and now Iloilo Rep. Janette Garin wants the government to prioritize people belonging to vulnerable sectors for testing while addressing the country's lack of test kits.
She presented House Bill 6707 that the House has approved on second reading.
This measure substitutes HB 6865, or the Crushing COVID Act, where Garin underscored the need to test more people, particularly those returning to work, whether they are showing symptoms or not. Paolo Romero, Delon Porcalla