PNP set to conduct more mobile checkpoints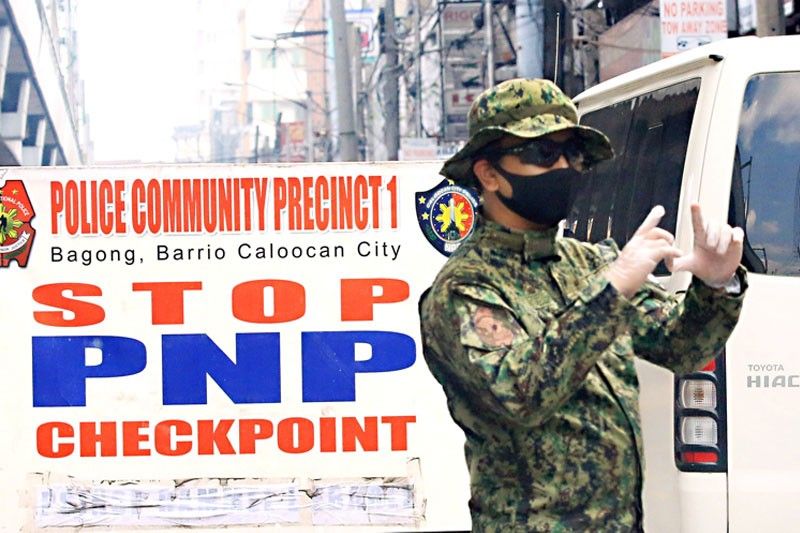 MANILA, Philippines — The Philippine National Police (PNP) will conduct more mobile checkpoints next week as Metro Manila transitions to a more lenient general community quarantine (GCQ) by June 1.
Lt. Gen. Guillermo Eleazar, commander of the joint task force COVID shield, said the PNP would continue the checks to ensure that only authorized persons would be traveling under the GCQ.
During the Laging Handa briefing yesterday, he said the PNP expects heavier vehicular and foot traffic as more industries and establishments are allowed to resume operations.
Interior Secretary Eduardo Año said the PNP had prepared for the adjustment to modified checkpoints to ease traffic flow in GCQ areas.
"We will transition to modified checkpoints… We will have random, mobile checkpoints while the fixed checkpoints will be placed at strategic stations," he said in Filipino.
He added that strict provincial borders would still be imposed to prevent COVID from spreading further.
Eleazar reminded the public to still limit travel unless going out for work or basic essentials, and that curfew would still be in effect under GCQ as he noted that new guidelines on localized and targeted lockdowns in smaller communities could be better and easier enforced by police.
Meanwhile, PNP chief Gen. Archie Gamboa admitted that there is a need to better protect its personnel assigned at checkpoints after more policemen were reported to have been infected with the virus.
He said there are now 302 confirmed COVID-19 cases among its ranks, a majority of whom are assigned with the National Capital Region Police Office (NCRPO).
"The NCRPO said majority of those infected are from QCP (quarantine control points). For our part, there is a need to improve our protection at the QCP. We need to protect our policemen," Gamboa said at a virtual press briefing.
He added that the PNP is trying to lessen the infection risk by issuing personal protective equipment to its frontliners. It is also implementing rotational duty shifts to ensure that they are not overworked as well as provide medicine, vitamins and constant checkups.
Gamboa said despite the rising number of COVID-19 infections in the PNP, there is also a high rate of recovery.
The PNP has its own quarantine facility for positive cases and a testing facility inside Camp Crame in Quezon City. The recovery rate is now almost half of the total confirmed cases at 149 recoveries.
"We strive to continue to provide personnel with supportive healthcare to enhance the resiliency of our police frontliners. We also thank the PNP frontliners for what had occurred in the past 72 days and encourage them to continue or better if we can improve on some specific things for a better transition," Gamboa added.