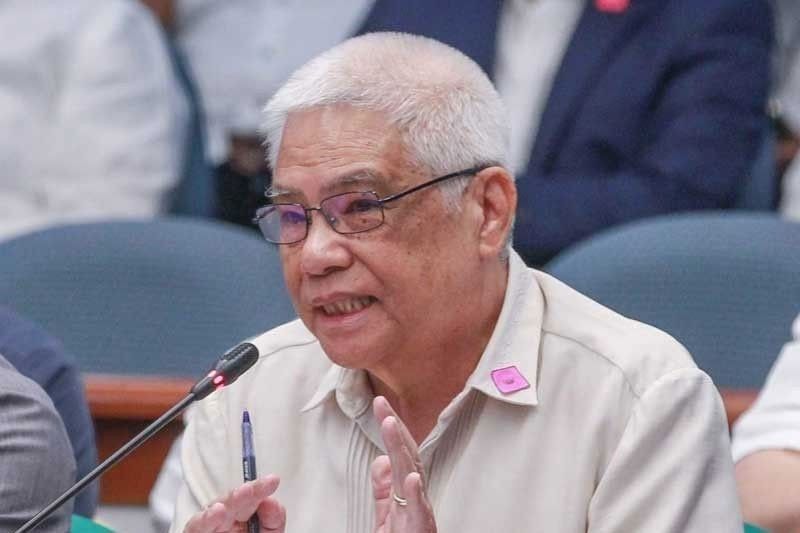 President Duterte accepted Rio's resignation three months after he offered to leave the DICT over the alleged misuse of the agency's multibillion-peso confidential fund.
STAR/Geremy Pintolo, file
Duterte finally accepts Rio's resignation
MANILA, Philippines — President Duterte has decided to let go of Eliseo Rio Jr. as undersecretary of the Department of Information and Communications Technology (DICT), adding him to the list of Cabinet officials who left government during the coronavirus pandemic.
The President also fired Office of Civil Defense Assistant Secretary Kristoffer James Purisima effective immediately on corruption allegations.
Duterte accepted Rio's resignation three months after he offered to leave the DICT over the alleged misuse of the agency's multibillion-peso confidential fund.
DICT Secretary Gringo Honasan reportedly has advanced around P300 million of the P400 million earmarked for confidential, intelligence and extraordinary expenses for the agency for 2019.
"We likewise affirm that the President has accepted the resignation of the DICT Undersecretary Eliseo Rio Jr.," presidential spokesman Harry Roque Jr said yesterday.
Roque thanked Rio for his invaluable service to the nation and wished him well in his future endeavors.
Rio expressed gratitude to President Duterte for allowing him to serve under his administration as he was allowed to finally step down from his post months since offering his resignation.
"Please be informed that the President has finally accepted my resignation that I filed last February," Rio said in a social media post yesterday.
Rio, however, declined to comment on the timing of the President's acceptance of his resignation.
"I will not comment… as it may invoke disruptive discussions absolutely not needed in the midst of this pandemic crises, except to express my utmost gratitude to the President for giving me this chance to serve our country under his administration," he said.
"I wish to express also my full confidence on the leadership of President Duterte in handling the COVID-19 crises," Rio said.
Rio served as DICT acting secretary in 2017 until President Duterte appointed former senator Honasan as permanent secretary in November 2018.
On Feb. 7, he was designated by Honasan as undersecretary for operations in charge of National Broadband Backbone and Free Wifi In Public Places while he awaited Duterte's instructions regarding his resignation.
At the height of the controversy last Jan. 31, Rio retracted an earlier statement in a joint statement with Honasan where the former DICT official claimed he was leaving his post for "personal reasons and not due to any rift with the secretary, nor to any anomaly in the Confidential Expense."
In his joint statement with Honasan in February, the officials assured the public that the disbursement of the confidential expense was "lawful and legitimate."
"I will personally miss Undersecretary Rio dahil iyong una kong (during my first) stint as spokesperson, seatmate po kami sa mga Cabinet meeting," Roque added.
Purísima, deputy administrator of the OCD, had reportedly been under investigation for several weeks before the President decided to finally kick him out due to loss of trust and confidence.
Roque confirmed that Purisima has been relieved from his post effective immediately.
Sources said the President was irked by reports of alleged overpricing by Purisima.
Asked for details as to why Purisima was fired, Defense Secretary Delfin Lorenzana opted not to issue a statement.
"We'll leave it at that," Lorenzana said.
Last month, economic planning secretary Ernesto Pernia resigned from his post "partly due to personal reasons and partly to differences in the development philosophy with a few of his fellow Cabinet members."
Karl Kendrick Chua replaced Pernia as acting secretary of the National Economic and Development Authority. Edith Regalado, Richmond Mercurio, Michael Punongbayan, Rainier Allan Ronda