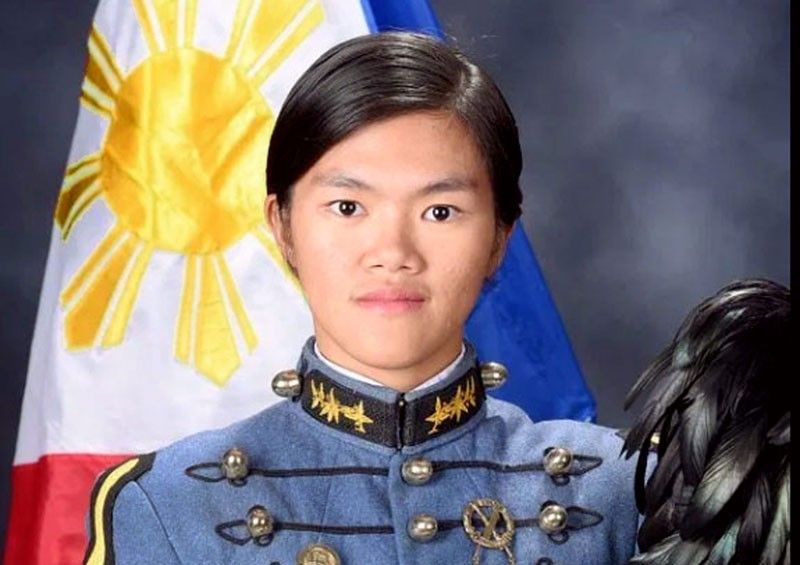 Female cadet from Isabela tops 2020 PMA class
BAGUIO CITY, Philippines — As in the police academy, a woman has also topped this year's graduating class in the Philippine Military Academy (PMA).
Gemalyn Deocares Sugui of Isabela province leads the PMA's Masidlawin class of 2020.
Sugui repeated the 2019 feat of Ilocos Sur's Dionne Mae Apolog Umalla, who also bested her batch, thus becoming the sixth female cadet at the top of the graduating class of the country's premier military training institution.
In 1999, Arlene dela Cruz bested her "mistahs" and graduated with the highest honor among her batch. She was followed by Tara Velasco in 2003, Andrelee Mojica in 2007 and Rovi Mariel Martinez in 2017.
President Duterte led yesterday's PMA graduation rites for the Masidlawin class, which stands for Mandirigmang Isinilang na may Dangal at Lakas Upang Maging Tanglaw ng Inang Bayan, in an unprecedented way – through video-conferencing.
Palace spokesman Harry Roque Jr. said the President made use of modern technology through the Zoom app and led the rites at Fort del Pilar in Baguio City from his residence at Malacañang's Malago compound.
"This is the first time that the President will be using Zoom or conduct video conferencing to attend the graduation of both the PMA and the PNPA," Roque said, referring to the Philippine National Police Academy in Sta. Rosa, Laguna.
The President traditionally attends the graduation rites where he also gives inspirational messages to the cadets who will be integrated into the various military and police services after graduation.
He will also be greeting and awarding this year's valedictorian and class goat for both the PMA and PNPA ceremonies.
As the top graduate among 195 "mistahs" of Masidlawin, Sugui was given the Presidential Saber, Achievement Award for Academic Excellence, JUSMAG Award, Philippine Army Saber, Spanish Armed Forces Award, Social Sciences Plaque, Management Plaque and Rule of Law Award.
Graduating second is Jade Campo Villanueva of Tacloban City, followed by Jeffreson Yason Salazar from Zamboanga City, Rojes Gaile Bacud Jamandre (also a female) from Lamut, Ifugao and Jeb Belting Bay-an from Kabayan, Benguet.
Catabay Gunnawa Ladyong from Tabuk City, Kalinga; Vanelyn Angel Zipangan Tabao from Tuguegarao City; June Giel Anne Factor from Ilocos Norte; Ruben Abgao from Baroy, Lanao del Sur and Dencel Aina Bayaca from Pampanga round out the top 10.
As second among the graduates, Villanueva received the Vice Presidential Saber, Association of Generals and Flag Officers Award, Academic Group Award, Australian Defense Best Overall Performance Award, General Antonio Luna Award, Army Service Professional Courses Plaque, Department of Leadership Plaque and Humanities Plaque.
Salazar got the Secretary of National Defense Saber, Philippine Navy Saber, Australian Defense Best Overall Performance Award and Mathematics Plaque.
The Masidlawin class' graduation rites yesterday afternoon were perhaps the first in over a hundred years of PMA history that the public – doting parents and loved ones, among others – was not included due to the COVID-19 pandemic.
"I believe this is a necessary decision in order to safeguard the health and general well-being of the CCAFP (Cadet Corps of the Armed Forces of the Philippines) and the whole PMA community. As a parent, I know how heartbreaking and disappointing that decision is, but we have to do what is best for all. Safety and health are paramount at all times," explained PMA Superintendent Vice Admiral Allan Ferdinand Cusi.
The 196-strong Masidlawin Class of 2020 is composed of 173 males and 23 females. One hundred are joining the Philippine Army, while 45 and 51 are joining the Philippine Air Force and Philippine Navy, respectively.
"This course of action will make the time extra special for our cadets and will surely add more meaning to the occasion," Cusi said, adding he personally wrote, congratulated and informed each parent of the graduating class regarding the lockdown.
"We assured them, however, that the graduating Class of 2020 will be rendered a meaningful recognition of their graduation. I believe we owe it to the graduating class to exhaust all efforts in our decision-making and planning process to make this time special for them, albeit under the guidelines set by the government in addressing the COVID-19 crisis to ensure the safety, well-being and health of all our cadets and the whole PMA community," he added.
The graduates will be reporting straight to their respective major services in the Army, Air Force and Navy as new officers who will lead the armed forces units around the country.
The graduation rites were live-streamed just like Thursday mornings' awarding of CCAFP unit awards.
Meanwhile, the Kalingas are basking in fame and glory over their province's latest feat, with 12 of its brightest young men and women graduating yesterday, led by Catabay Gunnawa Ladyong from Lubuagan town landing in sixth place. He will be joining the Army.
The "lockdown" of the graduation rites, perhaps the first in the premier military officer training institution in the country and Southeast Asia, "will unlikely dampen our Y-kalinga spirit of pride as we bask in the glory of success of these young and dashing lieutenants," read an FB post on the Kalinga Tourism page.
Other young military officers from Kalinga are: Emerson Dorpis Bangguiyac from Lubo, Tanudan town; Jepeson Addamo Dappay from Lacnog, Tabuk City; Rennz Conrad Dieza IV from Pinukpuk town; Rheden Laguicao Ewos from Mangali, Tanudan town; Chesterly Basilio Fernandez from Tinglayan town; Martin Amagod Gammode Jr. from Gaang, Tanudan town; Gimalun Wanigon Golwingon from Lubo, Tanudan town; Reynante Tuguic Gumilab from Abato, Tingalayan town; Jesse Will Osdeg Limangan from Lubuagan; Alvin Kinao Lugao from Cabaruan, Tabuk City and Irwin Bitao Sayod from Poblacion, Tinglayan.
"This year's graduates might have missed the long awaited Ring Hop for their OAOs (One and Only) and OAMs (One Among Many), the ceremonial Shaku throw, the traditional Sun Dial dunking, after-ceremony picnics for their loved ones, class night parties and ceremonies like the official declaration of them by commander-in-chief as second lieutenants and ensigns, (but) their addition to the Long Gray Line will not dampen our Ykalinga spirit of pride," the Kalinga Tourism FB page declared. Christina Mendez
Related video: