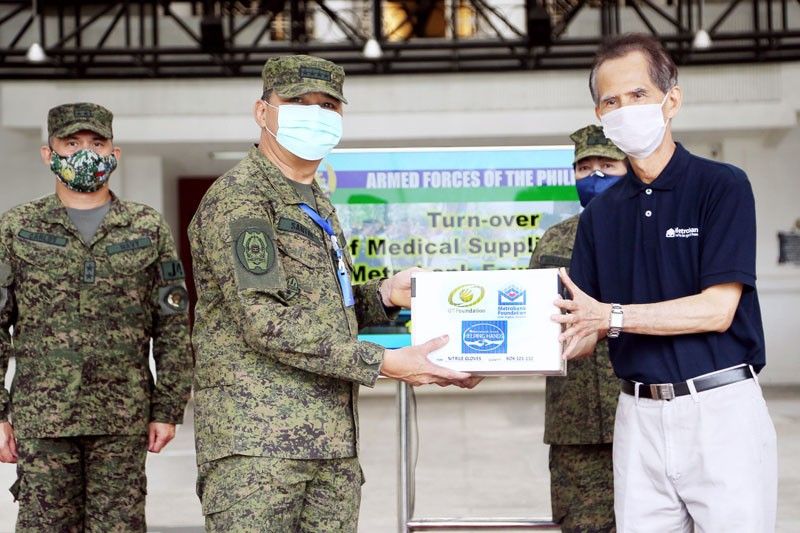 Metrobank Foundation executive director Nicanor Torres Jr. and assistant program manager Hero Hernandez present 54,600 pairs of gloves and 5,000 N95 masks. Torres turning over the same number of masks and gloves to the Armed Forces of the Philippines, through AFP chief Gen. Felimon Santos, at Camp Aguinaldo.
STAR/File
Metrobank turns over PPE donation to AFP, PNP
(The Philippine Star) - May 23, 2020 - 12:00am
MANILA, Philippines — The Metrobank Foundation Inc. (MBFI) held separate turnover ceremonies on May 15 to the Armed Forces of the Philippines (AFP) and Philippine National Police (PNP) for its P1.84-million personal protective equipment (PPE) donation.
Held at Camp Aguinaldo and Camp Crame in Quezon City, respectively, the donation includes 109,200 pairs of surgical gloves and 10,000 N95 masks which will benefit more than 12,000 AFP and PNP frontliners tasked to implement community protocols in this time of the pandemic.
MBFI executive director Nicanor Torres Jr. led the turnover ceremonies at the AFP grounds through the presence of AFP chief Gen. Felimon Santos and 2015 Metrobank Foundation Outstanding Filipino Soldiers AFP deputy chief of staff for logistics RAdm. Alberto Carlos and AFP Adjutant General BGen. Maxima Ignacio.
"The AFP extends its gratitude to the MBFI in the battle against COVID-19. Their sincere desire to help the country's imperiled frontliners continues to inspire soldiers on the ground to better perform their duties towards winning the fight against the dreaded virus," said Gen. Santos.
On the other hand, PNP chief P-Gen. Archie Gamboa, PNP Directorate for Logistics Director P/MGen. Edwin Roque, PNP Directorate for Logistics Deputy Director P/BGen. Domingo Cabillan and 2018 Outstanding Filipino Police Officer PNP Logistics Support Service Director P/BGen. Pascual Muñoz received the donation.
"The global community, on their part, has come together to spread love and kindness through volunteer work and support through donation of the much needed PPE. In the Philippines, we are proud to have Metrobank Foundation in our midst, to partner with the Philippine National Police in our COVID-19 response through their donation," said Muñoz.
Earlier last month, 2,000 sets of PPE consisting of hazardous material suits, face shields, N95 masks, gloves and shoe covers were donated to V. Luna General Hospital, Veterans Memorial Medical Center and PNP General Hospital in Quezon City.
AFP and PNP institutions are valued institutional partners of MBFI in the implementation of its corporate social responsibility initiatives. Annually, MBFI recognizes exemplary teachers, soldiers and police officers for rendering service beyond their call of duties through the Outstanding Filipino awards.
The donation is part of the P200-million pledge by Metrobank and GT Capital Holdings Group to fund and support efforts to combat the pandemic and help those in need. The amount was allocated for the purchase of PPE to benefit healthcare and security frontliners; support for the production of testing kits through the UP National Institutes of Health; 'Project Ugnayan' led by the Philippine Disaster Resilience Foundation; distribution of meals and food packs to underprivileged families; set-up of a molecular laboratory for the testing of cases through the Philippine Red Cross; and Project ARK (Antibody Rapid test Kits) of GoNegosyo (Philippine Center for Entrepreneurship Foundation).