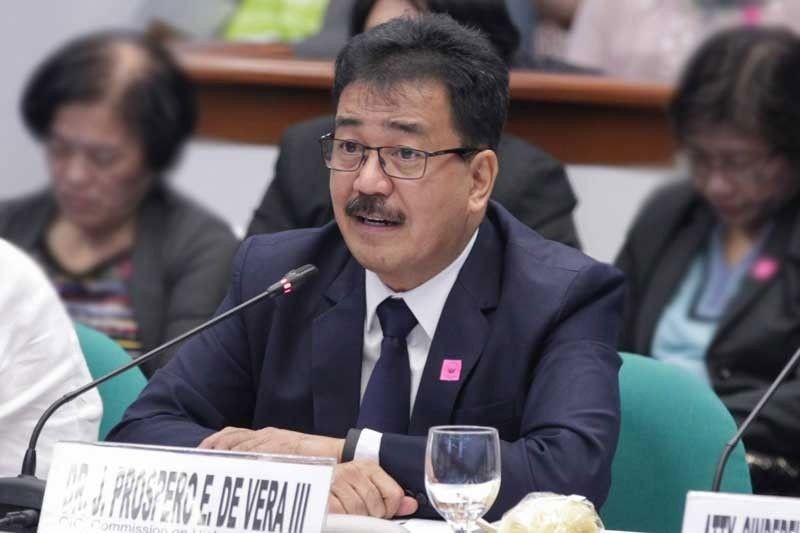 De Vera said the CHED has been advising schools to use flexible learning, which is a system that uses both online and offline modes.
Geremy Pintolo, file
Senators urge schools to provide flexible payment
MANILA, Philippines — Senators urged colleges, universities and other schools to provide flexible payment arrangements on fees for students to ensure their continuing education amid the coronavirus disease 2019 (COVID-19) pandemic.
Sen. Bong Go said many heads of families have lost their jobs, as well the income that could fund educational expenses of their children.
"Parents may not be able to shell out big amounts (for school fees). What's important is that their education will not be interrupted," Go said during the hearing of the Senate committee of the whole on Thursday.
Go also asked Commission on Higher Education (CHED) chairman Prospero de Vera III on measures to be implemented by the government so that alternative modes of learning do not cause unnecessary stress to the families of students in the tertiary level.
De Vera said the CHED has been advising schools to use flexible learning, which is a system that uses both online and offline modes.
Sen. Francis Tolentino said CHED should implement an inter-university cooperation between state universities and colleges (SUCs) amid the pandemic.
An inter-university collaboration could be adopted where a student from an SUC can take up or continue his or her course in a nearby college or university, he said.
"If I'm a student now studying at the UP Los Baños and taking up BS Agriculture but is from Guimaras… in my proposal, a student can remain in Guimaras and continue studying there BS Agriculture but the credits will go to UP Los Baños," Tolentino said.
Tolentino said De Vera, as CHED chairman, is empowered to forge partnerships between private and SUCs regarding course credits of students while the country deals with the pandemic.
De Vera said he has been pushing for this initiative since he assumed office, but this could gain more support as the country's education system adapts to the new normal.
With various groups calling for the postponement of the opening of classes, DepEd reiterated yesterday its commitment to prioritize the health and safety of students, teachers and other stakeholders.
In a statement, Education Secretary Leonor Briones encouraged more stakeholders to collaborate with them in improving the learner continuity plan for the incoming school year.
"DepEd will ensure the health and safety of our learners, teachers, as well as our parents and communities, while we adjust our initiatives and formulate solutions so that basic education will still be within the reach of our people amidst COVID-19," she said.
"We understand that there is no one-size-fits-all fix for this extraordinary time, but our united effort to confront our challenges will go a long way in identifying solutions that work," she added.
Briones issued the statement following the Senate hearing on government's response to the pandemic on Friday.
She said the Senate aided in fine-tuning "policy priorities relative to the concerns surrounding the public health situation," vowing to work with legislators in the effort to produce a comprehensive and feasible plan.
Education Undersecretary Nepomuceno Malaluan said the plan would not undergo further revisions, but they welcome continued collaboration in its operationalization.
The Teachers' Dignity Coalition (TDC) said it might be prudent to reconsider the schedule for the school opening due to the pandemic.
TDC chair Benjo Basas said physical schooling would be risky, while adopting distance learning modalities would discriminate poor learners.
He said testing all or even just a small portion of the student and teacher population would be very expensive.
Former senator Antonio Trillanes IV also recommended that the opening of classes be scheduled in January next year.
An existing law mandates that the opening of the school year in basic education should start anytime between the first Monday of June and the last day of August.
Quezon City Rep. Precious Hipolito yesterday opposed the plan of the DepEd to reopen schools on Aug. 24.
Castelo said classes should reopen and students allowed to go back to school when there is already a vaccine for COVID-19.
"I think that we should not hold classes in all schools until the world finds a vaccine against COVID-19 and it is available in our country. We should not expose our children to the virus," she stressed.
Salaries affected
Briones said the income of about 263,000 teachers in private elementary and high schools were affected by the pandemic.
"(There are more of them) than the UV express drivers in the country, but their plight is not well publicized. And because of their professional status, they have fallen in the cracks of the government's cash aid program," Senate President Pro Tempore Ralph Recto said.
Briones said 50,000 of these teachers are in basic education classes and are in danger of losing jobs and would need government cash relief.
She said the Department of Education is lobbying to have the distressed private school teachers included in the government's social amelioration program.
For private colleges, De Vera said 36,000 part-time faculty are affected, joining the 17,000 part-time instructors in SUCs whose salaries have been disrupted.
De Vera said the setting back of the opening of classes from June to August will have a "financial impact" because tuition collection is deferred.
"The small private schools with (tight finances) will be the first to be hit," he said.
If earmarked funds for these schools have been impounded, then perhaps a portion of these should be initially released, Recto said.
Another means is for distressed schools to be included in the Small Business Wage Subsidies (SBWS) program of the government.
"Education is one sector which has a large client base, about 34 million – students, teachers, non-academic employees and the auxiliary services like school buses, uniform makers, food, boarding houses and transportation," he said.
The DepEd said at least P27 billion is needed to buy laptops for all public school teachers that they could use for online education. Janvic Mateo, Edu Punay