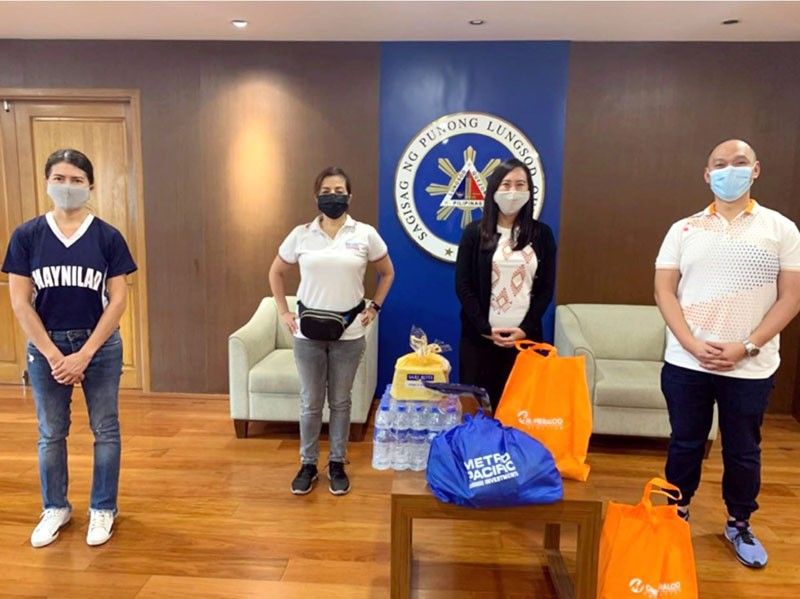 Tulong Kapatid, the alliance of foundations and companies in the MVP Group, has provided relief aid to waste management teams of the Quezon City government. Maynilad government relations head Annette de Ocampo, Metro Pacific Investments Foundation Inc. president Melody del Rosario, QC Mayor Joy Belmonte and One Meralco Foundation president Jeff Tarayao are shown during the turnover. Inset shows a member of a QC waste management team with a relief pack from Tulong Kapatid.
STAR/File
Tulong Kapatid aids Quezon City waste management teams
(The Philippine Star) - May 15, 2020 - 12:00am
MANILA, Philippines — Tulong Kapatid, the alliance of foundations and companies in the MVP Group, has turned over face shields, grocery packs, food and bottled water to various waste management providers in Quezon City.
Some 500 waste management enforcers received the donation of 300 face shields and 500 food bags from the alliance, composed of MVP Group's Metro Pacific Investments Foundation Inc. (MPIFI), One Meralco Foundation, PLDT-Smart Foundation, Maynilad and Alagang Kapatid Foundation of TV5.
Beneficiaries included garbage collectors, pickers, river waste management personnel and street sweepers who continue to serve despite the pandemic.
"The mandate for Tulong Kapatid to reach out to garbage collectors came from our chairman, Manuel V. Pangilinan, who said not to disregard these people who are being exposed daily not only to danger such as broken glass, smoke and chemical inhalation but also to the coronavirus," said MPIFI president Melody del Rosario.
"They play a vital role in our society and neglecting them could pose enormous health and environmental issues," she added.
One Meralco Foundation president Jeffrey Tarayao and Maynilad government relations head Anette de Ocampo also underscored the importance of sanitation teams, especially during the fight against the outbreak of the coronavirus disease (COVID-19).
"These care packages represent our gratitude and our genuine concern for them and the wellbeing of their families in this most difficult time," he said.
"The MVP Group makes sure no one is left behind. The solid waste management are our frontliners who continue to work despite the threat of COVID-19 and keeping them healthy makes us healthy too," added de Ocampo.
Mayor Joy Belmonte expressed gratitude to Tulong Kapatid for the donation.
"Apart from the food items, these face shields would help protect our waste management operations and monitoring teams from the daily hazards of their duties. We require complete uniforms and impose penalties for non-compliance," she said.
"These face shields would be used by our city government employees overseeing waste operations, especially those who cannot immediately comply with the task force directives of wearing personal protective equipment (PPE) as our new normal," she added.
Belmonte earlier directed the city's task force on solid waste management to mandate all city-contracted service providers to supply their waste collection personnel with the necessary PPE.
This is in anticipation of what will be the "new normal" and ensure that the risk from exposure to viral and microbial diseases can be minimized.
The city government also designated a special team of sanitation personnel to collect waste from homes under quarantine due to COVID-19.
The teams had undergone training and were provided hazmat suits to ensure their protection.
The city also designated special trucks to collect waste solely from quarantined persons and households. The special waste will be properly disposed of by the city's sanitation office.