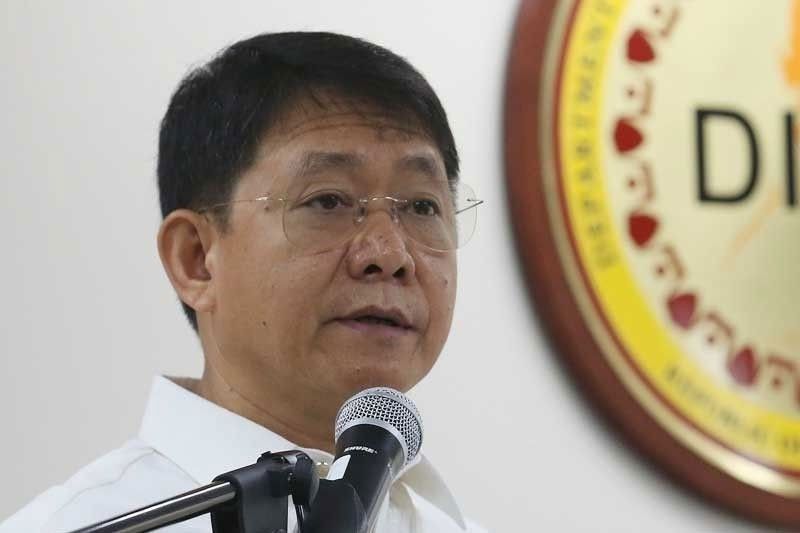 Under the GCQ guidelines approved by the Inter-Agency Task Force (IATF) on the Management of Emerging Infectious Diseases, Interior Secretary Eduardo Año said certain work gatherings and religious activities may resume as long as strict social distancing rules are enforced and followed by the participants.
STAR/Michael Varcas, file
Residents in GCQ areas can attend mass, work gatherings
MANILA, Philippines — Starting today, people living in areas classified under general community quarantine (GCQ) may attend mass and other religious services as well as engage in essential work activities as the government relaxes the quarantine procedures in the fight against coronavirus disease 2019 (COVID-19).
Under the GCQ guidelines approved by the Inter-Agency Task Force (IATF) on the Management of Emerging Infectious Diseases, Interior Secretary Eduardo Año said certain work gatherings and religious activities may resume as long as strict social distancing rules are enforced and followed by the participants.
"Mass gatherings are still prohibited, except on what we call as relevant activities like in line of work and religious activities like mass, provided they maintain two-meter physical distancing, (mandate the) wearing of face masks or face shields. Of course, they will also be subjected to thermal scanning and hand sanitation," Año said.
Speaking at a virtual presser in Malacañang yesterday, Año added that the government is giving some leeway on the various religious congregations on how to implement the adjustments in GCQ areas.
"It will be up to our religious leaders how they will implement this," Año said, citing for example a religious group which added more services in a day to satisfy the precautionary rules.
"What is important is they maintain a certain distance from each other…we did not specify the numbers anymore," he added.
Health standards
Officials maintained yesterday that the minimum public health standard shall be enforced during the duration of the GCQ.
"The movement of all persons in areas placed under GCQ shall be limited to accessing essential goods and services, and for work in the offices or industries permitted to operate," presidential spokesman Harry Roque Jr. said yesterday,
Quoting from the IATF Resolution No. 30, Roque added the ban on the movement of people for leisure purposes remain under the GCQ period.
Officials said mass gatherings remain prohibited in both enhanced community quarantine (ECQ) and GCQ areas.
Under ECQ, the IATF said pastors, priests, imams or such other religious ministers may be allowed to administer rites in relation to necrological or funeral rites. Immediate family members of deceased persons from causes not related to COVID-19 shall be allowed to hold wakes or interment services upon satisfactory proof of their relationship to the dead. Social distancing measures shall apply at all times.
Under GCQ, the IATF said work in government offices may be at full operational capacity or under alternative work arrangements which agencies may deem proper in accordance with the relevant rules and regulations issued by the Civil Service Commission.
On the interzonal movement from a GCQ to ECQ area, Año said the people will still be subjected to strict rules where only accredited frontliners will be allowed entry.
"But between GCQ areas, the rules are more relaxed," Año said.
President Duterte has approved IATF resolution no. 30, which also enjoined LGUs to enact the necessary ordinances to enforce curfew for non-workers in jurisdictions placed under GCQ.
This also provides the authority to penalize, in a fair and humane manner, violations of the restrictions on the movement of people as provided under the Omnibus Guidelines.
For residential and commercial rents falling due within the duration of the ECQ or GCQ upon residential lessees and micro-, small and medium enterprises (MSMEs) not permitted to operate during said period, a grace period of 30 days from the last due date, or until such time that the community quarantine is lifted, shall be observed, whichever is longer, without incurring interests, penalties, fees or other charges.
All persons are mandated to wear face masks, earloop masks, indigenous, reusable, do-it-yourself masks or face shields, handkerchiefs or such other protective equipment or any combination.
Concerned LGUs are enjoined to issue the necessary executive order or ordinance to that effect, and to provide fair and humane penalties.
Supermarkets, public and private wet markets, grocery stores, agrifishery supply stores, veterinary supply stores, pharmacies, drug stores and other retail establishments engaged in the business of selling essential goods are strongly encouraged to extend their store operations to a maximum of 12 hours.
LGUs are directed to allow such establishments to operate pursuant to the foregoing. In the operation of wet markets, the IATF has urged LGUs to adopt reasonable schemes to ensure compliance with strict social distancing measures.
Local officials were urged to provide for specific daily schedules per sector, barangay or purok, as the case may be. In no case shall such schemes involve narrowing the hours of operation of the foregoing establishments.
Housing sector
The Department of Human Settlements and Urban Development has recommended to the IATF to allow the resumption of construction work in the real estate industry.
In a letter to the IATF dated April 27, Human Settlement Secretary Eduardo del Rosario pointed out that the housing and real estate industry accounts for five percent or roughly around four million of the country's total work force and yet, this industry "only requires minimal financial and regulatory stimulus from the government."
He said the work in the housing and real estate industry could resume provided that developers follow strict health measures such as observance of social distancing, wearing of face masks at all times, establishment of health facilities within worksites and setting up of areas where workers could stay under a work-site quarantine scheme.
Del Rosario said the real estate industry could "immediately trigger substantial economic activities, particularly in the construction supply chain."
"Putting the real estate industry back on track at the soonest possible time through appropriate interventions will redound to a multitude of other economic benefits, job opportunities for the people and generate taxes for the government to support huge expenses that will be vital to bring stability amidst this global COVID-19 pandemic," Del Rosario said.
He said the continued suspension of construction works is taking its toll on the housing sector and might result in the layoff of workers and huge financial losses that might endanger real estate developers' operations.
Del Rosario said developers and other housing stakeholders have been pro-active in enforcing health protocols and implementing measures meant to ease public burden in the housing industry, including continued salaries to their workers despite the suspension of work.
Furthermore, Del Rosario also pushed for putting a cap in the interest rates for new and existing housing development loans at 3 percent for a period of not less than three years until the national economy fully recovers.
Del Rosario also mentioned several other key measures such as freezing real property taxes by up to two years and introducing a Housing Financial Assistance Program to jumpstart the industry by providing soft loans to developers.
"We hope that the above proposals will be considered as our government sets its long-term and forward-looking vision for the future of our country," he said.
Del Rosario said his recommendations were an off-shoot of a video conference between the DHSUD and officials of four major real estate developers' groups in the country last April 23.
Real estate groups Subdivision and Housing Developers Association (SHDA), Chamber of Real Estate and Builders' Association Inc. (CREBA), Socialized and Economic Housing Developers of the Philippines (OSHDP) and the National Real Estate Association (NREA) had earlier sent a joint request to the IATF to allow the resumption of their construction works despite the extension of the enhanced quarantine in the National Capital Region (NCR), Central Luzon and several provinces in the Visayas and Mindanao.
Del Rosario said that aside from the stoppage of construction works, private developers were also affected by a moratorium on the payment of in-house financing that the DHSUD had earlier ordered to ease the financial burden of the general public.- With Elizabeth Marcelo