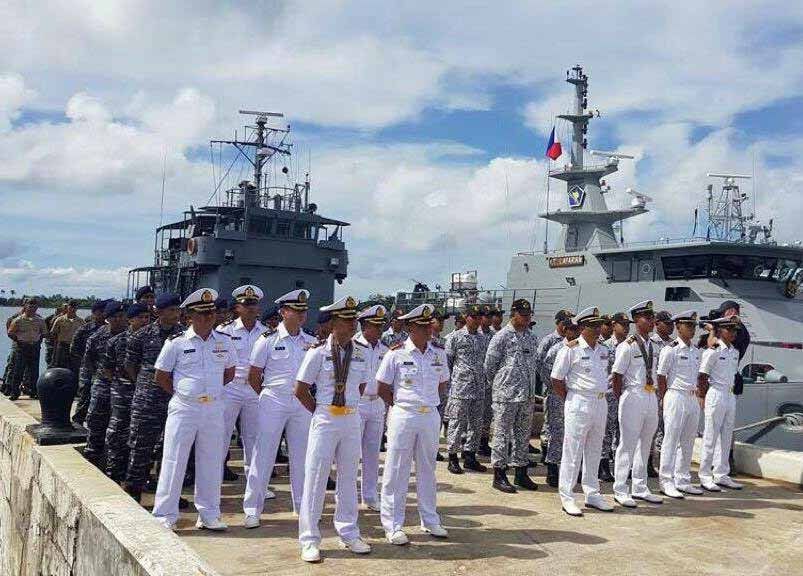 This file photo from November 2019, representatives of the navies of Malaysia and Indonesia are in Panglima Sugala, Tawi-Tawi as part of "trilateral patrols" in waters off the southern Philippines.
Capt. Joann Petinglay, Western Mindanao Command, file
Carpio suggests joint patrols with Malaysia, Vietnam in South China Sea
MANILA, Philippines — The Philippines should join forces with Malaysia and Vietnam to counter China's "grave escalation" of tensions in the South China Sea, retired Senior Associate Justice Antonio Carpio said.
The Department of Foreign Affairs had filed a diplomatic protest against China for pointing its gun control director at a Philippine Navy ship near Malampaya gas field in the West Philippine Sea.
The Armed Forces of the Philippines Western Command had confirmed that a People's Liberation Army Navy corvette pointed its gun control director—a computer that calculates firing solutions—at the BRP Conrado Yap in February.
Carpio, in an online forum organized by the Foreign Correspondents Association of the Philippines, noted that the Malampaya area cuts through Beijing's so-called nine-dash line in the South China Sea, part of which is the West Philippine Sea.
The retired Supreme Court magistrate also recalled that a Chinese ship and coast guard vessels also went near Malaysia's Petronas drilling area in the South China Sea mid-April.
Last year, Vietnam and China were involved in a standoff after Beijing deployed coast guard vessels and survey ships at Hanoi-controlled Vanguard Bank.
'Unity' patrols
"I think we should have joint patrols with Vietnam and Malaysia. We patrol their [exclusive economic zone]," Carpio said Monday.
Carpio said the navies of the three countries could jointly patrol each other's territorial waters, sending a message to Beijing.
"We'll be sending a message... China cannot just pick us out one by one. We are united," he said.
The navies of the Philippines, Indonesia and Malaysia already hold joint patrols in waters off the southern Philippines to deter kidnapping, piracy and maritime terrorism.
Stressing that the Philippines should take the matter seriously, Carpio also suggested joining the Americans in their naval patrols in the South China Sea if China insists on "doing the same thing."
While pointing its fire control system radar at a Philippine Navy ship could not considered an act of war, Carpio said it was a hostile act.
Citing the rules of naval engagement, Carpio said locking one's fire control radar on another ship is just one step to firing, which happens in less than a second.
"We don't do that that because you can mistake and you can trigger an accidental war so navies do not do that unless you want to bully another country," Carpio added.
'Taking advantage of pandemic'
Carpio also lamented how China is taking advantage of the novel coronavirus disease (COVID-19) pandemic, which originated from Wuhan City in Hubei province.
"China doesn't want to let this pandemic crisis go to waste... China is taking advantage of our difficulty right now so I think it's time really to talk to our neighbors Vietnam and Malaysia, perhaps even Indonesia, that we should now conduct joint patrols," the retired magistrate said.
Earlier this month, China Global Television Network reported that Beijing established two districts to administer the Paracel and Spratly Islands in the South China Sea under Sansha City in Hainan province.
The Philippines is also claiming some features in the Spratly Islands.
Foreign Affairs Secretary Teodoro Locsin Jr. confirmed that the DFA also lodged a diplomatic protest before the Chinese Embassy in Manila for "declaring parts of Philippine territory as part of Hainan province."
The Philippines' top diplomat said China's actions constitute "violations of internatonal law and Philippine sovereignty."
As It Happens
LATEST UPDATE: May 18, 2021 - 10:04pm
May 18, 2021 - 10:04pm
The Philippines protests China's unilateral fishing ban in the South China Sea, including the West Philippine Sea.
The Department of Foreign Affairs says the Philippines does not recognize China's fishing moratorium as it covers areas over which the country exercises sovereignty, sovereign rights and jurisdiction.
"China's annual fishing moratorium extends far beyond China's legitimate maritime entitlements under UNCLOS and is without basis under international law," the DFA says in a statement.
JUST IN: The Philippines protests China's unilateral fishing ban in the South China Sea. @PhilstarNews pic.twitter.com/imoUaKNwFN

— Patricia Viray (@patriciaviray) May 18, 2021
May 3, 2021 - 8:58am
The DFA protests the illegal presence of Chinese Coast Guard vessels in Panatag (Scarborough) Shoal and their belligerent actions against the Philippine Coast Guard.
DFA also rejects the statement of Chinese foreign ministry spokesperson Wang Wenbin that China enjoys sovereignty over Panatag Shoal/Bajo de Masinloc.
"China has no enforcement rights in these areas... The unauthorized and lingering presence of these vessels is a blatant infringement of Philippine sovereignty," the DFA says in a statement.
April 28, 2021 - 12:24pm
Foreign Affairs Secretary Teodoro Locsin Jr. orders the filing of another diplomatic protest against China following the statement of a Chinese official on the Philippine Coast Guard's exercises in the West Philippine Sea.
"They can say what they want from the Chinese mainland; we continue to assert from our waters by right of international law what we won in The Hague. But we must not fail to protest. @DFAPHL have we fired off a diplomatic protest? Do it now," says Locsin on Twitter.
April 25, 2021 - 1:08pm
The Philippine Coast Guard sends BRP Malapascua and BRP Francisco Dagohoy (MMOV 5002) — a fisheries bureau vessel manned by PCG personnel — to Pagasa Island in the West Philippine Sea for maritime exercises.
Pagasa Island is in the Kalayaan Island Group of Palawan province.
April 23, 2021 - 10:29am
Two new diplomatic protests have been lodged against China as of April 21, the Department of Foreign Affairs says.
These are in addition to the daily protests over the continuing presence of Chinese vessels in Julian Felipe Reef following reports that at least 160 Chinese maritime militia ships are still in Philippine waters.
"The continued swarming and threatening presence of the Chinese vessels creates an atmosphere of instability and is a blatant disregard of the commitments by China to promote peace and stability in the region," the DFA says.