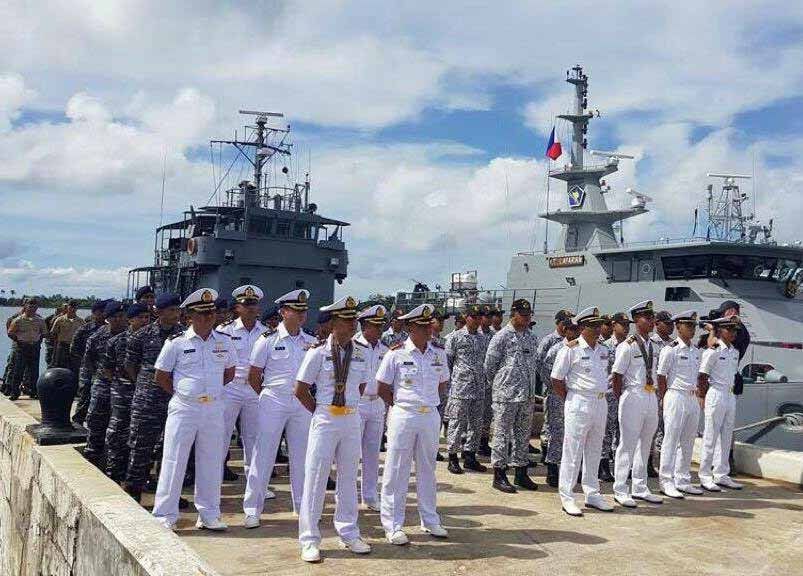 This file photo from November 2019, representatives of the navies of Malaysia and Indonesia are in Panglima Sugala, Tawi-Tawi as part of "trilateral patrols" in waters off the southern Philippines.
Capt. Joann Petinglay, Western Mindanao Command, file
Carpio suggests joint patrols with Malaysia, Vietnam in South China Sea
MANILA, Philippines — The Philippines should join forces with Malaysia and Vietnam to counter China's "grave escalation" of tensions in the South China Sea, retired Senior Associate Justice Antonio Carpio said.
The Department of Foreign Affairs had filed a diplomatic protest against China for pointing its gun control director at a Philippine Navy ship near Malampaya gas field in the West Philippine Sea.
The Armed Forces of the Philippines Western Command had confirmed that a People's Liberation Army Navy corvette pointed its gun control director—a computer that calculates firing solutions—at the BRP Conrado Yap in February.
Carpio, in an online forum organized by the Foreign Correspondents Association of the Philippines, noted that the Malampaya area cuts through Beijing's so-called nine-dash line in the South China Sea, part of which is the West Philippine Sea.
The retired Supreme Court magistrate also recalled that a Chinese ship and coast guard vessels also went near Malaysia's Petronas drilling area in the South China Sea mid-April.
Last year, Vietnam and China were involved in a standoff after Beijing deployed coast guard vessels and survey ships at Hanoi-controlled Vanguard Bank.
'Unity' patrols
"I think we should have joint patrols with Vietnam and Malaysia. We patrol their [exclusive economic zone]," Carpio said Monday.
Carpio said the navies of the three countries could jointly patrol each other's territorial waters, sending a message to Beijing.
"We'll be sending a message... China cannot just pick us out one by one. We are united," he said.
The navies of the Philippines, Indonesia and Malaysia already hold joint patrols in waters off the southern Philippines to deter kidnapping, piracy and maritime terrorism.
Stressing that the Philippines should take the matter seriously, Carpio also suggested joining the Americans in their naval patrols in the South China Sea if China insists on "doing the same thing."
While pointing its fire control system radar at a Philippine Navy ship could not considered an act of war, Carpio said it was a hostile act.
Citing the rules of naval engagement, Carpio said locking one's fire control radar on another ship is just one step to firing, which happens in less than a second.
"We don't do that that because you can mistake and you can trigger an accidental war so navies do not do that unless you want to bully another country," Carpio added.
'Taking advantage of pandemic'
Carpio also lamented how China is taking advantage of the novel coronavirus disease (COVID-19) pandemic, which originated from Wuhan City in Hubei province.
"China doesn't want to let this pandemic crisis go to waste... China is taking advantage of our difficulty right now so I think it's time really to talk to our neighbors Vietnam and Malaysia, perhaps even Indonesia, that we should now conduct joint patrols," the retired magistrate said.
Earlier this month, China Global Television Network reported that Beijing established two districts to administer the Paracel and Spratly Islands in the South China Sea under Sansha City in Hainan province.
The Philippines is also claiming some features in the Spratly Islands.
Foreign Affairs Secretary Teodoro Locsin Jr. confirmed that the DFA also lodged a diplomatic protest before the Chinese Embassy in Manila for "declaring parts of Philippine territory as part of Hainan province."
The Philippines' top diplomat said China's actions constitute "violations of internatonal law and Philippine sovereignty."
As It Happens
LATEST UPDATE: August 27, 2020 - 9:37am
August 27, 2020 - 9:37am
China said a US spy plane entered a no-fly zone used by the Chinese military for live-fire drills, branding it an act of provocation, state media said Tuesday.
The U-2 reconnaissance jet's flight over an area in northern China violated safety rules between the two nations, Xinhua reported, citing Chinese defence ministry spokesman Wu Qian.
"The US action could easily have resulted in misjudgments and even accidents," said the report, adding "that the move was an obvious provocation." — AFP
July 14, 2020 - 7:34am
Secretary of State Mike Pompeo says the United States would treat Beijing's pursuit of resources in the dispute-rife South China Sea as illegal, ramping up pressure on another front.
"We are making clear: Beijing's claims to offshore resources across most of the South China Sea are completely unlawful, as is its campaign of bullying to control them," Pompeo says in a statement.
The United States has long rejected Beijing's sweeping claims in the South ChinaSea, aligning itself with Vietnam, the Philippines and other US partners in the region. — AFP
July 3, 2020 - 7:28am
The Pentagon says it is "concerned" about Chinese military exercises around a disputed archipelago in the South China Sea, noting the maneuvers will "further destabilize" the region.
"The Department of Defense is concerned about the People's Republic of China (PRC) decision to conduct military exercises around the Paracel Islands in the South China Sea on July 1-5," the Pentagon says in a statement.
The activities "further destabilize the situation" in the area claimed by China, Vietnam and Taiwan, it says. — AFP
April 30, 2020 - 4:15pm
The Philippines says it strongly protests "the establishment of the so-called districts of 'Nansha' and 'Xisha' under the supposed administrative jurisdiction of its self-declared 'Sansha City'" which would cover parts of the West Philippine Sea.
In a statement, the Department of Foreign Affairs says it has protested since 2012 the "unlawful establishment of Sansha City" that includes Philippine territory and maritime zones in the WPS, including the Kalayaan Island Group and Bajo de Masinloc.
The Philippines also protests the dseignation of Kagitingan Reef in the Kalayaan Island Group "as adinistrative center for the so-called 'Nansha district'," saying the reef is part of the KIG and an integral part of Philippine territory.
April 27, 2020 - 1:41pm
Sen. Risa Hontiveros has filed a resolution to urge the executive branch to "exert legal and diplomatic pressure" on China over its activities in the West Philippine and to have the regional giant pay for enviromental damage in the area.
"China's sense of entitlement to our seas has caused severe and irreparable harm to our ecosystems," Hontiveros says in a statement on the filing of Philippine Senate Resolution No. 369.
Even if the Senate, the majority of which supports the Duterte administration and its foreign policy with China, adopts the resolution, it is non-binding on the executive branch.
"Hindi tayo kolonya, kaya panahon nang singilin ng gobyerno ang Tsina (We are not a colony so it's about time that we have China pay)," she also says.
In her resolution, Hontiveros says "unlawful Chinese activities in the West Philippine Sea are estimated to have caused at last P33 billion in damage annually to marine ecosystems within the Philippines' continental shelf and exclusive economic zone" since 2013, the year that the Philippines filed its arbitration case.