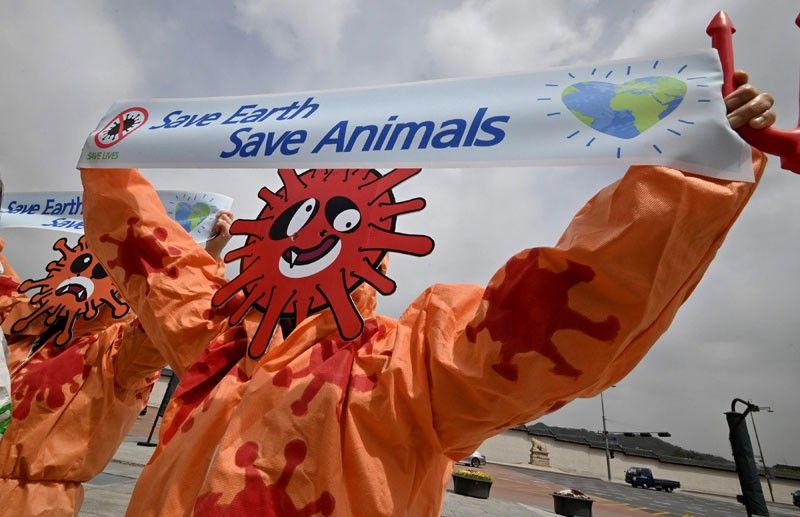 Members of the Asian Citizen's Center for Environment and Health, wearing masks depicting the COVID-19 coronavirus, perform during an Earth Day event against climate change at Gwanghwamun square in Seoul, South Korea yesterday. The group said that climate change and ecosystem destruction were the root causes of COVID-19.
AFP
Earth Day: Address climate change or face another COVID-like crisis
MANILA, Philippines — Environment Secretary Roy Cimatu yesterday called for "concerted action" from public and private sectors to address climate change, stressing that the country must not wait for perennial environmental problems to peak and endanger lives as the coronavirus disease 2019 (COVID-19) is doing.
"In both COVID 19 and climate change, our survival is at stake. The urgency of the need for concerted and comprehensive action, without waiting for the problem to peak or to impact millions more of people, is the same," Cimatu said in a statement as the world celebrated Earth Day with the theme Climate Action.
Cimatu said the health and economic impacts of the COVID-19 pandemic is a bitter reminder of how global problems like the climate change can "bring about destruction and chaos to any nation."
COVID-19 has so far infected around 2.5 million people worldwide, claiming the lives of more than 165,000.
"On the one hand, with COVID-19, we are faced with immediate gripping fear of losing more lives; on the other hand, with climate change, we are faced with rising sea levels, saline intrusion into aquifers, droughts, floods and the results will impact billions of people, as well as biodiversity," Cimatu said.
Cimatu said that unlike the uncertainties of how long COVID-19 will persist and how many more lives will be lost, climate change can be addressed through efficient mitigation and adaptation programs.
"For climate change mitigation and adaptation, our responses may be less drastic, as they generally require only lifestyle changes. But we must invest in and institute the necessary concerted reforms speedily and extensively, before it becomes too late," Cimatu said.
"This Earth Day 2020, let us look beyond COVID-19. With the help of the mass media, let us challenge all nations, including ours, to take decisive climate action. After all, this has long been overdue," he added.
In a separate statement, fisherfolk group Pambansang Lakas ng Kilusang Mamamalakaya ng Pilipinas (Pamalakaya) stressed the importance of protecting the West Philippine Sea from China's "opportunistic" reclamation activities.
"As the theme for Earth Day 2020 is climate action, Pamalakaya asserted the significance of protecting the West Philippine Sea, especially its marine resources, as China's cost to coral reefs due to its reclamation activities is estimated at P33 billion per year," the group said.
Pamalakaya said around 40,000 acres of reefs were destroyed in the course of Chinese reclamation, "affecting not only marine life, but also the livelihood of Filipino fisherfolk."
Pamalakaya specifically slammed China's construction of research stations in Kagitingan (Fiery Cross) and Zamora (Subi) reefs, both part of the Spratly Islands in the West Philippine Sea.
China has also earned the ire of Vietnam after announcing that it would be setting up two administrative districts in the South China Sea – the Nansha District in Spratlys and Xisha District in Paracel Islands, where Vietnam has been upholding its sovereign claim.
Meanwhile, environmental group Alyansa Tigil Mina (ATM) urged Filipinos to continue safeguarding the environment from large-scale mining operations.
ATM pointed out that various environmental groups and scientists have linked the emergence of the COVID-19 virus to the destruction of forests and essential ecosystems.
"The continued destruction of forests has led to the rise of temperatures, which in turn causes wildlife to change their eating and behavioral patterns. These behavioral changes lead to mutations that contribute to the rise of new diseases such as COVID-19," ATM said.
Bishop's call
An official of the Catholic Bishops' Conference of the Philippines (CBCP) called on the Filipino people to expand the COVID-19 narrative beyond health and economic crisis as the country joined the Earth Day celebration yesterday.
"We must look at environmental destruction as the root cause of the global pandemic. Humans take wildlife out of their natural habitats and exploit finite resources," Fr. Edwin Gariguez, executive secretary of the National Secretariat for Social Action of the CBCP said.
"Human activities – destructive extraction, coal projects, large-scale logging, mono-cropping plantation, among others – destroy biodiversity as if we are not part of it," he added.
As the country struggles to make it through the pandemic, Gariguez said COVID-19 does not only call for a deep social and structural conversion, but also for intimate ecological conversion and change in how people treat the environment.
'Celebrate at home'
In the City of San Fernando, DENR officials in Central Luzon have urged and challenged the public to celebrate Earth Day at home.
Don Guevarra, DENR information officer in the region, told The STAR the public can celebrate Earth Day without going outside their houses due to the pandemic by adopting environment-friendly practices at home.
"We can do these eco-friendly tasks at home like stopping the use of plastic, waste segregation and water and electricity conservation," Guevarra noted.
He added that the public can also practice eco-brick making, home gardening and composting which are environment friendly and can help ease the impact and boredom of staying at home with the implementation of the Luzon-wide enhanced community quarantine and make Earth Day celebration an everyday event. – With Robertzon Ramirez, Ramon Efren Lazaro