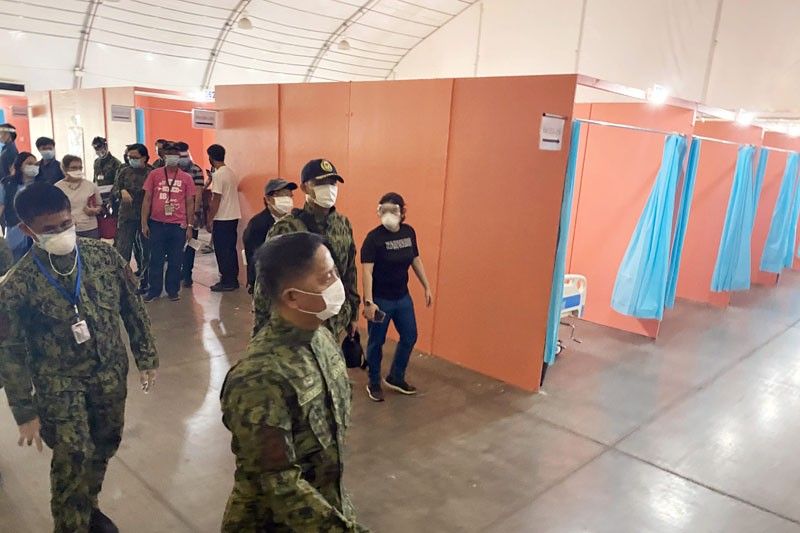 Philippine National Police officials check out the quarantine facilities at the Philippine International Convention Center in a photo posted on Facebook by the Department of Public Works and Highways yesterday.
STAR/File
DPWH turns over PICC quarantine site to PNP
MANILA, Philippines — The quarantine facility for coronavirus disease 2019 (COVID-19) patients at the Philippine International Convention Center (PICC) in Pasay City is now fully operational.
The Department of Public Works and Highways (DPWH) yesterday turned over to the Philippine National Police (PNP) the facility, which can accommodate 294 patients. It also has six nurse stations.
Public Works Secretary Mark Villar said hospital beds and other medical equipment such as wheelchairs, defibrillators and IV stands are now installed at the makeshift hospital. A mobile pharmacy and X-ray machine were also set up at the facility.
Six makeshift houses were also put up outside the facility for healthcare workers.
Villar said the PNP Health Service will manage the operation of the quarantine facility, which will cater to patients with mild to moderate cases of COVID-19.
"The DPWH completed the PICC health facility three days ahead of schedule," he said in a statement.
PNP chief Gen. Archie Gamboa said 16 of their healthcare workers and 128 non-medical personnel will manage operations of the facility.
"The PNP, with our corps of medical and healthcare personnel, is honored to take on this crucial responsibility in our national efforts to stand our ground against COVID-19 and heal the land of this contagion," he said.
Gamboa said safety protocols such as wearing personal protective equipment are strictly implemented.