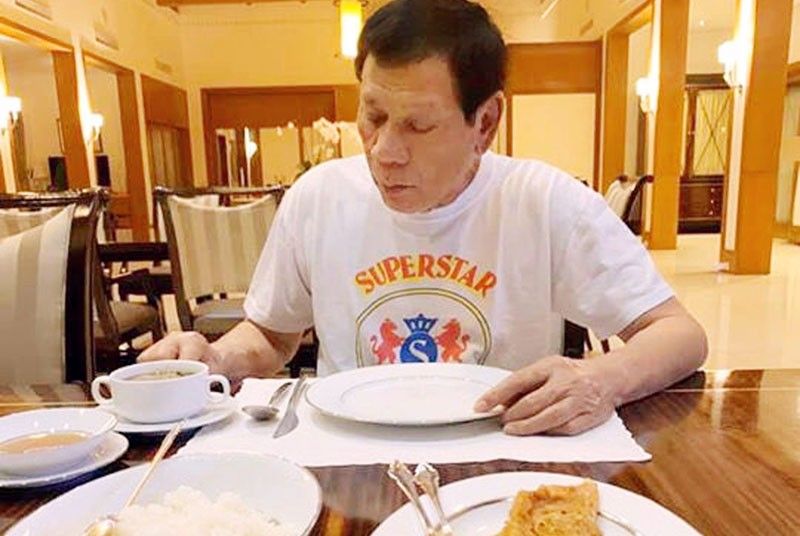 Birthday lunch: Photo provided by Sen. Bong Go shows President Duterte set to eat lunch consisting of rice, fish and soup as he celebrated his 75th birthday under self-quarantine at Bahay Pagbabago in Malacañang yesterday.
Duterte spends birthday alone, takes greetings by phone
MANILA, Philippines — President Duterte had to make do with phone call greetings from his children and grandchildren as he turned 75 yesterday while on quarantine at his official residence in Bahay Pagbabago at Malacañang grounds.
"By phone calls only," said Sen. Bong Go when asked how the President received greetings from loved ones and friends.
The President spent his birthday away from his children and grandchildren as he had come into contact with people who tested positive for the coronavirus disease 2019 (COVID19).
For lunch yesterday, the President had fried fish, soup and rice, which he ate alone.
The President has not traveled to Davao City for almost four weekends, as precaution against COVID-19. He used to spend weekends in his home province.
The Palace had also ruled out a special dinner for the President. Members of the Presidential Security Group (PSG) are also under quarantine at the PSG barracks.
Duterte decided to go on quarantine after reports came out that a congressmen with whom he had interacted – ACTS-CIS Rep. Eric Yap – tested positive for COVID-19. On Friday, however, the Research Institute for Tropical Medicine (RITM) said there was a clerical error on Yap's test results and that he actually tested negative.
Despite the new results on Yap, the President and his official guards have chosen to remain under quarantine as other Palace officials have been classified as either persons under investigation or confirmed cases.
While on quarantine, the President will keep in touch with his officials through videoconferencing.
Restricted in Davao City due to the ongoing national emergency are the President's children, Mayor Sara Duterte-Carpio, first district Rep. Paolo Duterte and Vice Mayor Sebastian Duterte. The President's former wife Elizabeth Zimmerman, current partner Honeylet Avancena and daughter Veronica are also in Davao City. The President's 11 grandchildren and great grandchild are also in their home province.
For the first time, the President was not able to bring cheers to children with cancer at the House of Hope. – With Christina Mendez