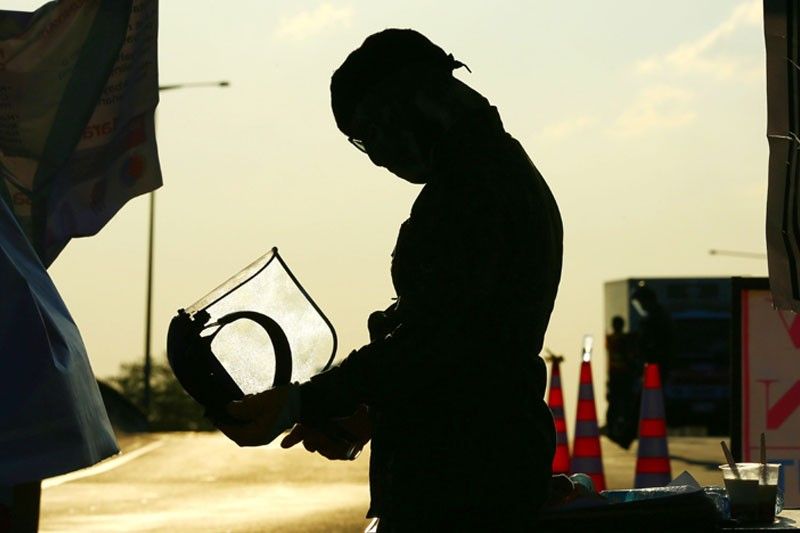 weary officer removes his protective gear after hours of manning a checkpoint at the Mindanao Avenue exit of the North Luzon Expressway yesterday. The entire Luzon has been placed on enhanced community quarantine to contain the coronavirus pandemic.
Walter Bollozos
'No extended quarantine, no military control'
Palace asks public: Don't spread fake news
MANILA, Philippines — Malacañang refuted yesterday rumors that the government is planning to implement a 60-day extended Luzon quarantine and that the military will take over the government.
Cabinet Secretary Karlo Nograles, spokesman for the Inter-Agency Task Force on the Management of Emerging Infectious Diseases (IATF-EID), branded as totally unfounded, baseless and untrue the reports of a total lockdown.
"These rumors being spread via social media platforms and being sent via messaging applications are all fake news," said Nograles.
Nograles, who is on self-quarantine, advised the public to refrain from forwarding or posting these rumors because they "unnecessarily cause panic and fuel detrimental behavior like hoarding."
"Hindi po ito nakakatulong (This doesn't help)," Nograles said.
He urged people to verify information they receive with legitimate sources of news as well as official government social media accounts and websites.
"We understand that the public wants information regarding COVID-19 and the enhanced community quarantine, which is why government agencies like the Department of Health make it a point to regularly provide updates," Nograles said.
If there are major developments, only President Duterte, the IATF or the National Task Force (NTF) COVID-19 are the proper persons/entities who will make announcements.
Nograles pointed out that the government's National Action Plan to Eliminate COVID-19 includes the adoption of measures that will provide clear, accurate and timely information to support COVID-19 pandemic operations, such as a system or platform for regular reporting and updating on COVID-19 related news.
He also said the individuals who spread false news about the disease might be indicted under the "Bayanihan to Heal As One Act" or Republic Act (RA) No. 11469 recently signed by the President.
Nograles pointed out that Section 6(f) of RA 11469 states that "individuals or groups creating or spreading false information on social media and other platforms that promote chaos, anarchy, panic, fear or confusion can be penalized by two months imprisonment or a fine ranging from P10,000 to P1 million."
"These rumors being passed around are not harmless and only highlight the need to institute measures to discourage the public from spreading them. Like a virus, rumours like these are dangerous and we need to take steps to stop them because they are harmful to the public," he said.