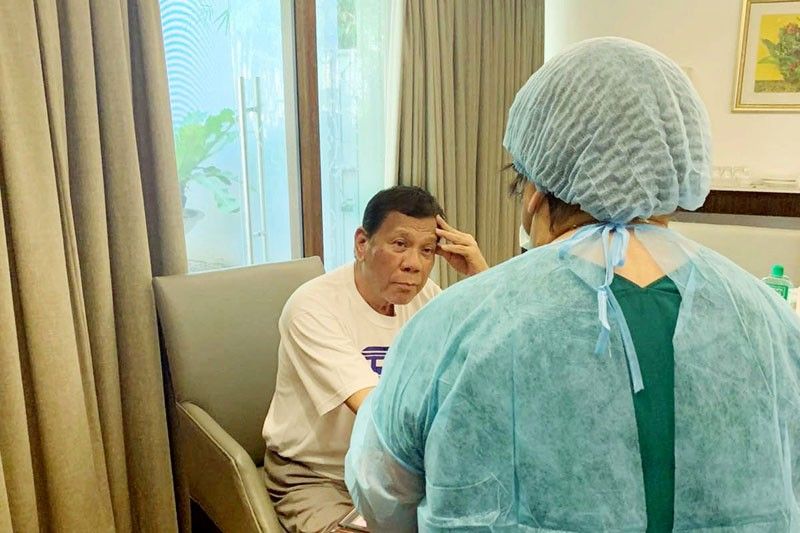 Photo provided by Sen. Bong Go shows President Duterte under selfquarantine at Malacañang's Bahay Pagbabago. The President, who turns 75 years old today, will be staying inside the Malacañang complex for two weeks.
Palace off-limits; Duterte ,Cabinet execs on quarantine
MANILA, Philippines — After being exposed to officials who tested positive for coronavirus disease 2019 (COVID-19), President Duterte will have to spend his 75th birthday today and the next two weeks isolated at the Palace grounds in Manila, along with his official bodyguards who, under current health protocols, are now considered persons under investigation (PUIs).
Long-time aide now Sen. Bong Go confirmed this, saying the Chief Executive had been advised to go on self-quarantine by his doctor and the Presidential Security Group (PSG).
Go said the President is used to celebrating his birthday modestly.
"He's been advised by his doctor and the PSG to undergo self-quarantine for his protection. Nevertheless, he will continue monitoring the situation across the country and provide necessary instructions to government officials," Go said in a statement in Filipino.
"As the father of the nation, what's in his mind is the good of the country – not his birthday. In my opinion, the President will only celebrate when we have fully conquered the COVID-19 situation," he said.
"For now, he is focused on what needs to be done and I'm here to always support President Duterte," the senator said.
The President's only birthday wish, Go added, is for Filipinos to stay home and observe quarantine.
In a statement issued last night, presidential spokesman Salvador Panelo also said Duterte will continue to discharge his duties while on two-week self-quarantine, possibly until April 11.
The President's partner, children and grandchildren are in Davao City.
Panelo said the President is following the advice of his doctors "following his exposure to some officials who themselves have been exposed to a confirmed COVID-19 victim."
"He will continue with his work while on quarantine. His only birthday wish is for our countrymen to stay home and the total eradication of the coronavirus," Panelo said.
Duterte will be in constant communication with his officials in the fight against COVID-19 via video-conferencing, his spokesman said.
The President regularly interacts with officials like Finance Secretary Carlos Dominguez III, Executive Secretary Salvador Medialdea, Defense Secretary Delfin Lorenzana, as well as with Go and other Cabinet officials who had all come into contact with party-list Rep. Eric Go Yap, who later turned out to have been wrongly classified as a positive case by the Research Institute for Tropical Medicine (RITM).
Lorenzana is also undergoing quarantine after being exposed to Armed Forces chief Gen. Felimon Santos Jr., who tested positive for the virus.
Tourism Secretary Bernadette Romulo-Puyat said yesterday she would undergo self-quarantine after being exposed to Santos.
"Given the recently unfortunate news that the AFP chief of staff has tested positive for COVID-19, I will be undergoing self-quarantine as I was exposed to him in a meeting last March 20," Puyat said in a statement.
Puyat said she won't have herself tested for COVID-19 as there is a shortage of testing kits and she is not showing any symptoms of the disease.
"By staying at home, I will not put anyone I come in contact with at risk. The safety of those around me is my priority," Puyat said. The required quarantine period is at least 14 days.
She vowed to continue fulfilling her duties as tourism secretary despite being under self-quarantine.
"We in the Department of Tourism (DOT) have been working remotely from each other since the start of the enhanced community quarantine," Puyat said.
PSG restricted
Earlier yesterday, PSG commander Col. Jesus Durante III ordered all his personnel and their dependents to go on quarantine within their barracks at the Malacañang complex as part of measures to protect the President.
He said based on current security arrangement in force, the President has been practically under quarantine for days now.
"Actually I really don't know with regards to that. It's up to OP (Office of the President). For now he is not going around, he continues to work but we do not accept visitors for him. So if we consider that, that can be seen as self-quarantine," the PSG chief said.
In ordering his men to undergo strict quarantine procedures, Durante said it is better to make sure and even assume they are infected so that everybody would maintain a social distance always when securing the President.
"Even though they tested negative, we also treat everyone as contaminated, as infected so they maintain physical distancing and other required, or safety procedures to avoid infection," the PSG chief pointed out.
Durante explained he need to impose such order barring members of the PSG from leaving the Palace premises.
"I just required all PSG personnel to go on self-quarantine up to April 10 because I considered the incidents for the next 14 days. To think that some people tested positive, here and at Camp Aguinaldo, I directed all PSG personnel on self-quarantine where nobody goes in and nobody goes out for all PSG personnel and their dependents if they are living within the Malacañang Complex," he said.
Durante said the staff members working in their respective offices under the Office of the President are subject to regular security screening procedures.
In a two-page memorandum sent to PSG personnel, Durante said the elite unit guarding the President and his family is now "intensively providing the highest standard and most demanding security and health sanitation protocol to the President and the Commander-in-chief of the AFP."
Durante added that the command recorded a "minimal and considerable COVID-19 under monitoring in PSG" compared to other military and police installations in the National Capital Region.
In implementing the strict protocols, Durante said the PSG command noted that there is an "alarming and increasing infection of corona virus" in the surrounding communities/areas of Malacañang Complex/Park."
Strict protocols
As part of the measures, the command convened the PSG Task Force COVID-19, which will take the lead in the implementation of the necessary protocols.
Based on protocols, PSG men are barred from leaving their barracks unless they are on duty. No PSG personnel will also be allowed to travel by air or by land outside the Palace. Only medical supplies can be transported by aircraft.
Any personnel who would go to the AFP headquarters at Camp Aguinaldo and other military camps in Metro Manila would be banned from going back to Malacañang until April 15.
They would also not be allowed to return if they have gone to St. Luke's Medical Center in Taguig and in Quezon City; Makati Medical Center; San Lazaro, Manila Doctors as well as Cardinal Santos Medical Center.
The duration of the lockdown at the PSG compound and other areas would be enforced from March 28 to April 10.
To enable the President to still work from Malacañang, Durante said the PSG will adjust accordingly.
"We can be flexible on that if it's really an important meeting or visitor, subject to security procedures," he said.
"For now, IATF meetings are being conducted regularly. The other meetings of the President are cancelled. It's done by teleconferencing," Durante said.
"The President is here and he is not going out because the entire NCR is on lockdown… We made sure that all these people abide with necessary health procedures," the PSG chief said.
As more officials tested positive for COVID-19, the Presidential Communications Operations Office said members of private media groups are now barred from the Malacañang Press Briefing Room.
"The media may participate during the public address via the virtual presser or by submitting questions either to the moderator or the resource speaker," PCOO Undersecretary Raquel Tobias said. She said the new rule aims "to help prevent the spread of COVID-19."
Tobias said only resource persons, cameraman from the Radio-TV Malacañang and a moderator would be allowed during conferences inside the press briefing room located at the New Executive Building at Malacañang.
Earlier, Communications Secretary Martin Andanar said he won't allow a ban on media, citing its role in disseminating vital information to the public. – With Edith Regalado, Catherine Talavera, Ghio Ong