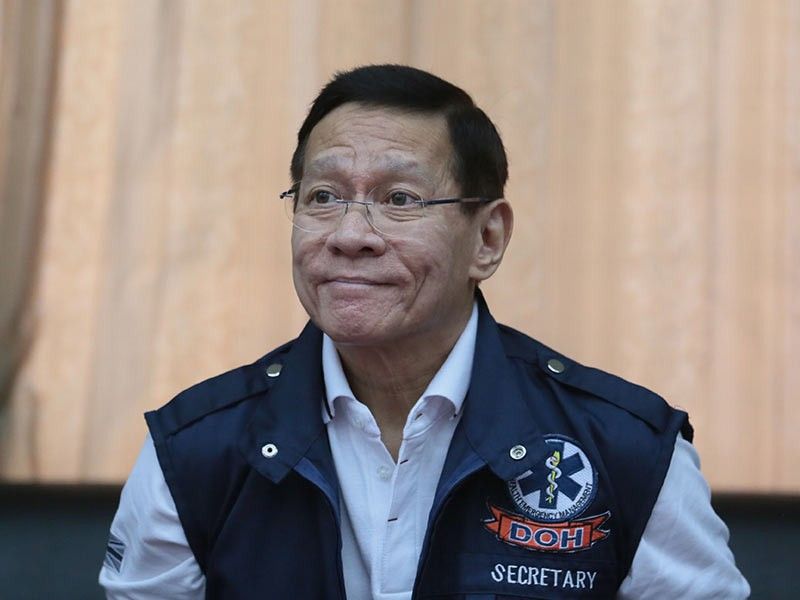 DOH Secretary Francisco Duque III speaks at a pressconference in Quezon City as The Department of Health (DOH) on Sunday confirmed another case of the novel coronavirus in the Philippines, bringing total number of confirmed cases in the country to two, February 02, 2020.
The STAR/Michael Varcas
DOH: Too early to tell if Philippines winning against COVID-19
(Philstar.com) - March 26, 2020 - 12:48pm
MANILA, Philippines — Health Secretary Francisco Duque III said that it was still too early to tell whether the tide against the novel coronavirus disease (COVID-19) had shifted amid the enhanced community quarantine.
As of this writing, the national count of COVID-19 patients has eclipsed 600 after the Department of Health recorded 84 more patients on Wednesday. This, as the country is still under a nationwide state of calamity after President Rodrigo Duterte said that the number of cases was still steadily rising despite government intervention.
According to the health chief, the Philippines was looking to take the lead of Wuhan, the pathogen's place of origin, in dealing with the virus.
"It is hard to say right now. It is still too early and premature," Duque said in Filipino on Thursday in an interview with radio dzBB.
"The cases there [in Wuhan] only really started going down in March, at around the first weeks of March," he added.
"Right now, it is down to zero to just one case per day, and they're mostly imported cases."
Mass testing
Duque again expressed apprehension towards the idea of implementing mass testing measures in the country.
"That's hard to do. How do you identify mass testing? Will you need each and every Filipino to be tested? No other country can do mass testing to that extent. You'll need to rationalize that. For me, we'll prioritize vulnerable, high risk groups," he said in a mix of Filipino and English.
"Testing isn't medicine or treatment. If you know you have [similar] symptoms, like shortness of breath, fever, dry cough, colds, you have to manage it as COVID-19 already."
"If you have these symptoms, why wait for a test? Do it already. You assume [that you have it.]"
The health chief also disclosed that the department had already reached out to China to ask for more test kits, although he said there was no guarantee yet that their request would be granted. — Franco Luna
As It Happens
LATEST UPDATE: August 9, 2020 - 12:33pm
Follow this page for updates on a mysterious pneumonia outbreak that has struck dozens of people in China.
August 9, 2020 - 12:33pm
Brazil on Saturday surpassed 100,000 coronavirus deaths and three million cases of infection, crossing the grim milestone after President Jair Bolsonaro said he had a "clear conscience" on his response to the outbreak.
With 100,477 fatalities and 3,012,412 confirmed cases, the South American nation of 212 million people is the second hardest-hit country in the global pandemic, after the United States.
The health ministry reported 905 new deaths in the past 24 hours, as well as 49,970 fresh cases.
But the official figures are most likely an undercount, with experts estimating that the total number of infections could be up to six times higher due to insufficient testing. — AFP
August 9, 2020 - 9:33am
Two new confirmed imported cases of COVID-19 in Taiwan had recently come from the Philippines, Taiwan's Centers for Disease Control says in an August 8 announcement.
The two, identified as Cases 478 and 479, are a couple and are both 60 years old. They had been in the Philippines since earlier this year.
"The male case developed a fever, a runny nose, and fatigue on July 23. The female case experienced an itchy throat and cough on August 3. Their symptoms were relieved after taking medications, but they didn't seek medical attention in the Philippines," Taiwan CDC says.
They returned to Taiwan on August 6 and reported their symptoms to quarantine oficers when they arrived at the airport. They were brought to a quarantine facility and lab tests confirmed on August 8 that they had COVID-19.
August 8, 2020 - 4:47pm
The Department of Health reports 4,226 new cases of coronavirus disease 2019, bringing the national tally to 126,885.
There are 287 additional survivors and 41 new deaths.
August 7, 2020 - 5:08pm
Reports say that former Manila mayor Alfredo Lim has been confined at an undisclosed hospital reportedly due to the coronavirus disease.
Lim's grandson, Manila 1st District Councilor Niño Dela Cruz, earlier requested for prayers for the healing of the former mayor. The post has been deleted. — The STAR/Rey Galupo
August 7, 2020 - 4:07pm
The Department of Health announces 3,379 new cases of the coronavirus disease, bringing the national caseload to 122,754 in the Philippines.
There are 96 new recoveries and 24 new deaths.