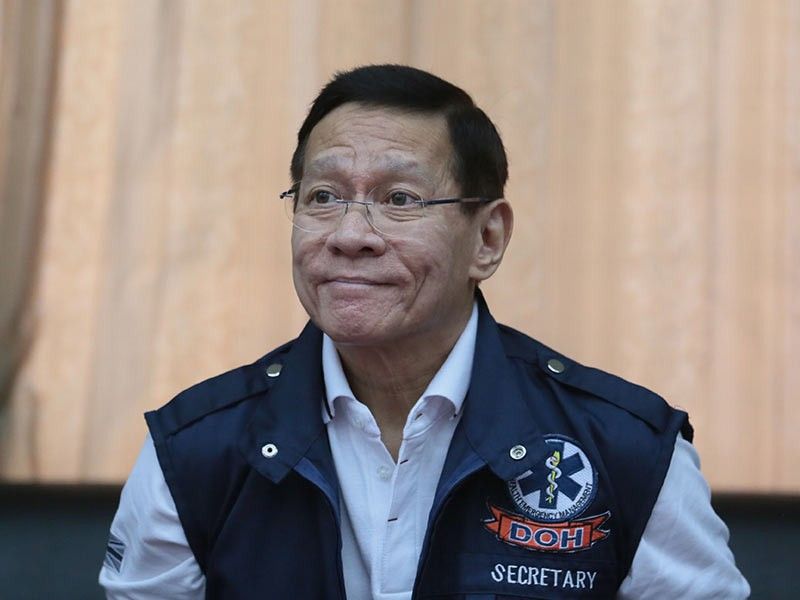 DOH Secretary Francisco Duque III speaks at a pressconference in Quezon City as The Department of Health (DOH) on Sunday confirmed another case of the novel coronavirus in the Philippines, bringing total number of confirmed cases in the country to two, February 02, 2020.
The STAR/Michael Varcas
DOH: Too early to tell if Philippines winning against COVID-19
(Philstar.com) - March 26, 2020 - 12:48pm
MANILA, Philippines — Health Secretary Francisco Duque III said that it was still too early to tell whether the tide against the novel coronavirus disease (COVID-19) had shifted amid the enhanced community quarantine.
As of this writing, the national count of COVID-19 patients has eclipsed 600 after the Department of Health recorded 84 more patients on Wednesday. This, as the country is still under a nationwide state of calamity after President Rodrigo Duterte said that the number of cases was still steadily rising despite government intervention.
According to the health chief, the Philippines was looking to take the lead of Wuhan, the pathogen's place of origin, in dealing with the virus.
"It is hard to say right now. It is still too early and premature," Duque said in Filipino on Thursday in an interview with radio dzBB.
"The cases there [in Wuhan] only really started going down in March, at around the first weeks of March," he added.
"Right now, it is down to zero to just one case per day, and they're mostly imported cases."
Mass testing
Duque again expressed apprehension towards the idea of implementing mass testing measures in the country.
"That's hard to do. How do you identify mass testing? Will you need each and every Filipino to be tested? No other country can do mass testing to that extent. You'll need to rationalize that. For me, we'll prioritize vulnerable, high risk groups," he said in a mix of Filipino and English.
"Testing isn't medicine or treatment. If you know you have [similar] symptoms, like shortness of breath, fever, dry cough, colds, you have to manage it as COVID-19 already."
"If you have these symptoms, why wait for a test? Do it already. You assume [that you have it.]"
The health chief also disclosed that the department had already reached out to China to ask for more test kits, although he said there was no guarantee yet that their request would be granted. — Franco Luna
As It Happens
LATEST UPDATE: March 28, 2020 - 6:29pm
Follow this page for updates on a mysterious pneumonia outbreak that has struck dozens of people in China.
March 28, 2020 - 6:29pm
Iran announces that 139 more people had died from the novel coronavirus, raising the official death toll to 2,517 in one of the world's worst-affected countries.
Health ministry spokesman Kianoush Jahanpour says in a press conference that 3,076 more cases had been confirmed in the past 24 hours, bringing the total number of infections to 35,408. — AFP
March 28, 2020 - 3:53pm
Actress Iza Calzado tested positive for the coronavirus disease, her manager says.
March 28, 2020 - 1:30pm
Toyota Makati Inc. announces that a team member tested positive for COVID-19.
"The safety and security of our employees, customers, and all of our stakeholders, is paramount to us. Keeping this in mind, and under the guidance and support of the relevant national and local authorities, we are taking immediate and comprehensive actions necessary, including disinfection of the dealership, to prevent any spread of the virus," the company says.
"Furthermore, all employees who have had close contact with the infected member have been quarantined," it adds.
March 28, 2020 - 10:43am
The United States now has more than 100,000 confirmed cases of the new coronavirus, a tracker maintained by Johns Hopkins University shows.
There have been 100,717 cases including 1,544 deaths as of 6:00 pm Eastern time (2200 GMT).
The biggest cluster by far is in New York, home to almost half the cases, overwhelming the hospital system. — AFP
March 28, 2020 - 9:08am
Manila Development Authority General Manager Jojo Garcia has tested positive for the coronavirus disease.
"I wish to inform everyone that I will have to work from home as I have been found positive for COVID-19," Garcia says in a statement.
"I embrace this challenge with full trust and faith in God that I will overcome the same with your prayers," he adds.