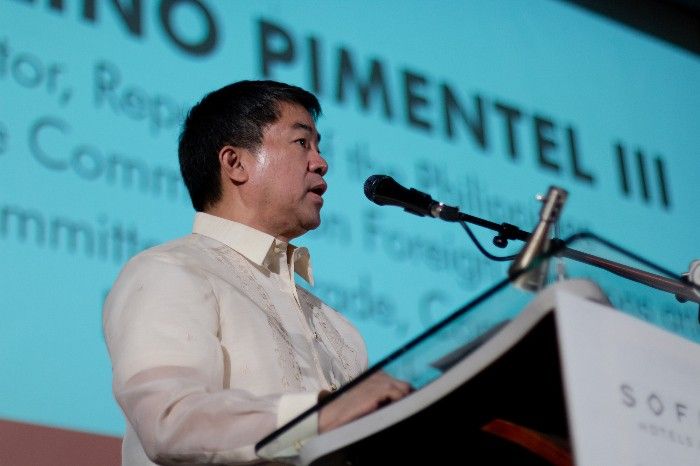 Sen. Koko Pimentel speaks at a publc policy conference in Pasay City in this September 2019 photo.
PIDS photo
MMC slams infected Koko's hospital visit
More staff need quarantine; delivery room complex closed down
MANILA, Philippines — In an already overburdened hospital, more medical workers will have to go on home quarantine for possible infection, while the delivery room complex had to be closed for disinfection – all because a senator already suspected to have the coronavirus insisted on accompanying his pregnant wife to the hospital.
The Makati Medical Center yesterday issued a statement condemning Sen. Aquilino "Koko" Pimentel III, who went with his wife Kathryna to the MMC even if he was supposed to be on home quarantine for the coronovirus disease 2019 or COVID-19.
Netizens heaped opprobrium on Pimentel, who explained that he was "excited" about the forthcoming delivery by Caesarean section of their first child.
He said he received the results of his test, showing him positive for COVID-19, from the Research Institute for Tropical Medicine (RITM) two hours after he and his wife arrived at the MMC.
Kathryna, in interviews, said her husband had been on 10-day home quarantine.
In an official statement through its medical director and interim co-chief executive Saturnino Javier yesterday, MMC condemned what it described as Pimentel's "irresponsible and reckless action."
"By being in MMC, Sen. Pimentel violated his home quarantine protocol, entered the premises of the MMC-DR, thus, unduly exposed health care workers to possible infection," it said.
Because of this, more doctors and nurses would have to undergo quarantine, which would lessen the hospital's workforce amid battling the disease, according to the hospital.
Pimentel said he was informed at around 9 p.m. on Tuesday through a phone call from the Research Institute for Tropical Medicine (RITM) that he was positive for the disease following his test taken last Friday.
At the time of the call, the senator was at the MMC to accompany his wife Kathryn, who was expected to give birth.
Pimentel said that since the last day of session of Congress on March 11, he has been trying his best to limit his movements, and vowed to call those whom he remembers meeting during those crucial days so he can inform them of his test result.
Pimentel had reportedly been in self isolation, with his wife saying on social media that they had not been in the same room for the last 10 days.
"I would like to ask for your prayers, especially for my wife Kath, who is about to give birth in the next few days to our first baby girl, and with whom I cannot be at this very important point in our lives as parents," he said in a statement.
"I want to express again my profound gratitude to our frontline medical workers throughout the country, who are putting their lives at risk on a daily basis to bring a halt to this pandemic. They are the true heroes in this fight," he added.
The senator also urged Filipinos to observe social distancing, enhanced community quarantine measures, washing of hands and personal hygiene being implemented "because they are the best strategies to beat this disease at this time. I have faith that together, we can overcome these challenging times."
MMC, however, said, "His admonition for everyone to observe social distancing, enhanced community quarantine measures, washing of hands and personal hygiene are nothing but empty rhetoric because he himself violated all those."
The hospital emphasized that the senator also "created another problem – for (MMC), the very institution which embraced his wife for obstetric care."
The MMC, however, assured that the delivery room could be used again after being disinfected, and expressed hope that none of its personnel will get infected.
On Tuesday afternoon, the MMC declared it would no longer accept patients infected with COVID-19 and suspected to be contracted with such.
It "has reached full capacity… insofar as our capability to handle patients suspected to have COVID-19 is concerned," the hospital said.
Pimentel is the second senator after Senate Majority Juan Miguel Zubiri found to be infected with the novel coronavirus.
On March 11, Sen. Sherwin Gatchalian announced that a resource person attending his hearing last March 5 was found positive for COVID-19. Gatchalian, Sen. Nancy Binay and other senators immediately went on self-quarantine and had themselves tested.
The day after Gatchalian made his announcement, Pimentel told reporters that he spoke with the former and Binay and thought he need not go on self-quarantine.
Yesterday, however, Pimentel told reporters that he started exhibiting flu-like symptoms such as body pain on March 14 that he isolated himself from his family.
On March 18, he said he had fever and sore throat but no difficulty in breathing.
Shortly after Pimentel's statement came out in the news, reports spread about the MMC putting several doctors and medical personnel on quarantine, and having the facility disinfected accompanied by furious comments in social media about the senator allegedly not disclosing his condition or violating his self-quarantine.
Kathryn's delivery was reportedly postponed because of the development.
In a radio interview later yesterday, the senator said his wife was admitted to MMC at around 6 to 7 p.m., and he received the call from RITM at around 9 p.m. and immediately left the hospital after informing doctors present in the area about his condition.
"First of all, I'm not coughing, so I'm not spreading droplets, so let's not be afraid. I understand those who are afraid, but let's not discriminate because now, I feel how it is to be discrimated," Pimentel told dzEC Radyo Agila in Filipino.
"I ask for understanding because any father would be excited. I didn't know (I was positive for COVID-19)," he said.
Kathryn lamented the criticisms in a message to radio station dzBB, saying her husband did not enter the delivery room contrary to reports.
A screenshot of a conversation from messaging applications Viber and Facebook Messenger, however, showed that the senator went to the hospital's delivery room to accompany his wife and allegedly roamed the area.
"Si Koko Pimentel positive tapos nagpunta pa sa (then went to the) delivery room sinamahan ang (accompanied his) wife kasi manganganak (because she will give birth). Nagkalat pa ng (He just spread the) virus," the message said.
Pimentel allegedly did not disclose that he was infected.
This caused fear among obstetrician-gynecologists (OB-GYN), preventing them from visiting the facility, the message claimed.
Another screenshot of a Viber conversation read that Pimentel should "be charged with murder… knowing he has it and not disclosing and walking around the hospital as if it's a mall, endangering the lives of doctors."
Meanwhile, Dr. Cristeta Cocjin chief of Senate Medical and Dental Bureau said the decision of the chamber's leadership to submit all senators to Department of Health-RITM testing for COVID-19 "was wise and proper as a precautionary step to assure the wellness and safety of the lawmakers after Zubiri tested positive of the disease."
"All senators should be safe and healthy at this time because they have a very important duty to perform. The foresight of the Senate President (Vicente Sotto III) was to ensure that they are ready and healthy should the President call for a special session," Cocjin said on Monday.?Another lawmaker positive for COVID
A ranking House member, who has been part of the legislative team that prepared the national emergency law, has also tested positive COVID-19.
ACT-CIS party-list Rep. Eric Go Yap, chairman of House appropriations committee, announced last night that he tested positive for the disease upon confirmation by the DOH after he was tested on March 10.
Yap attended the special session of Congress last Monday for the law declaring national emergency and granting special powers to President Duterte.
Yap likewise joined leaders of both House and the Senate in a meeting with executive officials at Malacañang last Saturday afternoon to discuss the measure.
Among those who attended the meetings were Executive Secretary Salvador Medialdea, Speaker Alan Peter Cayetano and Sotto.
The lawmaker said he decided to undergo testing after he attended several congressional hearings on the government's COVID-19 response, which were attended also by other officials and lawmakers who were exposed to persons who contracted the disease.
Yap apologized to colleagues, other officials and staff he had contact with.
"Humihingi ako ng patawad at pag-unawa mula sa mga taong nakasalamuha ko. I was paranoid dahil may kaunting ubo akong naramdaman, but I felt it was normal for me. Mas nag-ingat tayo dahil wala pang resulta ang test ko. Those who know me personally know that I practice good personal hygiene. But it didn't spare me from this virus," he said in a statement.
'No intention to inflict harm'
A former president of the Philippine Medical Association yesterday opined that Pimentel could not be held liable for breaching infection prevention and control protocols when he entered MMC despite being COVID-19-positive.
"I don't think he had the malice or the intention to inflict harm to others when he went to the hospital to accompany his wife. I think the overwhelming feeling that he had at that time is to welcome his newborn," Leo Olarte, who is both a doctor and a lawyer, told The STAR.
Olarte said that "liability will only arise if (Pimentel) caused actual damage" to others.
Olarte noted that if it is "only speculative or conjecture" that Pimentel could have infected others, it will likely not stand, and if Pimentel was, indeed, undergoing quarantine when he went to the hospital, such procedure was "voluntary and not imposed" by any authority.
Asked if Pimentel should have disclosed his situation to hospital personnel, Olarte maintained the senator need not do so unless he was asked. – With Edu Punay, Sheila Crisostomo