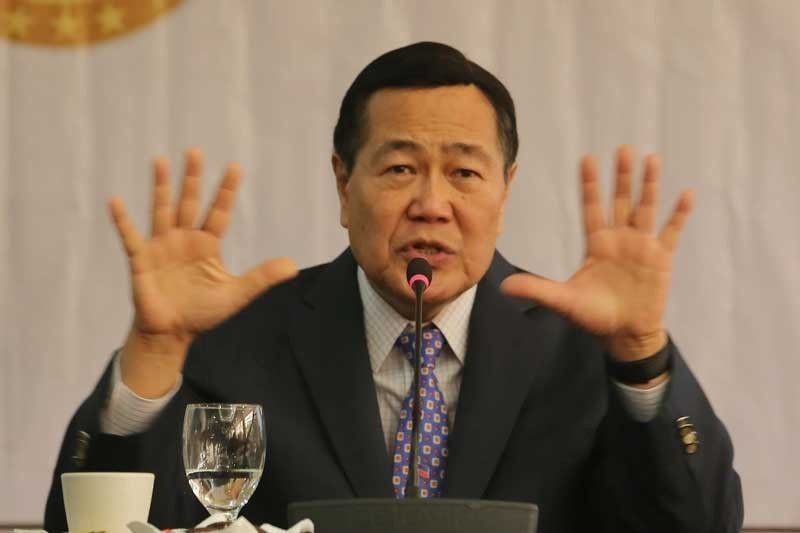 But several objections were raised, including that of retired Supreme Court justice Antonio Carpio, who said this provision is "unconstitutional insofar as reprogramming and reallocation of appropriations are concerned."
Michael Varcas/File
Special powers in national emergency law watered down
Edu Punay
(The Philippine Star) - March 26, 2020 - 12:00am
MANILA, Philippines — Congress watered down the budget and other powers sought by President Duterte in the newly enacted Bayanihan to Heal as One Act, to better address the coronavirus disease 2019 (COVID-19) pandemic.?
Malacañang had asked for sweeping authority for the President to realign funds in the national budget under the 2020 General Appropriations Act (GAA) in its draft bill, which seeks to reprogram, reallocate and realign any appropriation in the GAA.
The bill also seeks to allocate cash, funds and investments held by any government-owned or controlled corporation or any national government agency for whatever purpose the President may deem necessary and desirable.?
But several objections were raised, including that of retired Supreme Court justice Antonio Carpio, who said this provision is "unconstitutional insofar as reprogramming and reallocation of appropriations are concerned."
Carpio said only savings from appropriations can be realigned or transferred.?
"The President can only realign savings from appropriations in the approved budget of the executive branch. He cannot realign savings in the Judiciary, the Legislature or the Constitutional Commissions," Carpio said.
Taking this opinion into consideration, Congress limited the power to realign funds to savings only under the executive branch in the bill passed after a 17-hour deliberation on Monday.
The measure said savings should be realigned to projects directly related to operations in the fight against COVID-19, instead of giving Duterte wholesale discretion to divert funds to whatever purpose he wants.
Congress specified several priorities such as budgets of hospitals, calamity fund, programs for displaced workers, livelihood programs and financial assistance for rice farmers, among others.
Apart from this, Congress limited the effectivity of the bill to three months, which is more definite than the original proposal of two months or longer if the calamity would persist.
During amendments, Congress added provisions exempting from procurement laws the purchase of goods and services for social amelioration measures.
Criminally liable
Local officials and private business owners who defy government's orders in the fight against COVID-19 may be held criminally liable under the newly enacted national emergency law.
Section 6 of the law signed by Duterte on Tuesday night imposes penalties of imprisonment and fine of up to P1 million for private individuals, and disqualification from holding public office for local officials.
This provision covers local government officials disobeying quarantine policies; owners and possessors of private hospitals, medical and health facilities including passenger vessels and other establishments who unjustifiably refuse to operate as well as those engaged in hoarding, profiteering, injurious speculations, price manipulation, product deceptions and cartels, monopolies or other combinations affecting the supply, distribution and movement of essential products. – With Delon Porcalla, Helen Flores, Elizabeth Marcelo, Christina Mendez
Funeral parlors warned
Funeral parlors who refuse to cremate COVID fatalities will be penalized under the Bayanihan law, according to Secretary to the Cabinet Karlo Nograles and Interior and Local Government Secretary Eduardo Año.
LGUs were directed to accredit funeral firms that would provide services to COVID victims. – With Delon Porcalla, Helen Flores, Elizabeth Marcelo, Christina Mendez