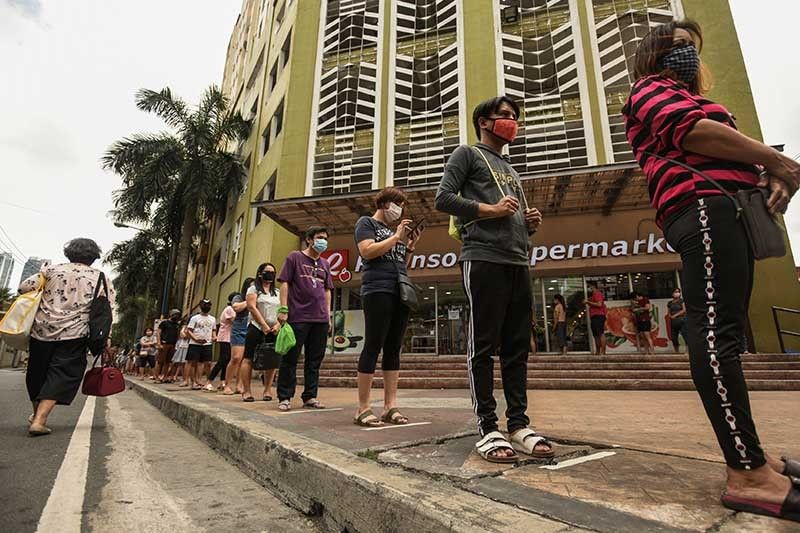 Shoppers stand apart as social distancing measures, amid concerns of the COVID-19 coronavirus, while queueing outside a supermarket in Manila on March 17, 2020.
AFP/Maria Tan
IATF: 'No mask, no entry' not in quarantine guidelines
MANILA, Philippines — Customers without face masks can enter supermarkers but they should observe social distance, a Palace official said Monday.
Cabinet Secretary Karlo Nograles said the Inter-Agency Task Force for the Management of Emerging Infectious Diseases (IATF) has not imposed a 'no mask, no entry' requirement on establishments.
"The Inter-Agency Task Force has not issued a rule requiring the wearing of masks before entering supermarkets. Our only rule is there should be social distancing for supermarkets. So let us just comply with that. It's just social distancing," Nograles said in a televised press briefing.
"The supermarkets can determine how many people can enter to make sure that there is social distancing inside (their establishments)," he added.
IATF protocols
Under the protocols set by the IATF for the Luzon-wide enhanced community quarantine, employees of retail establishments like groceries, supermarkets, hypermarkets, convenience stores, public markets, pharmacies and drug stores are exempted from the home quarantine.
The health department, meanwhile, has clarified that people with no respiratory signs and symptoms do not need to wear a medical mask. The agency recommends the use of medical masks only for people who have COVID-19 symptoms, those caring for individuals who have symptoms such as cough and fever, and health workers.
Days into the quarantine across Luzon, government agencies are still fine-tuning their implementation of social distancing protocols from the issuance of quarantine passes to the enforcement of curfews.
RELATED: Government disowns quarantine advisory with 'window hours' for travel
Although local government units were initially given leeway in coming up with and implementing measures for the quarantine, President Rodrigo Duterte has since said that the national government calls the shots.
Congress on Monday morning began debates on a Palace proposal to give President Rodrigo Duterte broad powers to implement supposedly necessary measures to address the COVID-19 outbreak in the Philippines.