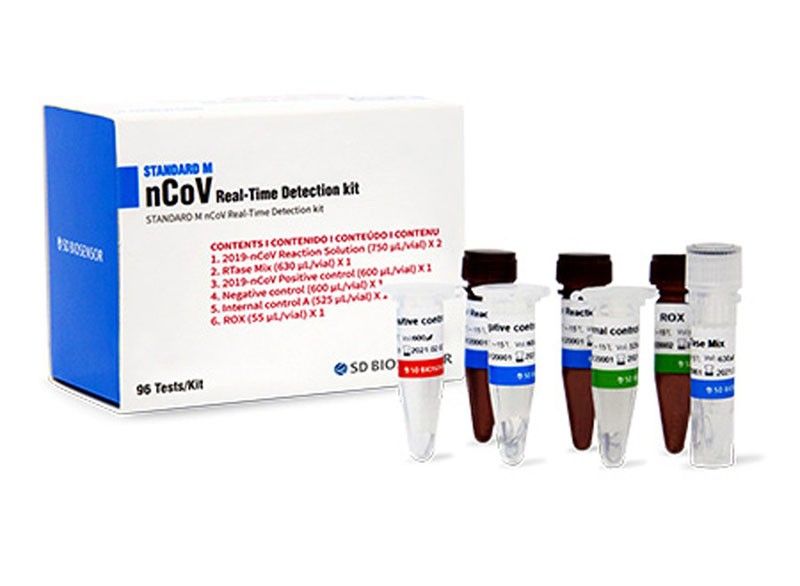 4 more test kits get special license for commercial use
MANILA, Philippines — The Food and Drug Administration (FDA) has issued a special license for four more test kit brands for coronavirus disease 2019 (COVID-19) from South Korea, Singapore and Germany.
FDA director general Eric Domingo said this would scale up the country's testing capability and ease the backlog in unprocessed samples.
"These testing kits will be available for commercial use or for the private sector," he said as he assured the public that the test kits have been duly validated and approved by authorities in their countries of origin.
The approved testing kits are Standard M nCOV Real-Time Detection kits from Korea, A*STAR FORTITUDE KIT 2.9 (COVID-10) Real-Time RT-PCR Test from Singapore, TIB MOLBIOL LIGHTMIX®MODULAR WUHAN CoV RdRP-Gene and TIB MOLBIOL LIGHTMIX®MODULAR SARS AND WUHAN CoV-Gene from Germany.
The 100,000 test kits and other medical equipment – 10,000 N95 masks and 10,000 sets of personal protective equipment – donated by the Chinese government to support the country's efforts against COVID-19 arrived at the Ninoy Aquino International Airport yesterday.
Foreign Affairs Secretary Teodoro Locsin Jr. personally received the donation from Chinese Ambassador to the Philippines Huang Xilian.
The Chinese government sent the donation following the request Locsin made during a previous conversation with Chinese Foreign Minister Wang Yi.
Executive Secretary Salvador Medialdea earlier directed the Bureau of Customs to expedite the processing of the necessary permits to allow the entry of the supplies to the country.
In an interview with radio dzRH, the secretary said China also offered to test the efficiency of test kits developed by other countries, noting the offer of Turkey to help the Philippines.
The Philippine government earlier sent relief goods and care packages for the people of Hubei province in China – the epicenter of the COVID-19 outbreak – prior to the departure of the plane that repatriated Filipinos from China last month.