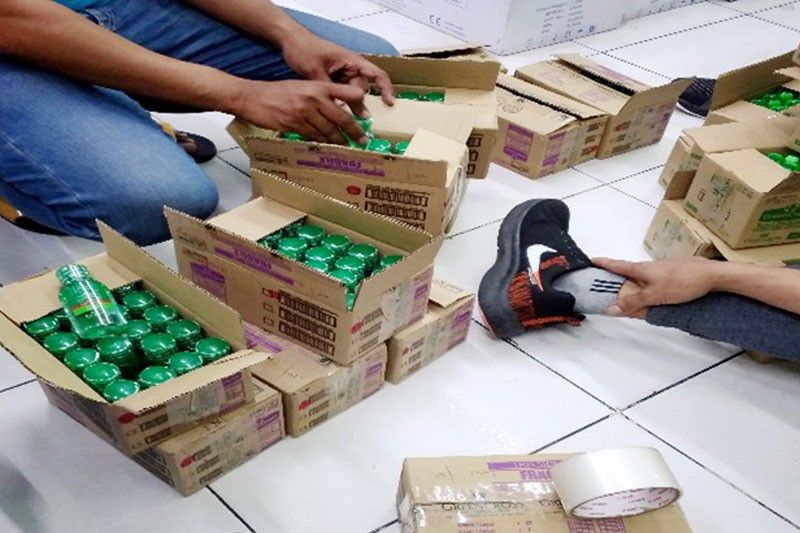 Photo provided by the CIDG shows boxes of overpriced isopropyl alcohol seized from a medical supply store on Rizal Avenue in Manila
Alcohol hoarders fall in raids
MANILA, Philippines — Police have arrested separately in Manila and Caloocan City three people caught selling overpriced alcohol, which has greatly increased in demand as fear of getting infected with 2019 coronavirus disease (COVID-19) hounds Filipinos.
Operatives from the Philippine National Police (PNP) Criminal Investigation and Detection Group nabbed the three during separate operations on Thursday.
The first operation led to the arrest of Jeffrey Zapanta and Albert Mandap in Sangandaan, who were caught selling ethyl alcohol at double the normal retail price.
They were nabbed for allegedly selling 500ml of ethyl alcohol for P140, twice the ceiling price of P61 to P74.25.
Police said they received several online complaints regarding the operations of the two suspects.
Recovered during the operation were over 120 bottles of alcohol, worth P23,620.
The third suspect, identified as Evangeline Endozo, was arrested for selling overpriced alcohol at a medical supplies store in Bambang, Manila.
Endozo, a saleslady of the JKOS Medical Supplies and Equipment, sold 60ml bottles for P80 each.
A total of 1,380 bottles of alcohol in different sizes, worth a total of P231,000, were seized from the medical supplies store.
The suspects are facing charges for violation of Consumer Act of the Philippines, DTI Memorandum Circular No.20-07 or "Anti-Hoarding and Anti-Panic Buying."