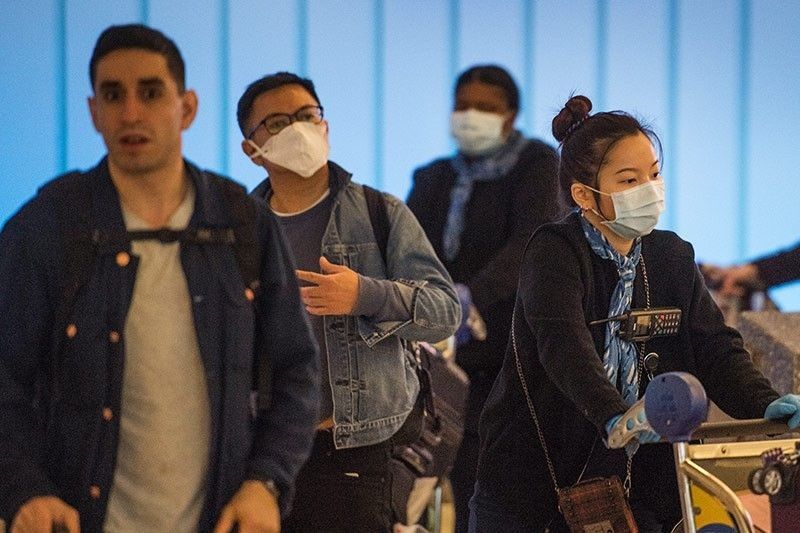 Duterte lifted the proposed total travel ban from Manila's airports that would have barred locals and foreigners who failed to leave before the 72-hour deadline that ends Thursday midnight.
Mark Ralston/AFP
Travel ban eased for OFWs, foreigners, balikbayans
MANILA, Philippines — President Duterte has approved the recommendation of the Inter-Agency Task Force on Emerging Infectious Diseases (IATF-EID) to allow all overseas Filipino workers and foreign travelers to leave the country any time during the one-month Luzon-wide quarantine period imposed to arrest the rising number of coronavirus disease 2019 (COVID-19) infections.
Duterte lifted the proposed total travel ban from Manila's airports that would have barred locals and foreigners who failed to leave before the 72-hour deadline that ends Thursday midnight.
In a memorandum issued yesterday, Executive Secretary Salvador Medialdea said oversease Filipino workers (OFWs), balikbayans and foreign nationals leaving for abroad through any of the ports in Luzon shall be allowed to leave the Philippines at any time for the duration of the enhanced community quarantine.
The OFWs and foreign travellers need to present proof to authorites of their international travel itinerary scheduled within 24 hours.
The government is still suspending "non-essential travel" by Filipinos from any port of Luzon.
"Provided further that this provision shall not be interpreted to allow outbound travel by Filipinos to jurisdictions where travel restrictions are in place," Medialdea said.
For passengers leaving the country, Medialdea said they may only be accompanied by not more than one person when traveling to any international port.
The Department of Transportation (DOTr) welcomed the development, and said the 72-hour window for international flights has been lifted as all persons regardless of nationality, except for Filipino tourists. Inbound international passengers are also allowed entry, subject to strict immigration and quarantine protocols.
Prior to this, Duterte had ordered the suspension of all air, land and sea domestic travel from Metro Manila. No international flights are also allowed to fly from the Ninoy Aquino International Airport (NAIA) in Pasay City after the 72-hour period.
Airlines in the Philippines have canceled their domestic flights until the enhanced quarantine ends at midnight on April 13.
Budget carrier Cebu Pacific announced the cancellation of all its flights from March 19 to April 14 in compliance with government regulations. AirAsia Philippines also announced that it would be cancelling all domestic flights to and from the NAIA and Clark International Airport until April 14.
Philippine Airlines, meanwhile, said on Tuesday that it would announce in due course the status of its international flights from March 20 up to April 12 as it is still coordinating with government authorities on the relevant implementing details, and has said that it would continue to operate international flights up to 11:59 p.m. of March 19.
The 72-hour window began 12 a.m. of March 17 after Duterte placed all of Luzon under enhanced community quarantine to restrict public movement amid the COVID-19 outbreak.
To assist Filipinos, Malacañang said the Overseas Workers Welfare Authority (OWWA) may provide transportation services to OFWs intending to leave for abroad.
"The Overseas Workers Welfare Administration shall provide transportation services for returning… OFWs, for the purpose of ferrying them from international ports to their respective destinations in Luzon," Medialdea said in his March 18 memorandum issued to heads of departments, agencies, government-owned and control corporations, and other pertinent agencies.
Immigration Commissioner Jaime Morente also clarified that balikbayans and OFWs are allowed to depart the country during this period. "There was some confusion with other government agencies yesterday, but we discussed this to them and to the IATF-EID, and we were able to clarify that OFWs are indeed allowed to travel," he stated. Filipino tourists, he stated, are temporarily not allowed to depart.
The Office of the President has directed the Department of Foreign Affairs, Department of Labor and Employment as well as the Department of Tourism to work on joint guildelines on the matter.
In a press briefing Cabinet Secretray Karlo Nograles also revealed that hotels or similar establishments will not be allowed to operate, except those accommodating guests who have existing booking accommodations for foreigners as of March 17, 2020. The guests who have existing long term leases will also be allowed to stay.
To accommodate the billeting of frontliners and other workers during the quarantine period, the Palace said the hotel management may allow bookings coming from employers who are from exempted establishments under the provisions of the March 16, 2020 memorandum on the list of exemptions.
"No new booking accommodations shall be permitted. Provide further, that in all of the foregoing, hotel operations shall be limited to the provision of basic lodging to guests," the memorandum read.
DFA assures foreign governments
The Department of Foreign Affairs (DFA) assured yesterday foreign governments there will be no hitches in sending flights to the Philippines to bring home their stranded nationals.
"Foreign governments sending flights to pick up their stranded nationals, DFA making sure no hitches," Foreign Affairs Secretary Teodoro Locsin Jr. said on Twitter.
"But if they miss the flights we lifted ban on travel to get out of our country," he said.
Locsin said foreign nationals who decide to stay in the country need not worry about visa extension.
Airport pickups
The Manila International Airport Authority (MIAA) has authorized accredited metered and coupon taxi owners to operate at the NAIA terminals to pick up arriving passengers, especially arriving OFWs and other nationalities with permanent resident visas.
MIAA Public Affairs Division chief Connie Bungag said that MIAA general manager Ed Monreal is closely coordinating with higher authorities regarding the matter and the only problem they see as of now is how the owners can take out their units in their respective locations and the driver who will undergo checkpoints.
Only one person is allowed to bring a passenger to the airport and must depart immediately after drop off. The driver should carry a copy of the airline ticket of the passenger as proof of conveyance, airport authorities said.
Thousands stranded
More than 10,000 OFWs, mostly household service workers (HSWs), are stranded in Manila as their destination countries like Saudi Arabia, Qatar and Kuwaiti have banned all incoming passengers except their own citizens and diplomatic staff aside from permanent residents.
Last Sunday, Saudi Arabia banned all international flights for a temporary period. Qatar yesterday also banned incoming passengers except citizens, and Kuwait has since last week also banned incoming passengers for an indefinite period.
Affected foreigners
The cancellation of local air and land travel in almost all areas of the country in order to contain the spread of COVID-19, has rendered scores of foreign tourists and balikbayans stranded in various parts of the country, missing their international flights back home.
Relatedly, the Department of Tourism is closely coordinating with the Philippine Air Force for special flights using military planes to fly these stranded foreign tourists and balikbayans back to Manila for them to take their international fights home.
Meanwhile informed sources also bared yesterday that several countries are now reportedly planning to arrange special flights to evacuate their residents out of the country. – With Richmond Mercurio, Pia Lee-Brago, Rudy Santos, RobertzonRamirez, Jaime Laude
Related video: