No Holy Mass celebration, Holy Week activities in Metro Manila amid community quarantine period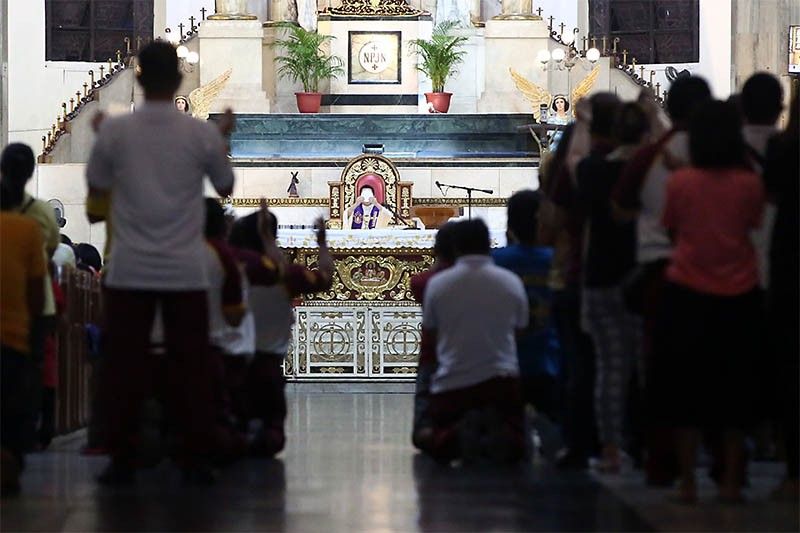 MANILA, Philippines — Bishops of Metro Manila on Monday announced the suspension of the celebration of the Holy Mass in the National Capital Region until April 14.
"We will abide by the government's directive to suspend all large gatherings from March 15 to April 14. So there will be no celebration of the Holy Mass with a large congregation within this period, plus other religious activities during the Holy Week which usually attract huge crowds of the faithful," their pastoral letter read.
The Archdiocese of Manila previously said it is temporarily cancelling all its public activities from March 14 to 20.
FOLLOW: LIVE updates: COVID-19 in the Philippines and the Metro Manila quarantine
The new announcement covers Holy Mass and other religious activities in the following ecclesiastical jurisdictions:
Archdiocese of Manila
Diocese of Cubao
Diocese of Novaliches
Diocese of Pasig
Diocese of Kalookan
Diocese of Parañaque
Parts of Diocese of Antipolo and Malolos belonging to Metro Manila
Some parts of the Military Vicariate of the Philippines
On March 12, President Rodrigo Duterte raised Code Red Sublevel 2 in Metro Manila as he placed the entire National Capital Region under "community quarantine," restricting access and travel to the capital from March 15 to April 14.
He also announced the ban on planned or spontaneous mass gatherings.
No Holy Week celebrations
The lockdown covers the Holy Week, which means that Palm Sunday and Easter Sunday Holy Masses will not be open to the public, the bishops said.
Auxiliary Biship Broderick Pabillo, Archdiocese of Manila administrator, earlier gave tips to maintain the solemnity of the Holy Mass conducted online.
He advised: "Do not watch it with a cup of coffee in hand."
He also encouraged the Catholic faithful to read the excerpted scripture before the mass.
There will also be no public blessings of palms, Visita Iglesia, Siete Palabras, Good Friday procession and Easter Sunday salubong.
"The faithful are called upon to pray the Rosary as it is a good prayer to meditate on the mysteries of the life of the Lord that we intensely celebrate in the universal Church during the Holy Week," they said.
The bishops also called for days of penance, prayer and fasting on March 20, 27 and April 3 and 10, Good Friday.
Church bells will be tolled at noon and at 8 p.m. to call on the faithful to pray the Oriatio Imperata and the Angelus at noon, and rosary in the evening, they added.
Baptisms, confirmations, weddings may push through
The bishops, however, said that baptisms, confirmations and weddings set within the period, "which can no longer be postponed due to the enormity of the preparations involved" may proceed but will be subjected to strict restrictions.
Social distancing will also be observed in the gatherings.
Other celebrations of the Holy Sacraments not included in the announcement are temporarily deferred.
Donations
The bishops also called on donations to help the poor and the sick amid the community quarantine period since this will affect "daily wage earners heavily," they noted.
They said that parishes and church institutions will coordinate with local government units to help them in providing for their basic needs.
On March 16, the first Monday of the Metro Manila lockdown, media reports noted traffic build up in checkpoints as workers cross borders of the NCR for work.
The Department of Trade and Industry also directed Metro Manila malls to be closed, except for "groceries and supermarkets, banks, pharmacists, health clinics, bookstores, hardware stores, food stalls (take out/delivery only)."
The Philippines reported 140 COVID-19 cases in the country and 12 fatalities since January.
As It Happens
LATEST UPDATE: September 20, 2021 - 8:29pm
Follow this page for updates on a mysterious pneumonia outbreak that has struck dozens of people in China.
September 20, 2021 - 8:29pm
The COVID-19 pandemic sped up the shift of innovation from Europe and North America towards Asia, UN world rankings showed Monday.
The Global Innovation Index 2021, from the United Nations' World Intellectual Property Organization, showed surging performances by South Korea and China.
"The pandemic has accelerated the long-term geographical shift of innovation activities toward Asia, even if Northern America and Europe continue to host some of the world's leading innovators," said WIPO.
While the top four in the global rankings remained the same as last year — with Switzerland leading for the 11th year running followed by Sweden, the United States and Britain — South Korea leapt five places to fifth.
The index found "substantial increases in brand values in Korea, in trademarks being filed, but also in cultural and creative services exports," index co-editor Sacha Wunsch-Vincent told reporters, citing the K-Pop phenomenon. — AFP
September 19, 2021 - 4:17pm
Australia's second-largest city will exit its coronavirus lockdown in late October if vaccine targets are met under an official roadmap released Sunday.
About five million people in Melbourne have been under stay-at-home orders since August 5, the sixth lockdown they have endured so far during the COVID-19 pandemic.
Officials in Victoria state, which includes Melbourne, announced those orders would be lifted when 70 percent of over-16s are fully vaccinated. They projected that target would be reached around October 26.
"Lockdown will end. The (limited) reasons to leave your home and the curfew will no longer be in place," Victoria premier Dan Andrews said, adding that a raft of restrictions would still be enforced.
Restaurants and pubs will be allowed to reopen but only with a maximum of 50 fully vaccinated people seated outdoors, while a ban on visitors to homes will remain in place. — AFP
September 17, 2021 - 7:07pm
The novel coronavirus has killed at least 4,667,150 people since the outbreak emerged in China in December 2019, according to a tally from official sources compiled by AFP.
At least 226,967,810 cases of coronavirus have been registered.
The vast majority have recovered, though some have continued to experience symptoms weeks or even months later.
September 14, 2021 - 8:48pm
Frontline health and social care workers, older people and the clinically vulnerable in Britain will start to receive a booster jab against COVID-19 from next week, the government says.
Health minister Sajid Javid tells parliament he had approved a recommendation from advisory body the Joint Committee on Vaccination and Immunisation (JCVI) to start the programme.
He also approved a controversial proposal to offer jabs to children aged 12-15 as concern mounts about the spread of the virus in schools. — AFP
September 14, 2021 - 5:51pm
All children aged 12-15 will be offered COVID-19 vaccinations, Britain announces, following the advice of four top medical officers.
Britain has been one of the countries hardest hit by COVID-19, recording more than 134,000 deaths.
Despite a succesful vaccination programme, case rates remain stubbornly high due to the emergence of the Delta variant, and officials are anxious about them rising further now that schools have returned after the summer break. — AFP