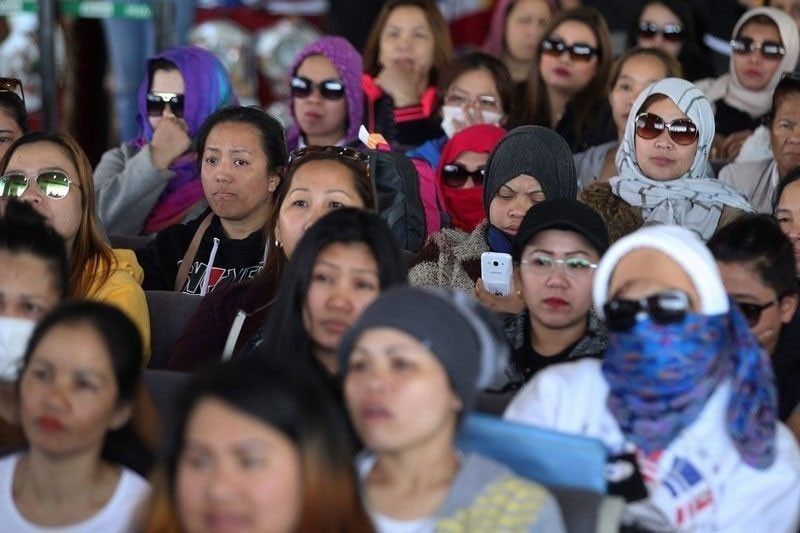 "In the Middle East, while I talk my heart bleeds. Kaya pupunta talaga ako sa (That's why I'll really go to) Kuwait. I have to go to Kuwait," Duterte said in a late night press conference last Monday.
Rudy Santos/File
Duterte determined to go to Kuwait despite travel ban
MANILA, Philippines — Despite the global spread of the coronavirus disease 2019 (COVID-19), President Duterte is keen on going to Kuwait to push for the death penalty for those behind the killing of a Filipino migrant worker in the oil-producing country.?
"In the Middle East, while I talk my heart bleeds. Kaya pupunta talaga ako sa (That's why I'll really go to) Kuwait. I have to go to Kuwait," Duterte said in a late night press conference last Monday.
Regardless of the travel bans in various countries, Duterte said he wants to personally relay to the Kuwaiti authorities his concern about the maltreatment of Filipino workers in the country. He has welcomed the arrest and prosecution of the ones behind the death of domestic helper Jeanalyn Villavende.
"But 'yung kaso na pinatay 'yung maid (in the case of the maid that was killed), domestic helper, they have arrested the couple and undergoing trial. And while undergoing trial, they are detained inside the jail. To me that is good justice," he said.
"And if they can follow it through in accordance with their laws, I would ask for… P**** itong virus na ito. I will ask for the maximum. I want their executioner to cut off the heads of those who are responsible for the death of the Filipina," Duterte said, as he coughed slightly during the press briefing that also tackled government's response to COVID-19 amid rising number of confirmed cases.
Exempt Rody from travel ban
As far as presidential spokesman Salvador Panelo is concerned, the President will have the last say on whether or not he would push through with his plans to visit Kuwait.
Informed about Kuwait's travel ban against seven countries, including the Philippines, Panelo said, "Puwede namang pag-usapan iyan (We can discuss that), government to government. They can always exempt the President," he said. "For example, if I call somebody… or the ambassador calls the head of Kuwait and says, the President desires to go there, 'Sige, ayos.' Oh, di ba? Sila-sila na ang mag-uusap niyan ('All right, fine.' Right? They can discuss that amongst themselves)."
No local travel ban
Also last Monday, Duterte said he is not ready to impose a local travel ban, even a lockdown in Metro Manila, due to the spread of the virus. "For as long as we cannot stop travel, we cannot," he said.
Duterte is weighing the impact of a travel ban on trade and investments – even if he has proclaimed a state of public health emergency nationwide. "We have to continue to open our doors. Maski na sinabi noon na (Even though it was said before that) while the virus was starting because that is really the norm of conduct of the world today: travel. You have to travel abroad, business. Especially that we have opened our doors to investments," the President said.
Shrugging off criticism, Duterte also assured the public that the government has enough funds to combat COVID-19.
"What's bothering us is… Well, it is like this, we have the money to combat this COVID-19. We have... I assure you we have the money and we can defeat that… t*** i***** virus na 'yan. Saan ba nakatira 'yan? (Where does it live?)" he said.
Duterte expressed belief that, like any other plague that happened in the past, the Philippines and the rest of world will be able to overcome this health challenge.?"We can defeat it. And this is not the first time that we have," he said.
"Well, anyway in the past, I remember when I was young, there was this flu. You know the truth is, there's a cleansing… not really a cleansing but hindi magtagal ito eh kagaya ng (it won't last long like) the first one is the Bubonic plague, the Black Death. Merong maraming namatay (There will be a lot of deaths)," Duterte said.
During World War I, Du-terte recalled the Spanish flu, where many soldiers died of the disease.
"And then we have this thing, which we don't have vast knowledge yet… But I'm sure that the scientists all over the world are working overtime to look for the vaccine. This won't be for long, I am confident that we will survive this contagion," he said.
Travel restrictions to affect OFWs
The rising number of travel bans imposed by some countries wary of the spread of COVID-19 may eventually affect the deployment of OFWs this year and, later on, remittances, as the disease continues to move into many parts of the world.
Qatar has banned the entry of flights into the tiny kingdom bringing in new arrivals except its own citizens and permanent residents but denying entry to workers from 13 countries including the Philippines.?There are about 300,000 OFWs in Qatar.
Kuwait has also temporarily banned flights coming from seven countries, including the Philippines, and the Cabinet has instructed the Ministries of Health and Foreign Affairs to stop issuing visas immediately, with only foreign diplomats as the exemption.
There are 250,000 OFWs in Kuwait, where the majority are household service workers numbering more than 220,000, and only recently allowed the entry of OFWs with no medical clearance certificate.
This temporary suspension may lead to a longer period as Kuwait tries to cope with the rising number of COVID-19 cases.
Saudi Arabia, which hosts 1.4 million OFWs, has not issued a travel ban on Filipinos entering the country but has already banned arrivals from 14 COVID-19 stricken countries from the Middle East and Europe.
Meanwhile the sea-based sector, where Filipinos man one-third of the world's seagoing vessels, is bracing for the impact of COVID-19 on cruise and cargo ships.
Filipino workers onboard the 272 cruise ships belonging to the Cruise Lines International Association (CLIA) are worried that many cruise ships, especially in Asia, have cancelled scheduled trips.
PAL cancellations
Flag carrier Philippine Airlines (PAL) is suspending all its flights to and from Doha starting today up to Sunday, following a ban by Qatar on travelers from the Philippines.
PAL said it is compelled to cancel all flights to and from Doha from March 11 to 15 "due to the recent travel ban by the Qatar government on the entry of 14 nationalities, including Filipinos, over COVID-19 concerns."
The airline said passengers of the canceled flights have the option to request for rebooking, rerouting or refund on or before March 28, 2020.
A new travel date that falls on or before June 30, 2020 may be chosen, PAL said.
Meanwhile, budget carrier Cebu Pacific said passengers booked for Philippine and international travel from March 10 to 31, 2020 can now rebook their flights for free.
The airline said passengers booking new flights between those dates regardless of travel date and route can also avail themselves of CEB Flexi for free. CEB Flexi enables travelers to rebook their flights up to two times, and up to two hours before departure.
Lawmakers my travel
No member of the House of Representatives will be prevented from leaving the country, most especially from going to their districts, even if today is the last session day of Congress before lawmakers go on a Holy Week break.
In an interview over radio dzMM, Speaker Alan Peter Cayetano explained that legislators have always been observing a self-imposed policy of "self quarantine" whenever they travel, either internationally or locally. – With Rudy Santos, Richmond Mercurio, Delon Porcalla, Emmanuel Tupas