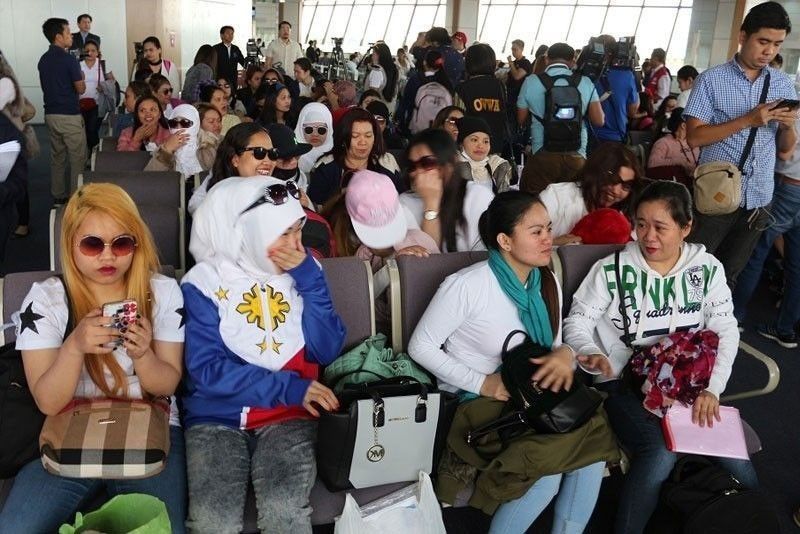 The Kuwaiti government also suspended for a week all flights to and from Egypt, Lebanon, Syria, Bangladesh, India and Sri-Lanka which, like the Philippines, are dealing with local cases of COVID-19.
STAR/File
Kuwait imposes travel ban on Philippines; Bethlehem on lockdown
MANILA, Philippines — Over 100 overseas Filipino workers (OFWs) bound for Kuwait were stranded at the Ninoy Aquino International Airport (NAIA) yesterday after the Gulf state imposed a travel ban on the Philippines due to the coronavirus disease 2019 (COVID-19) outbreak.
The Kuwaiti government also suspended for a week all flights to and from Egypt, Lebanon, Syria, Bangladesh, India and Sri-Lanka which, like the Philippines, are dealing with local cases of COVID-19.
The entry prohibition covers Filipinos and nationals of the six other countries, including those who have a "valid residency" in Kuwait or "previous enter visa."
It also covers any individual who has been in any of the seven countries in the last two weeks, except for Kuwaitis. However, upon their arrival in Kuwait, their nationals shall undergo mandatory quarantine procedures.
Kuwait previously imposed a travel ban on China, Hong Kong, Japan, Singapore, South Korea, Iran, Thailand, Italy and Iraq.
Gladyl Mercado, 26, of Cebu City, was supposed to catch her flight to Kuwait, where she works as a host. "We were not expecting the travel ban… our employers bought the tickets for us," she said.
Jane Lor, also from Cebu City, said: "All of us here arrived before 6 a.m. not knowing about the travel ban. So we gathered here at the NAIA departure area waiting for our family members or friends to pick us up."
"We will wait for the next move of our employers. In the meantime, we will wait until the travel ban is lifted," Mercado said.
'Postpone tour of Holy Land'
Meanwhile, the Department of Foreign Affairs (DFA) urged Filipino pilgrims to postpone their plans to travel to the Holy Land as the Palestinian Authority banned the entry of all tourists to the West Bank.
The travel ban, issued as a precautionary measure against COVID-19, includes Bethlehem and Jericho. The same travel restriction to Bethlehem from Israel is being observed, the DFA said.
"Prospective travelers are therefore advised to coordinate with their tour operators to avoid any inconvenience," it added.
CBCP executive secretary Fr. Jerome Secillano said: "The agency (DFA) know better than us. The appeal is clearly meant to protect our citizens and ensure our safety."
Aside from putting one's health at risk, visiting the Holy Land at a time when some pilgrimage sites are closed could affect a pilgrim's appreciation of the purpose of the journey, Secillano said.
"The present situation wouldn't make for a peaceful and meaningful pilgrimage. Some important pilgrimage sites have already been closed. Airline protocols as well as those of countries to be visited will also add up to the concerns and preparations of pilgrims," he added.
Pinoys stranded in Bethlehem
On Twitter, former presidential spokesman Edwin Lacierda expressed gratitude to the DFA for its swift action to help some 100 Filipinos who were stranded in Bethlehem.
Lacierda said Filipino tourists on two buses were not able to leave Bethlehem after the imposition of a lockdown due to COVID-19.
He relayed the situation to Philippine charge d'affaires to Libya Elmer Cato, who forwarded it to the post concerned.
Lacierda said the consul was able to reach the Filipinos, who were advised to go through Jordan.
The group was able to continue with their pilgrimage, the message relayed by Lacierda showed.
Meanwhile, Senate President Vicente Sotto III said he would skip the Inter-Parliamentary Union in Switzerland next month after local transmission of COVID-19 was confirmed in the country.
Sotto said he already sent word to the IPU that he would not attend the gathering of over 1,000 parliamentarians from all over the world.
Other senators may still attend the meeting, but Sotto said he has advised them against it.
Sen. Panfilo Lacson is also skipping the event. – Evelyn Macairan, Cecille Suerte Felipe