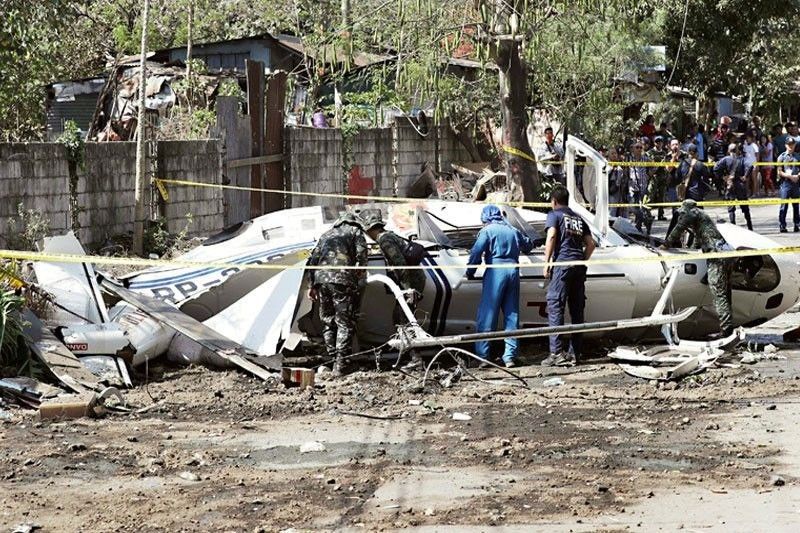 Lt. Gen. Guillermo Eleazar, PNP deputy chief for operations, said it took a flatbed truck and boom to complete the transfer of the aircraft.
Russell Palma, Edd Amoroso/File
Helicopter wreckage transferred to Pasay hangar
MANILA, Philippines — The wreckage of the police helicopter that crashed in Laguna was transferred yesterday to the Philippine National Police (PNP) hangar in Pasay City, where it will be reconstructed for further investigation.
Lt. Gen. Guillermo Eleazar, PNP deputy chief for operations, said it took a flatbed truck and boom to complete the transfer of the aircraft.
The PNP Logistics Support Service headed the transfer, with guidance from the Civil Aviation Authority of the Philippines (CAAP), other agencies and the concerned insurance company.
Eleazar said it was a tedious undertaking, preceded by the extensive collection and documentation of all pieces of the helicopter which had broken in two.
Such effort was required to aid the reconstruction of the aircraft, which is needed for a detailed investigation, Eleazar explained.
Initially, three possible causes of the crash are being looked at – pilot error, air worthiness of the aircraft and lapses in landing site selection and preparation.
The probe will determine if there were lapses that led to the crash, Eleazar said.
It would also facilitate the crafting of new guidelines and policies to ensure such an air accident will not be repeated, he added.
PNP chief Gen. Archie Francisco Gamboa, three generals and four other police officers were injured in the crash of the PNP's Bell 429 helicopter last Thursday.
It took off from the impounding area of the Highway Patrol Group (HPG) inside Laperal Compound, Barangay San Antonio, San Pedro City, Laguna then crashed just a few meters away.
Witnesses said a heavy cloud of dust enveloped the helicopter as it took off and the aircraft got snagged by a power line before crashing and catching fire.
With Gamboa in the helicopter were his aide-de-camp, Capt. Keventh Gayrama; Maj. Gen. Jose Ma. Victor Ramos, director for comptrollership, Maj. Gen. Mariel Magaway, director for intelligence; Brig. Gen. Bernard Banac, PNP spokesman; M/Sgt. Louie Sistona; pilot Lt. Col. Ruel Salazar and co-pilot Lt. Col. Rico Macawili.
All on board were rescued from the wreckage and taken to separate hospitals.
Gamboa and Gayrama were the first ones to be discharged from the hospital last Friday afternoon.
However, Magaway and Ramos, who were unconscious when pulled out of the burning helicopter, are still in critical condition.
Both have since been transferred to the Asian Hospital in Alabang, Muntinlupa City, with Magaway reported to be showing signs of improvement.
Maj. Gen Benigno Durana, acting PNP spokesman, said Magaway manifested improving conditions and already woke up Friday.
But he was sedated to further stabilize his condition, Durana added.
On the other hand, Ramos was still fighting for his life, hours after he was transferred to the Asian Hospital from Unihealth-Southwoods Hospital in Biñan City, Laguna yesterday afternoon.
Ramos had sustained facial skull fractures and traumatic brain injury, among others, and remains unconscious.
Durana said that Ramos was successfully resuscitated, 30 minutes after it was announced that the police general had passed away at 4 p.m.
"We beg for your prayers for the both of them (Magaway and Ramos) to be totally out of the woods," Durana said.
Meanwhile, Banac was released from the St. Lukes Medical Center in Taguig City at 4:15 p.m. But he is scheduled for brace fitting for his lower back due to compressed discs.
There was no advisory on when the two pilots, as well as crew member Sistona, would be discharged from the hospital, but all three are in stable condition.