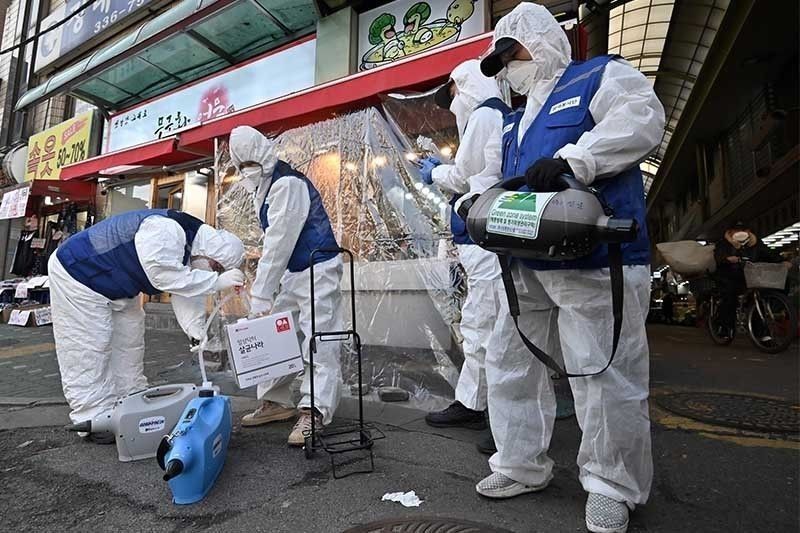 Nineteen of them have already exhibited signs and symptoms of the coronavirus disease 2019 (COVID-19), the Department of Health (DOH) said yesterday.
AFP/Jung Yeon-je
DOH: Quarantine 68 Pinoys after SoKor trip
MANILA, Philippines — A total of 68 individuals in a group that arrived from a military study tour in South Korea last Feb. 21 have been instructed to undergo a 14-day quarantine.
Nineteen of them have already exhibited signs and symptoms of the coronavirus disease 2019 (COVID-19), the Department of Health (DOH) said yesterday.
"Those who exhibited signs and symptoms are in a referral hospital while others are in their fort where they are quarantined," DOH Assistant Secretary Ma. Rosario Vergeire said at a press conference, adding that they were under strict monitoring.
Last Tuesday, Health Assistant Secretary Kenneth Ronquillo sent a memo to the Armed Forces of the Philippines informing Col. Felix Terencio, AFP surgeon general, of the DOH's particular interest in 68 officers and civilians who joined the military study tour in South Korea.?They are composed of military-students, staff of the Command Staff General Court (CGSC) school at Camp Aguinaldo and their dependents.
"We take due notice to the 23 asymptomatic individuals categorized to be patients under investigation (PUIs) admitted to the infection ward of V. Luna Medical Center for management," Ronquillo said in his letter to Terencio.
It was learned that Terencio had informed the DOH about the 68 who arrived from South Korea, which has one of the biggest COVID-19 outbreaks in the world.
The group flew to South Korea last month as part of military schooling and some of the officers took family members with them. Terencio had informed the DOH that they have been quarantined since March 2.
Ronquillo also requested Terencio to provide a list of all the PUIs and persons under monitoring (PUMs) from the group along with their contact numbers and home and/or government addresses.
This will help DOH in case there is a need for contact tracing and proper management in case an individual turns out to be positive for COVID-19.
19 repatriates from Japan
In another development, 19 more Filipinos from cruise ship M/V Diamond Princess will soon be repatriated from Japan after recovering from COVID-19.
Vergeire said the Philippine government is already processing the repatriation of these Filipinos.
The 19 were among 80 Filipinos who contracted the virus while being quarantined for 14 days with 3,700 passengers and crew aboard the Diamond Princess anchored at the Yokohama port.
Twenty-one of the 80 had recovered and had been repatriated.
With this, Vergeire said only 40 other Filipinos infected with COVID-19 are still being treated and managed in hospitals in Japan.
Here in the country, the DOH reported that 15 of the 16 repatriates from the cruise ship who developed symptoms are set be discharged from hospital.
They will be taken back to the Athletes' Village in New Clark City to complete the quarantine period, Vergeire said.
As for the other one being monitored, she said: "He had diarrhea and had to be brought to a referral hospital."
Based on the latest DOH tracker for COVID-19, there are 662 PUIs nationwide and only three confirmed cases of the virus since the outbreak started in China.
Of the 662, a total of 39 PUIs remain admitted and isolated in different medical facilities. Another 620 have recovered and been discharged.
Macau repatriates
Meanwhile, Health Secretary Francisco Duque III said some 200 Filipinos who will be repatriated from Macau will not be placed in the quarantine facility in New Clark City in Capas, Tarlac.
He said the repatriates from Macau will only be considered as PUMs since they did not come from epicenters of the COVID-19 outbreak.
As PUMs, the repatriates will undergo home quarantine for 14 days, Duque said.
"The concerned local government units will be provided with the list of the repatriates so they can do daily monitoring. This is part of our response to contain COVID-19," he added.